He looked tired, but happy. He was able to flash a smile but he was not in the mood for saying too much, at least for now.
The Washington Post journalist Jason Rezaian on Wednesday made his first public appearance since being released from Iranian custody.
Posing for the cameras with his wife and family outside the US military hospital in Landstuhl, Germany, he said that he was "feeling fine".
"I can't wait to get home," he said.
The 39-year-old Tehran correspondent of the Post was seized in the summer of 2014, after Iranian authorities raided the home he shared with his wife, Yeganeh Salehi.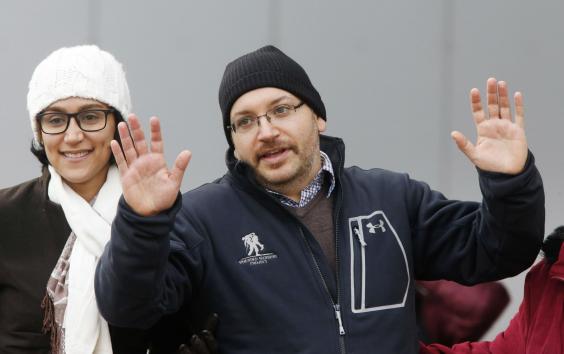 He was subsequently convicted of espionage in a closed-door trial in 2015. Mr Rezaian's employer and his lawyers stridently denied the allegations.
The reporter was finally released at the weekend after many months of diplomatic engagement between the US and Iran, that led to the Iran nuclear deal and the lifting of sanctions. 
While not specifically included as part of the deal, Iran agreed to release four Americans it was holding prisoner. In exchange, Washington granted clemency to seven Iranians charged or imprisoned in the United States for sanctions violations.
In addition to his brief comments, Mr Rezaian issued a statement in which he said he wanted "to catch up with what's been going on in the world, watch a Warriors game or two, and see the Star Wars movie".
His brother had previously described Mr Rezaian as "starved of information" after being held prisoner.
"I've spent a lot of my life writing about the United States and Iran, and I never imagined - and never wanted - to become a part of the story, particularly at such an extraordinary moment," he added.
"I want to get back to writing the US-Iran story at some point in the future. But I won't be saying anything further for awhile."
When his Post editors met with him for two hours on Monday, he told them the same thing: "I know people are eager to hear from me, but I want to process this for some time."
Mr Rezaian began his statement by saying he wanted to thank everyone who had helped secure his release, including the Swiss Foreign Ministry and the the Swiss Air Force who flew him from Iran. 
He added: "I'm staying with my family at a very comfortable guest house on the base, which has been a great place to begin my recovery."
When the Swiss air force jet carrying Rezaian, his family and two other American prisoners took off from Tehran last weekend, the passengers burst into applause and then applauded again when the jet left Iranian airspace, according to Washington Post Foreign Editor Doug Jehl, who spoke with Mr Rezaian in Germany on Monday.
"It really was touch and go, he said, in the final hours as to whether he'd be able to leave," Mr Jehl told the Los Angeles Times, adding there was uncertainty as to whether Iranian officials would allow Mr Rezaian's wife and his mother to leave Iran with him. 
"He was not sure that this trauma would be over until the plane actually began to take off."
Reuse content