Jennifer Lawrence is America's sweetheart. One of the most popular actresses in Hollywood, both on and off the screen, and one of the most likeable household names in the eyes of the public, too.
But her image was forever marked when she became one of many victims of the 4Chan hackers, who stole naked images of her, taken by her on her iPhone, and leaked them onto the internet.
"It is not a scandal. It is a sex crime," she told Vanity Fair of the FBI-investigated incident in November in an interview that accompanied a striking cover headshot that implied she was topless.
"It is a sexual violation. It's disgusting. The law needs to be changed, and we need to change. That's why these websites are responsible."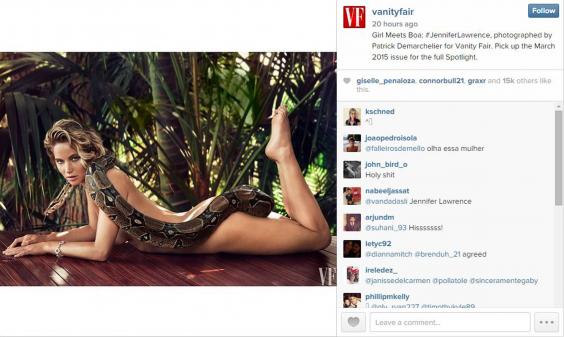 Now, for the first time, she's made the choice to pose fully naked in the March issue of that very same magazine.
Vanity Fair posted the shot of Lawrence lying nude on her front with a Boa constrictor snake crawling over her body on Instagram.
The magazine's fashion and style director Jessica Diehl said: "Jennifer has the perfect combination of strength, sexuality, humour and, above all, tomboy to pull this off."
According to the publication, Lawrence only started to become uncomfortable when the snake took a particular interest in her neck. The shoot ended shortly afterwards, and the Boa slipped back into its protective box.
Jennifer Lawrence's best quotes
Jennifer Lawrence's best quotes
1/20

"I was at the Oscars, waiting to hear
 if my name was called, and I kept thinking, cakewalk, cakewalk, cakewalk.I thought, 'Why is 'cakewalk' stuck in my head?'" - On why she fell at the Oscars 2013

2/20

"I finally get to make out with Christian Bale and he's a really fat guy. He's Fatman, not Batman." - American Hustle director David O Russell lets slip J-Law's on-set words to US Magazine

3/20

"I can't even... It's like past mad, it's this weird other emotion … I feel like my heart just fell out." - To presenter Shaun Robinson after she spoiled the Homeland Season 3 finale

4/20

"He was at a party, and I turned into a perverted guy. I was like following him into rooms and staring at his ass…He asked me if I was on mushrooms and I said, 'No. I'm dead sober. This is just me.'" - on stalking John Stamos at a party

5/20

"I think any time a girl has to show her thighs, it's never going to be her favorite look. I love the dress...if someone else wore it." - To Good Morning America

Getty Images

6/20

"I'm a horrible dancer! I'm like a dad at prom. I look like Gumby getting electrocuted." - On whether you'll see her twerking any time soon

7/20

Shares in Jimmy Choo, the shoemaker popular with such Jennifer Lawrence, are set to be priced between 140p and 180p, valuing it at up £700 million

PA

8/20

"I wrap myself up to look like Lord Voldemort so that they can't see anything because the thought of giving them a picture that will make them money absolutely infuriates me." - Entertainment Weekly

Getty

9/20

"If I don't have anything to do all day, I might not even put my pants on." - Glamour Magazine

Getty

10/20

"I think people are fascinated with breasts that bounce. They are so used to seeing [fake ones]. People are confused [that mine bounce]! My breasts have a life of their own." - The Sun

Getty

11/20

"You guys are just standing up because you feel bad that I fell and that's really embarrassing, but thank you." - 2013 Oscars acceptance speech

Getty

12/20

"I really would not call myself a fashion icon. I would call myself somebody who gets dressed by professionals. [It's like], 'Dance, monkey, dance' right on the red carpet.' I would call me more of a monkey." - To E!

Getty

13/20

"If anybody even tries to whisper the word 'diet,' I'm like, 'You can go f– yourself." - To Harper's Bizarre

Getty

14/20

"I was surprised at how little camel toe problem there was. I was expecting a lot more." - To E! on her Hunger Games jumpsuit

Getty

15/20

"If I were just your average 23-year-old girl and I called the police to say that there were strange men sleeping on my lawn and following me to Starbucks, they would leap into action." - To Vogue on the paparazzi

Getty

16/20

"I'm the fastest pee-er ever. I'm famous for it." - Rolling Stone

Getty Images

17/20

"I can see the McDonalds right there. Wait, hold on, I didn't say fries! I'm seeing you talk and all I'm seeing is me being pissed I didn't get fries. And you have to remind them about ketchup because they never include ketchup, you have to ask for it. Cheapskates." - Being interviewed on the Oscars red carpet

Getty Images

18/20

"I want to play a character I've never been before-a crazy serial killer like Charlize Theron in Monster. I'd love to have to shave my head."

Getty Images

19/20

"This isn't like an auction, right? You guys aren't going to take it away?" - Backstage at the Oscars

Getty Images

20/20

"This isn't like an auction, right? You guys aren't going to take it away?" - Backstage at the Oscars

Reuters
The image was taken as part of the magazine's annual Hollywood Issue, which will this year see British stars including Eddie Redmayne, Benedict Cumberbatch, Felicity Jones and David Oyelowo on the cover.
Reuse content