What to give one of Britain's most aggressive, intellectually intimidating and persistent presenters as a leaving present?
On Jeremy Paxman's last ever Newsnight show to be aired tonight 17 June, Lord Saatchi, one of the fearless journalist's final interviewees, presented him with a first edition of The Road to Serfdom by Friedrich von Hayek – in which the author argues that the abandonment of liberalism and individualism leads to freedom, the creation of an oppressive society and the tyranny of a dictator.
Saatchi added the gift was given "on behalf of all your victims", describing the book as "a very important book in the history of British politics".
"Would you accept this on behalf of all your victims?" he asked Paxman, swerving a question about money.
"We as your victims wish you well in whatever you do next."
Paxo's best verbal jousts

Paxo's best verbal jousts

1/3 Denis Halliday, 1998

"Aren't you just an apologist for Saddam Hussein?" demands Paxman of the senior United Nations official following resignation of his post in Iraq

2/3 Chloe Smith, 2012

"Is this some sort of joke?" Paxman demolishes the youngest Coalition minister over a rise in fuel duty

BBC

3/3 Russell Brand, 2013

"You are a very trivial man," says the Newsnight presenter as he tangles with the comedian over beards and revolutionary politics
Paxman – who has been grilling MPs on the programme for the past 25 years – thanked Saatchi and then, remaining true to self, said, "now answer the question".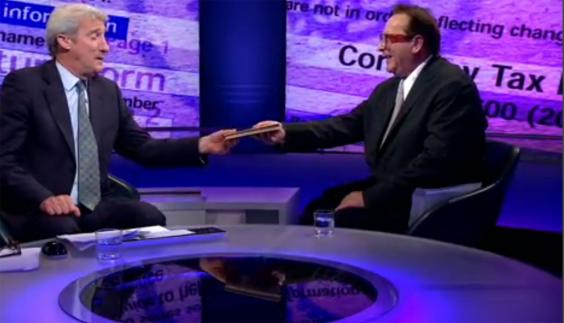 One of Paxman's most recent interviews was with former Italian Prime Minister Silvio Berlusconi, in which he caustically asked, "Is it true you called Angela Merkel an 'unf*ckable lard-arse?'"
Bemused by Paxo's bluntness, the politician replied: "No, I have never had problems with Angela Merkel... This accusation was made up by someone who wanted to turn Angela against me."
Reuse content