A 23-year-old artist paralysed from the shoulders down received an inspiring message from JK Rowling after he called out an internet troll who told him he "deserved to suffer".
Henry Fraser became paralysed from the shoulders down six years ago while on holiday in Portugal. He dived into the sea's surf while misjudging the shallowness of the water and damaged his spinal cord, leaving him unable to move his arms or legs.
He is now a motivational speaker and artist, creating drawings and paintings by using his mouth.
 "Woke up to this email," Fraser tweeted on Tuesday. "All I can achieve now will be because of the motivation you have given me, thank you Laura," he wrote, with an image of the email from a woman called Laura.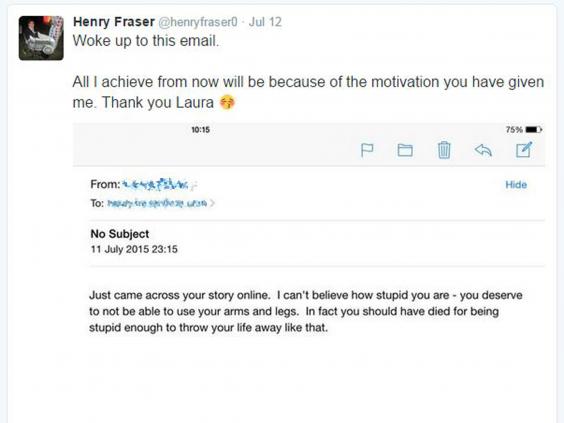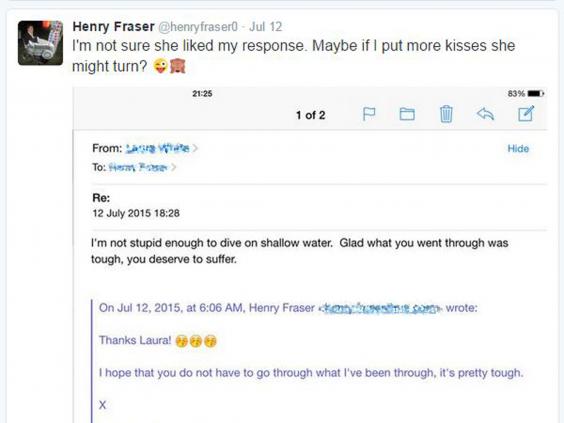 She had written: "Just came across your story online. I can't believe how stupid you are – you deserve not to be able to use your arms and legs. In fact you should have died for being stupid enough to throw your life away like that."
Fraser then tweeted a second image of the exchange, with the message: "I'm not sure she liked my response. Maybe if I put more kisses she might turn?".


The image showed an email exchange, in which Fraser had replied to Laura saying, "Thanks Laura! I hope that you do not have to go through what I've been through, it's pretty tough."
Laura had replied with the message: "I'm not stupid enough to dive on shallow water. Glad what you went through was tough, you deserve to suffer."
Fraser's first contact with Rowling was last week, after he posted a picture of one of his latest works – a painting of Harry Potter, which the author had been stunned by.
My latest mouth painting. (Only able to paint using my mouth). It's #HarryPotter! pic.twitter.com/FNE94c95AH

— Henry Fraser (@henryfraser0) July 7, 2015
My latest mouth drawing. (Only able to draw using my mouth). This time it's the legend...David Beckham. pic.twitter.com/wgRhkAwamw

— Henry Fraser (@henryfraser0) July 13, 2015
On Tuesday the author, who had recently taken down a Twitter troll who had claimed Serena Williams is "built like a man", replied to Fraser on Twitter after he tweeted about the abuse.
"Fate shoved you through an unexpected door and you lit the way for others. I wonder how Laura would fare on the other side?"
After Fraser thanked her, Rowling added: "Truth. Fate could come for any of us, at any time. The imbeciles who don't know that, cave fastest when it happens. Big love X".
Reuse content