John Glenn, the American space pioneer and former US senator, has died. He was 95 years old. 
Sen Glenn died on Thursday afternoon at the Ohio State University Wexner Medical Centre in Columbus. He is survived by his wife of 73 years, Annie.
Mr Glenn entered the annals of the great explorers when he became the first American to orbit the Earth in 1962, a moment of glory for US space exploration. He was part of the first team of pilots, the Mercury Seven, to take part in the experimental programme as the country embarked on a frenzied race against the Soviet Union to escape the Earth's atmosphere.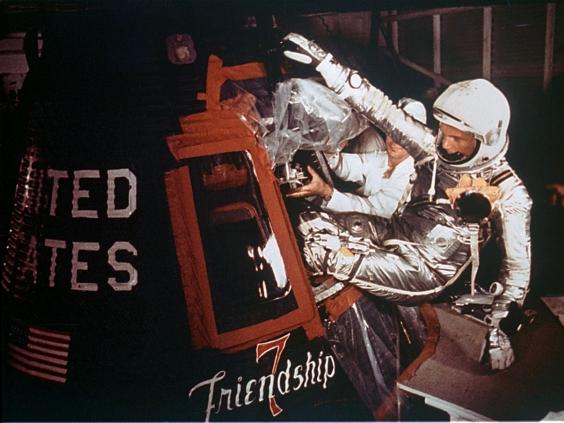 John Glenn's life was one for the storybooks and the record books. He set the record for fastest transcontinental flight in 1957, only five years before escaping the Earth's atmosphere orbiting the planet for three revolutions – a feat that lasted just under five hours.
"When John Glenn blasted off from Cape Canaveral atop an Atlas rocket in 1962, he lifted the hopes of a nation," President Barack Obama said. "And when his his Friendship 7 spacecraft splashed down a few hours later, the first American to orbit the Earth reminded us that with courage and a spirit of discovery there's no limit to the heights we can reach together. ... 
"The last of America's first astronauts has left us, but propelled by their example, we know that our future here on earth compels us to keep reaching for the heavens."
Ohio Gov John Kasich praised Mr Glenn for "never [straying] from his steadfast Ohio roots", despite having been to space and a decades-long career on Capitol Hill. 
"John Glenn is, and always will be, Ohio's ultimate hometown her, and his passing today is an occasion for all of us to grive," said Ohio Gov John Kasich. "As we bow our heads and share our grief with his beloved wife, Annie, we must also turn to the skies, to salute his remarkable journeys and his long years of service to our state and nation."
A Democrat, Mr Glenn represented Ohio in the US Senate for 24 years. He had unsuccessful brushes with presidential politics after a failed run for the vice presidency in 1976 – losing out to Walter Mondale – and failed run for the 1984 Democratic nomination for president.
But in 1998, his final year as US senator, Mr Glenn set yet another record. Aged 77, he joined the flight crew of the space shuttle Discovery, becoming the oldest man in space.
Mr Glenn's body will lie in the Ohio statehouse for a day. He will be buried at Arlington National Cemetery in Washington, DC.
* The original version of this article referred to Mr Glenn as the "first man", rather than as the "first American" to orbit the earth. The first man to orbit the earth was Soviet cosmonaut, Yuri Gagarin, in 1961. The article was amended around two hours after initial publication.