The body of the Argentinian Formula One driving legend Juan Manuel Fangio has been exhumed amid a paternity battle.
The BBC reports that a judge ordered for his body to be exhumed in order for DNA samples to be taken. Two men are currently claiming to be his sons.
Fangio was one of the first great Formula One legends. The won the World Championship five times in the 1950s- a record which only Michael Schumacher has bettered.
He died in 1995 aged 84, having never married and never indicated that he had any children. However, two separate claims have now be made by men purporting to be his descendants. 
Oscar Espinosa and Ruben Vazquez are both now in their seventies.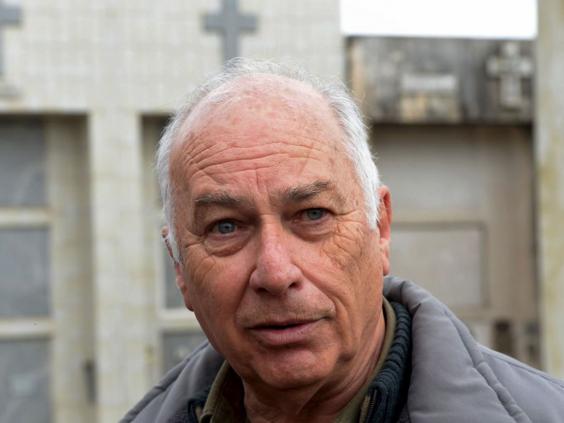 Vazquez told reporters that his interest was not financial: "There are no economic interests in my request, I just want to be recognised for the Fangio surname."
Malaysian Grand Prix in pictures
Malaysian Grand Prix in pictures
1/25 Malaysian Grand Prix

Sebastian Vettel lifts the Malaysian Grand Prix trophy

Getty Images

2/25 Malaysian Grand Prix

Sebastian Vettel of Germany and Ferrari celebrates with the trophy on the podium after winning the Malaysia Formula One Grand Prix at Sepang Circuit

GETTY IMAGES

3/25 Malaysian Grand Prix

Vettel cruised to victory in the closing stages once Hamilton's threat faded

Getty Images

4/25 Malaysian Grand Prix

Vettel dropped to third but took the lead once the Mercedes pair pitted

Getty Images

5/25 Malaysian Grand Prix

The stricken Sauber of Marcus Ericsson is retrieved after the safety car comes out

Getty Images

6/25 Malaysian Grand Prix

Lewis Hamilton led Sebastian Vettel and Nico Rosberg early on

Getty Images

7/25 Malaysian Grand Prix

Kimi Raikkonen was hampered by an early puncture but recovered to fourth position

Getty Images

8/25 Malaysian Grand Prix

Lewis Hamilton leads from the start as Nico Rosberg challenges Sebastian Vettel

Getty Images

9/25 Saturday qualifying

Lewis Hamilton will start on pole ahead of Sebastian Vettel and Nico Rosberg

Getty Images

10/25 Saturday qualifying

Rosberg grimaces after Hamilton clinches pole

Getty Images

11/25 Saturday qualifying

Hamilton runs down the back straight in the rain

Getty Images

12/25 Saturday qualifying

Nico Rosberg could only manage third

Getty Images

13/25 Saturday qualifying

Lewis Hamilton secured his second straight pole of the season

Getty Images

14/25 Saturday qualifying

Sebastian Vettel managed to split the two Mercedes

Getty Images

15/25 Saturday qualifying

Kimi Raikkonen was the shock name to miss out in Q2

Getty Images

16/25 Saturday third practice

Rosberg returned to the top to the timesheets in final practice

Getty Images

17/25 Saturday third practice

Rosberg could take heart from his showing in third practice to take momentum into qualifying

Getty Images

18/25 Saturday third practice

Kimi Raikkonen finished third in final practice despite suffering a puncture

Getty Images

19/25 Friday second practice

Kimi Raikkonen managed to finish both sessions in second

Getty Images

20/25 Friday second practice

Nico Rosberg topped first practice but could only manage third in second practice

Getty Images

21/25 Friday second practice

Roberto Merhi's first ever run in the Manor Marussia ended in the gravel trap

Getty Images

22/25 Friday second practice

Lewis Hamilton returned to the track to set the fastest time of the day

Getty Images

23/25 Friday first practice

Hamilton's Mercedes is winched onto a recovery lorry

Getty Images

24/25 Friday first practice

Lewis Hamilton was forced to end his first run after just four laps

Getty Images

25/25 Friday first practice

Fernando Alonso returned to action following his recent concussion

Getty Images
Reuse content