The French President has turned down a request for political asylum from WikiLeaks founder Julian Assange.
The Australian, who has spent three years living inside the Ecuadorian Embassy in London, wrote to Francois Hollande.
The letter, published by French daily newspaper Le Monde, said: "Only France is in a position today to offer me the necessary protection against, and exclusively against, the political persecution of which I am currently a target."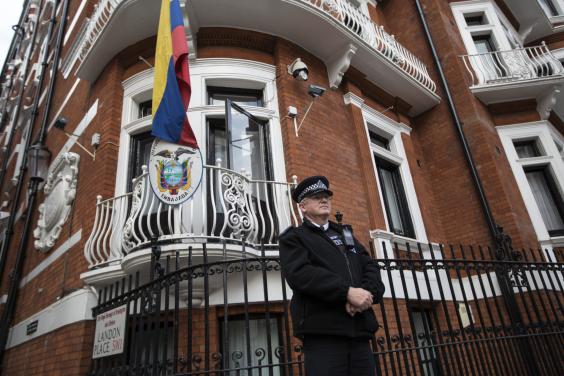 France studied the request and decided it couldn't be granted given the legal ramifications, President Hollande's office said in a statement, adding that Mr Assange was not in any "immediate danger".
It added that Mr Assange is the subject of a European arrest warrant.
French justice minister Christine Taubira suggested in a televised interview last week that she would be open to the idea, but Mr Hollande's statement made it clear that will not happen.
"A deep examination found that given the judicial elements and the material situation of Mr Assange, France cannot follow through on his request," the president said.
The WikiLeaks founder has been granted political asylum by the Ecuador Government following his sudden arrival at the embassy in 2012.
Whistleblowing controversies of the last decade
Whistleblowing controversies of the last decade
1/12 Edward Snowden NSA leak

Articles in The Guardian revealed that the US and the UK spied on foreign leaders and diplomats at the 2009 G20 summit.

Reuters

2/12 WikiLeaks' US diplomatic cables leak

In 2009, former US soldier Chelsea Manning, downloaded hundreds of thousands of classified US Government documents, and passed them on to Jullian Assange's whistleblowing website WikiLeaks. Among the documents were 250,000 State Department diplomatic cables. One disclosed the close relationship between Russian President Vladimir Putin and then-Italian Prime Minister Silvio Berlusconi, the Guardian reported. Allegations included "lavish gifts", lucrative energy contracts and the use by Berlusconi of a "shadowy" Russian-speaking Italiango-between.

Getty Images

3/12 WikiLeaks' US diplomatic cables leak

WikiLeaks' US diplomatic cables leak: In a revelation which bruised the UK's 'special relationship' with the US, WikiLeaks published conversations by US commanders criticising Britain's military operations in Afghanistan.

Getty Images

4/12 WikiLeaks' US diplomatic cables leak

WikiLeaks' US diplomatic cables leak: One document disclosed startling levels of corruption in Afghanistan, including an incident involving the then vice-president, Ahmad Zia Massoud, who was reportedly stopped and questioned in Dubai when he flew into the emirate with $52m in cash.

Getty Images

5/12 WikiLeaks' US diplomatic cables leak

Another cable documented fears in Washington over Pakistan's nuclear weapons programme, in a volatile country with a strategic position in the Middle East.

PA

6/12 WikiLeaks' US diplomatic cables leak

Day four of the gradual drip of leaks exposed allegations that Russia and its intelligence agencies are using mafia bosses to carry out criminal operations, with one cable reporting that the relationship is so close that the country has become a "virtual mafia state".

Getty Images

7/12 Edward Snowden NSA leak

In 2013, The Guardian published classified US National Security Agency (NSA) documents, from a then anonymous whistleblower. Four days later he was exposed as former NSA contractor Edward Snowden. A month after the initial leak, the New York Times allegeded that the NSA received emails, video clips, photos, voice and video calls, social networking details, logins and other data held by a range of US internet firms.

8/12 Edward Snowden NSA leak

Since Snowden revealed that the US had eavesdropped on German Chancellor Angela Merkel's phone, German-US relations have been strained. In May 2014, Mrs Merkel said still had significant differences with the United States over surveillance practices and that it was too soon to return to "business as usual," according to the New York Times.

Getty Images

9/12 Edward Snowden NSA leak

On 7 June, The Guardian published the Presidential Policy Directive 20, whcih included a list of potential targets for cyber-attacks by the US Government.

Rex Features

10/12 Samy Kamkar iPhone and Android exposé

In April 2014, hacker and researcher Samy Kamkar revealed that Android phones collect user location data every few seconds. Files are then transited to Google several times an hour.

Getty Images

11/12 Samy Kamkar iPhone and Android exposé

It is believed Apple and Google are using the data to better target adverts to smartphone users, according to The Guardian.

Getty Images

12/12 Samy Kamkar iPhone and Android exposé

The two companies have since justified the collection of data. In a letter to the US congress Apple confirmed it collected the data and said that, in order to be useful, "the databases [of tower and network locations] must be updated continuously". A Google spokesman told the Guardian Android phones explicitly asked to collect anonymous location data when users turned them on.

Getty Images
Mr Assange and his group angered the US government by publishing hundreds of thousands of secret military and diplomatic documents.
In his letter to Mr Hollande, he said the mother of his youngest child is French. He also said he is restricted to a space of 5.5 square metres, lacking access to "fresh air, sun ... as well as any possibility to go to a hospital", and noted that police say round-the-clock surveillance of him has cost £11.1 million.
He is seeking to avoid extradition to Sweden, where he faces sex allegations by two women - claims he denies.
He fears that if he goes to Sweden he will be taken to the United States for questioning about the whistleblowing website.
The Metropolitan Police have mounted a round-the-clock guard on the embassy since Mr Assange sought refuge inside the building.
Press Association
Reuse content