It was only a matter of time really, wasn't it?
Kate Middleton has finally given up on posing normally in front of a camera held by a person more than an arms-width away and indulged in a full-on selfie.
The Duchess of Cambridge and Prince William were on the Sydney leg of their seemingly endless tour of Australia when they stopped to pose for vanity shots with fans.
"I thought William would say no but he didn't. He wished me well," said Nina Kiwarkis, 52, one of few lucky well-wishers to be granted a royal snap.
Chloe Skafte, 19, lured Kate into her shot with a bunch of flowers: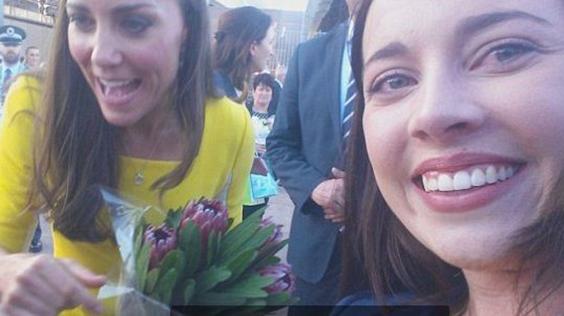 While a selfie taken of the Duchess high-fiving a child in Christchurch promptly circulated Twitter with the somewhat disproportionate hashtag '#besteverselfie':

The couple arrived in Australia on Wednesday (16 April) with Prince George – AKA 'The Republican Slayer' – dangling from Prince William's arms in a white romper suit.
The eight-month-old baby was then given his very own police escort to Admiralty House, the official residence of the Governor-General Sir Peter Cosgrove (the Queen's official Australian representative) in Kirribilli, where he was presented with a giant cuddly wombat.
After that, they were welcomed at a reception at the Sydney Opera, where thousands of Australians gathered to catch a glimpse of the Duchess dressed "like a banana":
And then Prince William caused a stir when he stood perilously close to the edge of a 100-metre drop off a cliff face in the Blue Mountains:
The royal tour continues. Probably forever.