No prizes for guessing which candidate Katy Perry is lending her support to ahead of the 2016 presidential elections.
The singer – usually seen riding inflatable cupcakes in a Catherine Wheel bra – has offered to write the campaign theme song for former US Secretary of State, Hillary Clinton.
Sharing a picture of the two together at a recent meeting on Twitter, Perry wrote: "I told @hillaryclinton that I would write her a 'theme' song if she needs it."
Clinton is, of course, yet to officially declare her candidacy for 2016. And while she didn't accept Perry's offer exactly, she did issue a rather flattering – if mildly nauseating –  response: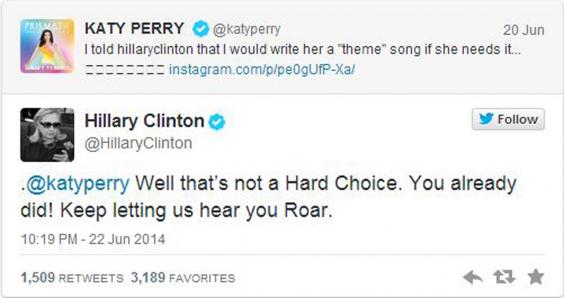 The politician – and wife of former US President Bill Clinton – is currently on the promotional trail for her new autobiography, Hard Choices. Hence the quick-witted title plug in the aforementioned tweet.
Perry previously showed her support for current Democratic President Barack Obama in the run-up to the elections in 2012. The pop star wore a low-cut, blue PVC mini-dress branded with Obama's campaign slogan "Forward" to take to the stage for a special performance before his speech in Milwaukee.
Obama campaign slogan "Forward" on it, rocked the stage before Mr Obama's speech in Milwaukee.
Mitt Romney, however, was stuck with Kid Rock for his famous endorsement.