Kelly Clarkson is eyeing the bucket of bottles of champagne warily. Yes, it's been a long, hectic work visit to the UK to promote her comeback single, the fist-punchingly anthemic "Heartbeat Song".
There's been a trip to Manchester to appear on BBC Breakfast. A crack-of-dawn schlep to Nick Grimshaw's Radio 1 show. A slot on the couch and the stage at The Graham Norton Show, a post-midnight gig at self-explanatory Soho club GAY. And this interview in a drowsily posh London hotel is her last obligation before she gets to fly back to her home in Nashville.
All that, and she's juggling (with the aid of a nanny and her husband) the care of her eight-month-old daughter River.
So, maybe just the one glass?
Maybe not. "I'm so caffeinated right now!" gushes the winner of the first series of  American Idol. "I've been caffeinating all day. I've had eight hours' sleep in three days. If I drank that champagne, oh my God, I'd die! You'd have to hold my hair!" the 32-year-old hoots. You can take the girl out of small-town Texas (but you better keep her out of the bars).
There aren't many female American superstars who'd laugh at the likelihood of them drinking themselves sick. But Clarkson isn't like other platinum-selling, three-time Grammy-winners, and not just because she's the most successful ever TV talent show solo artist. She's contrarily forthright – don't go assuming her winning way with a Celine Dion power-ballad in 2002 means she's just a powerhouse vocalist, although she is that too, as her deathless pop-rock anthems "Since U Been Gone" and "Stronger (What Doesn't Kill You)" attest.
"People who saw me on Idol didn't know how much weight I carried as a writer," she says. "But: I will say, if you are a good vocalist, it's almost harder. I've had people – titans in the industry! – say: 'Just shut up and sing. You're a singer and no one wants to hear anything else.'"
She's defiantly opinionated, too. Try to pigeonhole or reduce her and she'll cut you dead, as music industry heavyweights Simon Cowell, Simon Fuller and Clive Davis all found to their cost.
Fuller was her default manager after her American Idol victory, but she split with him before releasing her second album. Cowell would later query her choice of song material – "[She] started to fight against what made her successful... one minute she wants to make pop records, and then she doesn't". But Clarkson kept having hits – "Maybe someone should send 'em to him!" she quipped in 2012. In 13 years she's sold over 20 million albums.
"When you're a judge on a show like that, I think people are paying attention to ratings. I don't think they're necessarily caring about creating artists. And I think that's up to the artists. If you're an artist, you should fight for that. I know a lot of people from those shows that just want to be famous. That's very different. Anyone can be famous; create a YouTube channel," she says witheringly.
"But if you really love writing and singing and touring, then you have to stay focused on that. And when they send you bullshit songs, or send you covers of magazines that are naked girls with guitars and say, 'You need to do this', stand up and say, 'I don't wanna do it. That's not me.'"
This was the position Clarkson took in 2007 when making her third album, My December. Davis, the veteran music biz executive and producer, tried to convince her to use the same collaborators as on her previous album.
"I was really excited about working with him," she recalls. "But he literally would say, 'You're Whitney Houston – you need to just sing the songs.' I'm like, 'First of all, don't discredit her like that – she's an amazing talent. And secondly, I'm not her. Yes, I can sing a ballad, but I can also sing the shit out of a rock song'."
She shrugs. "I tried to be respectful about it and it just didn't work that way either. But you know, I came off probably as some young pop tart that didn't have a clue what she was talking about." She's cheerfully unbothered, though – probably because My December sold a decent 2.5 million copies.
Her new, seventh studio album, Piece By Piece, shows Clarkson firmly in the driving seat. Her website features key lyrics from the new songs she's written and co-written, and asks fans to post their reactions. The title track is represented by: "Piece by piece I fell far from the tree, I will never leave her like you left me."
"I'm assuming this is to your dad about your little girl," begins one typically lengthy submission from the (mostly) female respondees.
"Yes, that one was obvious," Clarkson acknowledges. "My sister and I were discussing our family. She's seven years older than me, so I didn't grow up with any of my family like she did. And we were saying how it's amazing how we ended up with such loving guys and such supporters, who are great fathers. And we didn't have such a great example – either time for me," she notes, a reference to the fact that, after their parents split, her sister had gone to live with their aunt and that Clarkson's mother later divorced a second time.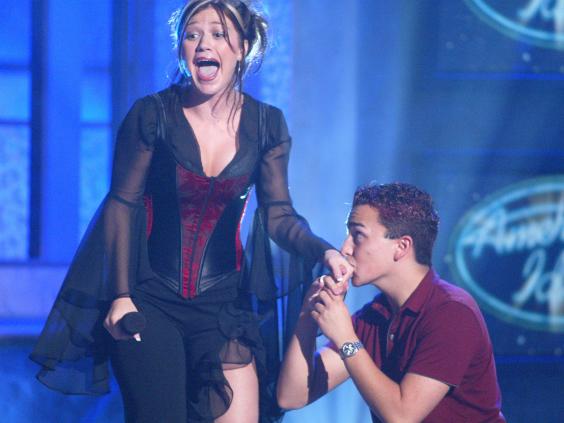 Clarkson's husband is the son of her manager, and is an artist manager himself. It's situation that, she concedes with a laugh, is "very incestuous... but that song is about how I found someone who restored my faith in what movies and great classics are written about. But I mean, having a kid, I just can't even imagine walking away."
As she talks, that caffeine – bolstered by a final cup of tea for this committed Anglophile – has the ravingly friendly Clarkson practically bouncing in her seat. She can talk the hind legs off a Texas steer, and has the hand gestures to accompany it. As such it's hard to miss the rock the size of Gibraltar on her wedding finger. But more interesting is the smaller, turquoise and gold ring on her right hand.
It's a replica of one of the three existing pieces of jewellery owned by Jane Austen. Clarkson is a lifelong fan of the author (Persuasion is her favourite novel), and actually owned the original ring, bought for £150,000 at Sotheby's in 2012. But a government export ban prevented the singer leaving the UK with it.
"I kept it at Christie's, and when I would come to London I would go there, to my Pierce Brosnan/Thomas Crown Affair security box, pull it out and wear it around town!" she says brightly. "Because I was here a lot. But after a while I just thought, well, this is just silly. No one can appreciate it, and as a true Jane Austen fan, I know a lot of people would love to see the last [sic] piece of jewellery she had. So now it's at the Jane Austen [House] Museum."
Her husband commissioned the replica, albeit with added diamonds. But Clarkson plans to visit the ring at the museum in Chawton, Hampshire, when she tours the UK later this year. "And I'm gonna go to that Harry Potter little place they have," she adds, girlishly. "I just love escapism."
But more than that, she loves the female protagonists in Austen's novels. "They are always these heroic, intelligent, confident women. For that time, that was very risky. Women didn't have a voice then. She's actually almost political for her time. Very daring.". µ
'Piece By Piece' (Sony) is released on Monday
Reuse content