Kendrick Lamar responded to the Fox News criticism of his recent BET performance, where he stood rapping on vandalised police car.
The Compton rapper sat down with TMZ to discuss the message behind his performance of his To Pimp a Butterfly track "Alright." Lamar responded to criticism from Fox News personality Geraldo Rivera, who said the rapper was inciting violence and perpetuated damaging stereotypes and racism toward black Americans.
"How can you take a song that's about hope and turn it into hatred? The overall message is 'We gonna be alright.' It's not the message of 'I wanna kill people,'" he said.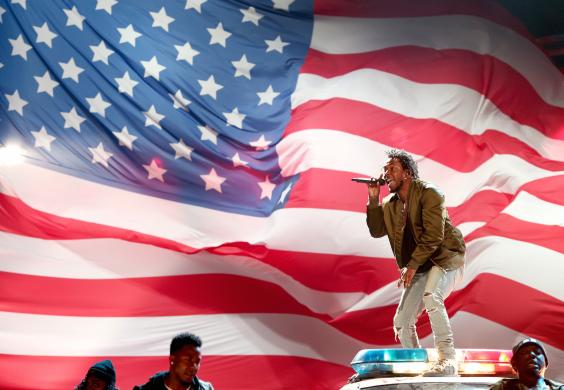 The rapper continued by saying that the Fox News pundit was trying to dilute the overall message of the performance — the hope and aspirations to overcome police brutality through positive outlets.
"The problem isn't me standing on a cop car. His attempt is diluting the real problem, which is the senseless acts of killings of these young boys out here. I think for the most part it's avoid the reality. Me being on the cop car, that's a performance piece after these senseless acts."
Lamar admit that senseless police killings do make him angry, but literally speaking out to other blacks and saying "things are going to be okay at the end of the day" doesn't give Rivera the right to take away that hope.
"Hip-Hop is not the problem; our reality is the problem. Him addressing the problem saying it's hip-hop is again avoiding the problem which is what's going on out here. The oppression of us having guns and drugs in these streets and us being in the mentality where we have to somewhat survive in these hostile situations," he said.
"The more and more he'll try to avoid that, the more and more we gonna keep talking about it and giving our people the game as far as how to control these situations and try to overcome it."
Watch Lamar's TMZ interview below:
Reuse content