Randall Park played one of the most dangerous and controversial roles in recent cinematic history.
The 40-year-old Los Angeles-born actor took on the part of Kim Jong-Un in The Interview – the Seth Rogen-penned film about the assassination of the North Korean dictator.
The R-rated comedy sparked the prolific cyberattacks on Sony Pictures that saw scores of leaked emails between movie executives, as well as the personal details of its employees, published on the internet.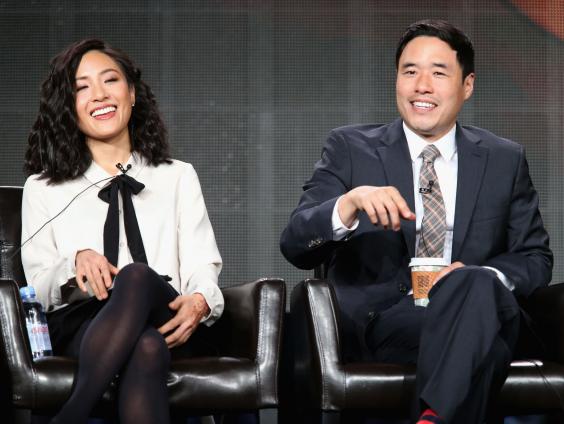 The director of the FBI James Comey has since declared that the hackers "got sloppy" and had exposed their links to the Secret State.
Meanwhile James Clapper, the Director of National Intelligence, branded the cyberattacks the "most serious" threat against US interests that has ever been made.
Despite all this, Park – who is of South Korean decent – claims he was more surprised to see himself on the news than he was worried about his mortality.
"No, I was never worried for my safety or for getting hacked or any of that during that process," he told reporters at a press event to promote his new ABC sitcom, Fresh Off the Boat.
"It was more, like, crazy to turn on the news and see my face… they're talking about Kim Jung On, but showing my face!"
Sony Cyber Attack: The Worst Affected In Hollywood
Sony Cyber Attack: The Worst Affected In Hollywood
1/13 Leonardo DiCaprio

The actor's 'horrible behaviour' over Steve Jobs biopic was branded 'actually despicable' in leaked Sony executive emails

Getty Images

2/13 Seth Rogen

Seth Rogen and James Franco cancel Interview (North Korea-baiting film) press appearances after Sony hackers' threats

3/13 James Franco

Seth Rogen and James Franco cancel Interview press appearances after Sony hackers' threats

AP

4/13 Aaron Sorkin

The screenwriter has said that the people who hacked into Sony Entertainment Pictures and released private emails are 'threatening the lives of whole families'

Theo Wargo | Getty Images for Nantucket Film Festival

5/13 Amy Pascal

Also leaked: Sony Pictures co-chair Amy Pascal's email joking about President Barack Obama's race

Getty Images

6/13 George Clooney

Leaked email chain between Pascal and George Clooney appeared to reveal just how much the actor struggled to cope with the criticism of his The Monuments Men

Getty

7/13 Barack Obama

Sony executives Scott Rudin and Amy Pascal's leaked email exchange jokes about Barack Obama favouring films with black actors

Getty

8/13 Channing Tatum

Channing Tatum's leaked Sony executive email responding to the success of 22 Jump Street with Jonah Hill, which became the highest grossing R-rated comedy ever when it opened in June this year

Getty Images

9/13 Jaden and Willow Smith

Will Smith and Jada Pinkett Smith's children Willow and Jaden Smith found themselves in the Sony inbox as well

Getty

10/13 Mark Gordon

DiCaprio's exchange with Jobs TV producer Mark Gordon (pictured) was leaked too

Getty Images

11/13 Princess Beatrice

Sony hackers linked to North Korea revealed Princess Beatrice earns $30,000 a year

12/13 Michael Fassbender

Aaron Sorkin's leaked emails claimed he had no idea who actor Michael Fassbender (pictured) was

Getty Images

13/13 Scott Rudin

Information leaked has also included embarrassing emails involving high profile producer Scott Rudin attacking Angelina Jolie

Getty Images
True to his word, the actor and his young family were photographed a number of times throughout December happily going about his daily LA life, completely unguarded.
He wasn't, however, aware of Sony's intentions to release The Interview as a paid download online on Christmas Eve.
"That definitely was a crazy experience," he continued.
"Right after the movie came out, everything kind of died down and I was, in my head, trying to piece everything together and I still haven't fully pieced everything together as far as what that experience meant to me. I was just really glad that movie came out and that in the end people got the chance to see the movie… I'm excited to move on from that."
Reuse content