Kim Kardashian has made her marriage to Kanye West "official" in the most modern way possible – by changing her name on Twitter and Instagram.
The reality TV star edited her profile earlier today, implying that she now wishes to be known as Kim Kardashian West (n.b. anyone wishing to tweet her their congratulations, her user handle is still @KimKardashian).
The bride had hinted before that she would take her famous spouse's surname, but has opted to keep her own in place too – the Kardashians are an "industry" after all, as West pointed out in his 20-minute long groom's speech.
The US rapper spoke at length on the challenges the high-profile pair face as celebrities, before gushing over his new wife and describing her as "the ideal art".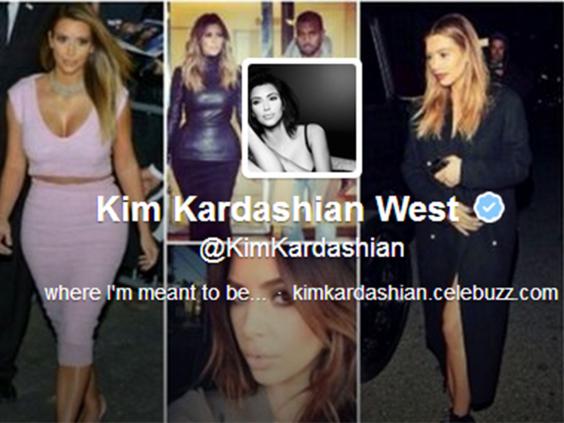 "We are warriors!" he exclaimed. "There is not one person at this table that has not had to defend us at some point or another. At this table, the combination of powers can make the world a better place."
West is also rumoured to have said "Kim's more beautiful than I am talented" which, as his arrogance seemingly knows no limits, could well be true.
Kanye West's greatest self comparisons
Kanye West's greatest self comparisons
1/12 God: "I am God's vessel. But my greatest pain in life is that I will never be able to see myself perform live."

Getty

Getty

2/12 Steve Jobs: "I think what Kanye West is going to mean is something similar to what Steve Jobs means. I am undoubtedly, you know, Steve of Internet, downtown, fashion, culture. Period. By a long jump."

Getty

David Paul Morris/Getty Images

3/12 Walt Disney: "I'm more of a Walt Disney or something. Rap is just a chamber of my thoughts. [They're] something that I really wanted to express as a modern day poet."

Getty

Getty

4/12 Braveheart: "I feel like a little bit, like, I'm the Braveheart of creativity."

Getty

5/12 Willy Wonka: "I want to be as unrealistic as possible. The worst thing about me comparing myself to Steve Jobs in that it's too realistic of an idea. What I need to stay is I'm more like Willy Wonka."

Getty

Getty

6/12 Picasso: "No matter how they try to control you, or the motherfucker next to you tries to peer pressure you, you can do what you motherf**king want. I am Picasso."

Getty

Getty

7/12 Hermés: "Visiting my mind is like visiting the Hermès factory. S**t is real."

Getty

Getty

8/12 Michelangelo: "When I think of competition it's like I try to create against the past. I think about Michelangelo and Picasso, you know..."

Getty

Getty

9/12 The Pyramids: "... the pyramids."

Getty

Getty

10/12 Thomas Edison: "I am Thomas Edison."

Getty

Getty

11/12 Soldiers: "You're literally going out to do your job every day knowing that something could happen to you."

Getty

Getty

12/12 The Police: "This is like being a police officer or something."

Getty

Getty Images
Kardashian, 33, and West, 36, wed in Florence last Saturday duing a private lavish ceremony, before flying over to Ireland for a hiking and biking honeymoon in the Cork countryside.
Kardashian shared photos of the couple on their big day, just moments after they walked down the aisle as man and wife. The first photo, captioned "Mr and Mrs Kanye West", has been retweeted almost 7,000 times.
Reuse content