Kim Kardashian has laid a bouquet of flowers at the memorial complex marking the Armenian genocide that killed 1.5 million people.
Kardashian, who is of Armenian descent, is on an eight-day tour of Armenia with her husband Kanye West and sister to raise awareness of the 1915 genocide committed by the Ottoman Empire.
She was also joined by her sister Khloe and two Armenian cousins, Kourtni and Kara. The Kardashian family escaped Armenia in 1913, and Kim has been vocal about raising awareness of the centenary of the genocide.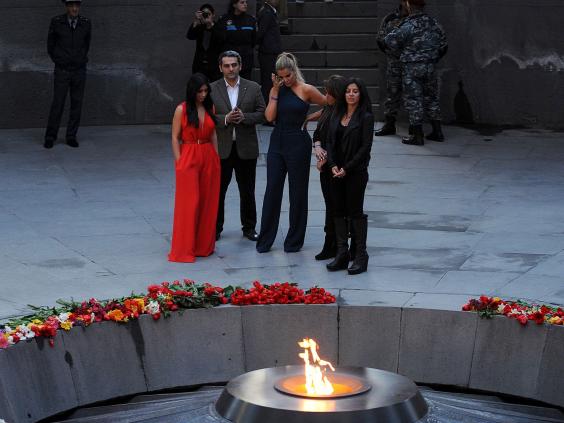 The reality TV stars laid two bouquets of red tulips at the Tsitsernakaberd memorial's eternal flame.
Suren Manukian, deputy director of the Genocide Institute, also gave a speech.
Khloe appeared emotional as she stood silently by the memorial.
The Kardashian family received a plot of land from an Armenian company on Friday, according to the Associated Press. They met with Armenian Prime Minister Hovik Abrahamyan earlier in the week, who was quoted by E!Online as saying: "Their visit to their historical homeland helped bring international recognition to the 100th anniversary of the Armenian Genocide and remembering the lives lost".
Their trip comes two weeks before Armenia will pay tribute to the 100th anniversary of the massacre on Armenian Genocide Remembrance Day.
Reuse content