It's the news everyone will despise themselves for clicking on, recoiling in horror on Twitter at their lightning finger reaction and declaring themselves uninterested in the personal lives of reality TV stars and rappers.
But, much like shy Tories, who politely declined (read: lied) to poll surveyors about who they were really voting for when they went to the ballots, shy Kimye followers may not openly admit their fascination with the world's most famous couple. Odds are, however, they are already debating whether baby number two will be christened 'North-North' or 'South' with delight.
For those people, we'll call Kim Kardashian-West's announcement the "second coming" - second indeed in international baby significance only to Princess Charlotte's arrival last month.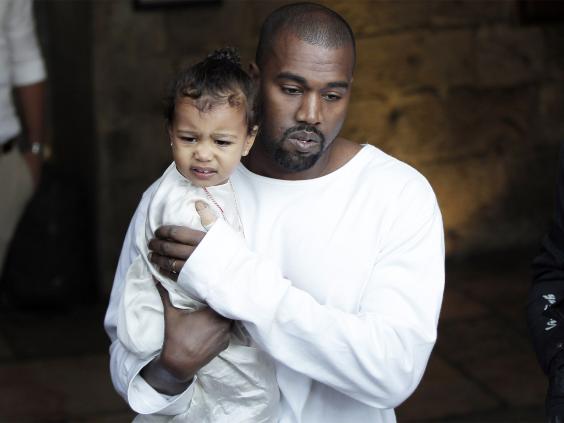 This time, announcement of the 'spare heir' to Kimye's fortune was overshared during a preview episode of Keeping Up With The Kardashians in the US. No, not even the full episode.
"I just got the blood test back, and I am pregnant!" she can be seen telling an open-mouthed sister Khloe.
Of course, there is a touching backstory to run alongside. Kim has televised every minute detail of her struggles to conceive on the show and in the press, last sharing her failed attempt to get pregnant using IVF treatment.
Ahead of the broadcast, she tweeted: "Who is excited for tonight's KUWTK finale?!?!?! There's some exciting news to share so make sure you tune in!!!!!"
Most unusual famous baby names
Most unusual famous baby names
1/15 No.15: Ignatius Martin Upton - Cate Blanchett and Martin Upton chose a very serious name for their son. Who now joins Dashiell and Roman, his two siblings.

Getty Images

Getty Images

2/15 No.14: Bingham 'Bing' Hawn Bellamy - Is what Kate Hudson called her little boy with Muse frontman Matt Bellamy. Yep.

Getty Images

Getty Images

3/15 No.13: Harper Seven Beckham - The baby daughter of DB and VB, named after To Kill A Mockingbird author, Harper Lee and the number of dad David Beckham's Man U football shirt. Sure.

Reuters

Reuters

4/15 No.12: Sparrow James Midnight Madden - Nicole Richie and Good Charlotte rocker Joel Madden called their son Sparrow. Middle name? Midnight. Obviously.

Getty Images

GETTY IMAGES

5/15 No.11: Keen Ruffalo - Dear Mark Ruffalo, is it really OK to call your son Keen? Is he?

Getty Images

GETTY IMAGES

6/15 No.10: Destry Allyn Spielberg - What happens when your mum and dad name you after a Western.

Mark Von Holden/Getty Images

Mark Von Holden/Getty Images

7/15 No.9: Reiley Dilys Stella Willis - Ah. The rhyming baby name. Of which Stella McCartney and Alasdhair Willis' daughter is the proud owner of.

Getty Images

Getty Images

8/15 No.8: Apple Blythe Alison Martin - Naming children after fruit. And/or religious figures (son's called Moses). Gwyneth Paltrow and Chris Martin love it.

PA

@PA

9/15 No.7: Astala Dylan Willow Cohen-Geldof - Look, it just wouldn't be a Geldof if he didn't have an outlandishly irregular name, would he? Peaches Geldof and Thomas Cohen made sure they stuck with family tradition.

Getty Images

Getty Images

10/15 No.6: Moroccan Scott Cannon and Monroe Cannon - Mariah Carey and Nick Cannon decided to name their two twins after the name of a person that comes from the north African country. Oh, and a golden age Hollywood screen star's surname. Of course.

Getty Images

Getty Images

11/15 No.5: Denim and Diezel Braxton-Lewis - Naming your kids after jean fabric and car engines? Toni Braxton is well into it.

Getty Images

Getty Images

12/15 No.4: North West - We all laughed long and hard and loud as the rumoured monikers for Kim Kardashian and Kanye West's bundle of joy did the rounds. And then they called her North West. And it wasn't a joke any more.

Getty Images

Getty Images

13/15 No.3: Jermajesty Jackson - Is the actual name of one of Jermaine Jackson's sons. No, we're not joking. It really is.

Getty Images

Getty

14/15 No.2: Happy Hinds - Seriously. This is definitely what Macy Gray named her daughter. Sounds like enthusiastic back legs to us.

Getty Images

Getty

15/15 No.1: Bear Rocknroll - The surname is enough to induce a few cackles of amusement. Then add the chosen fore-title of Kate Winslet's baby boy, born December 2013, and it's just... Well... Weird.

Reuters

Reuters
Baby North West was born in June 2013. Her arrival was chased with an extraordinarily elaborate marriage proposal at San Francisco's AT&T Park baseball stadium.
Amid presidential security, Kanye and Kim wed in Florence in May 2014.
Reuse content