A Photoshopped version of Kim Kardashian's face has been used to highlight the consequences of crystal meth usage by a Tennessee police department.
Bradley County Sheriff's Office ran a picture of the reality television personality as she appears in reality, alongside a hypothetical mocked-up image of what she might look like having used the class A drug. The pictures ran as part of a gallery aiming to warn people about the perils of taking meth.
However, the image has since been removed; in fact a slogan across the website now reads: 'Under construction'. Upon being contacted by TMZ, the sheriff's office said that they had no knowledge that the Kardashian's picture had been featured on the site and put it down to a volunteer who no longer works with them.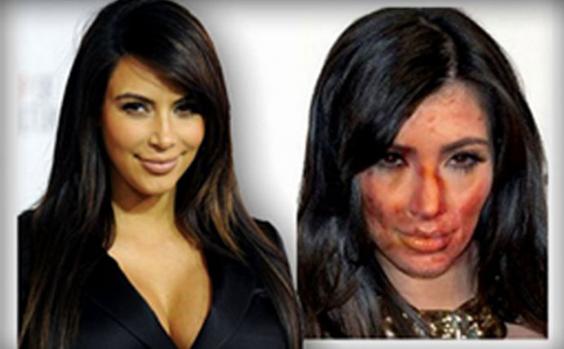 Presumably Kardashian wasn't contacted for usage consent, nor has Kardashian ever been associated with drugs before.
The world according to Kim Kardashian
The world according to Kim Kardashian
1/16 On body confidence:

"If I don't feel confident about my body, I'm not going to sit at home and feel sorry for myself and not do something about it. It's all about taking action and not being lazy."

2/16 On designer clothing:

"You can't really have like high-end designers for everything."

Getty Images

3/16 On sisterhood:

"Having lots of siblings is like having built-in best friends."

4/16 On business:

"I'm an entrepreneur. 'Ambitious' is my middle name."

GETTY

5/16 On family holidays:

"Holidays are the best. I couldn't imagine being from a small family."

6/16 On haters:

"When there's so many haters and negative things, I really don't care."

AP

7/16 On relationships:

"It's fun to have a partner who understands your life and lets you be you."

8/16 On beauty:

"I just feel my best when I'm all glammed up."

Getty

9/16 On beauty:

"People don't understand the pressure on me to look perfect."

10/16 On her physique:

"Personally, I've always loved the curvy look."

Getty Images

11/16 On plastic surgery:

"I'm totally not against plastic surgery. I've tried Botox before. That's the only thing that I've done."

Getty Images

12/16 On mother-daughter love:

"My mother has always been the social glue holding the family together."

getty

13/16 On divorce:

"My decision to end my marriage was such a risk to lose ratings and lose my fan base. I had to take that risk for my inner peace and to be happy with myself."

14/16 On being mature:

"I'm totally growing up."

Getty Images

15/16 On tanning:

"I love the sun but don't have the time to get a good tan and keep it year-round, so I am a huge fan of tanning products."

Getty

16/16 On ideal body:

"I have cellulite, just like almost every other woman on the planet."

Getty Images
She is, however, unlikely to be thrilled that her face is being used to illustrate the extremely damaging effects of drug addiction.  Her spokesperson declined to comment.
Reuse content