Surprisingly enough, Lana Del Rey seems to regret saying that she wishes she was dead.
The "Born To Die" singer said in an interview last week that her life was "one f***ed movie".
"That's just how I feel. If it wasn't that way, then I wouldn't say it. I would be scared if I knew [death] was coming, but…" she said.
When asked if stars that die young are "glamorous", she replied: "I don't know. Ummm, yeah."
So it comes as no shock that the musician is now angry with the Guardian journalist who conducted the interview, blaming Tim Jonze (whose name she gets wrong) for asking "calculating" and "leading" questions.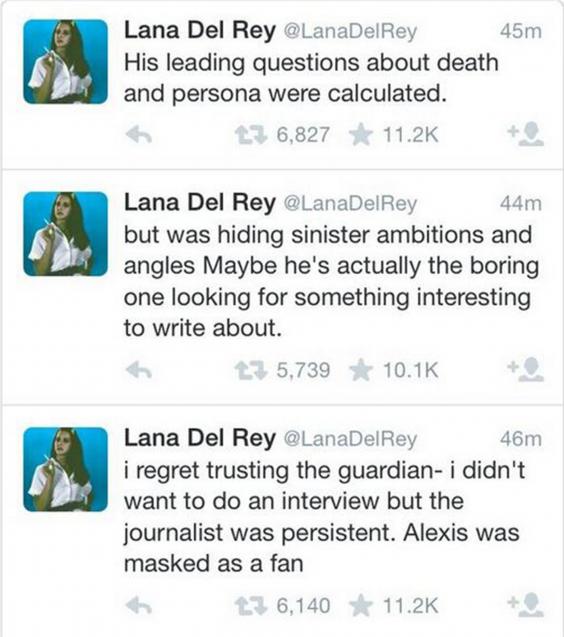 The 27-year-old mistakes Jonze for fellow writer Alexis Petridis and claims he "was masked as a fan" and "was hiding sinister ambitions and angles".
"Maybe he's actually the boring one looking for something to write about," she said in a series of tweets, which have since been deleted.
Cue an onslaught of angry tweets from fans who stood by their seemingly morbid hero.
Del Rey said that she had disliked the media attention she had received – good and bad - since launching her breakthrough track "Video Games" in 2011.
"I never felt any of the enjoyment," she said. "It was all bad, all of it."
She also described how she longed to put an end to "everything".
But that's all in the past and now she "regrets ever trusting the Guardian".
Her disdain for life didn't stop her from reportedly singing at Kim Kardashian and Kanye West's wedding in May, nor from releasing her new album "Ultra Violence", which went on sale this week.
Reuse content