Lance Armstrong has been handed a bill for $10m (£6.51m), after losing a long-running legal battle against the promotions company SCA. The Dallas-based firm, which announced the Texas court ruling today, paid Armstrong an estimated $12m in bonuses during his cycling career, when he won seven consecutive Tour de France titles from 1999 to 2005, after overcoming testicular cancer.
In 2012, however, Armstrong was stripped of his titles after he and his US Postal Service team were found to have used performance-enhancing drugs. Armstrong admitted doping in an interview with Oprah Winfrey in January 2013 and was subsequently sued by SCA. The firm said the $10m damages was the largest such award demanded from an individual in US judicial history.
The legal tussle first began in 2004, when Armstrong sued SCA for withholding a promised bonus. The company suspected he had cheated to win that year's Tour, but Armstrong lied under oath, insisting he didn't dope, and SCA settled the case for $7.5m in 2006.
In a statement following today's ruling, SCA president Bob Hamman said: "It is hard to describe how much harm Lance Armstrong's web of lies caused SCA, but this is a good first start towards repairing that damage." In fact, that $10m may turn out to be the least of Armstrong's financial worries: the disgraced cyclist is also facing a fraud lawsuit from the US government, which backed his Postal Service team and is now seeking almost $100m in damages. Armstrong, 43, has been forced to downsize since admitting doping, moving out of his mansion in Austin, Texas, and selling his private jet. In 2013, he told Bicycling magazine, "I don't have $100m."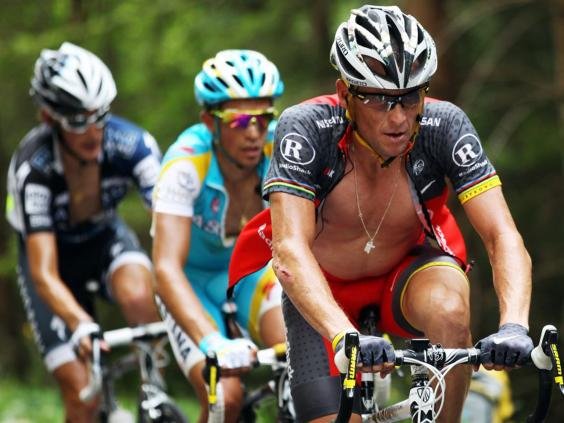 Armstrong made news last month, after he received two traffic tickets for allegedly hitting two parked cars with his own vehicle after a night out in Aspen, Colorado, over Christmas. He reportedly allowed his girlfriend Anna Hansen to take the blame for the accident, in the hopes of avoiding unwanted media attention.
Asked whether he believed the world was ready for him to return to the public eye after two years of penance, Armstrong recently told the BBC, "Selfishly, I would say, 'Yeah, we're getting close to that time'. But that's me, my word doesn't matter any more. What matters is what people collectively think, whether that's the cycling community [or] the cancer community."
Reuse content