Lance Armstrong has been accused of "continuing to hide essential facts" by the US government as part of a $100 million lawsuit.
The government is suing the former cyclist for alleged fraud. This comes after the United States Postal Service (USPS) sponsored him during the Tour de France. Armstrong was disgraced when it emerged he had been using banned drugs and doping in 2013 in order to enhance his performance.
Armstrong - who is worth $125 million - was stripped of all seven Tour de France medals after admitting to the banned practice.
The USPS paid over $30 million to sponsor Armstrong's cycling team.
Armstrong's character is being called into question by the US government as it tries to get a testimony from his long-term girlfriend Anna Hansen to find out more about Armstrong's behaviour.
The government argues that Armstrong is an "unreliable source of information".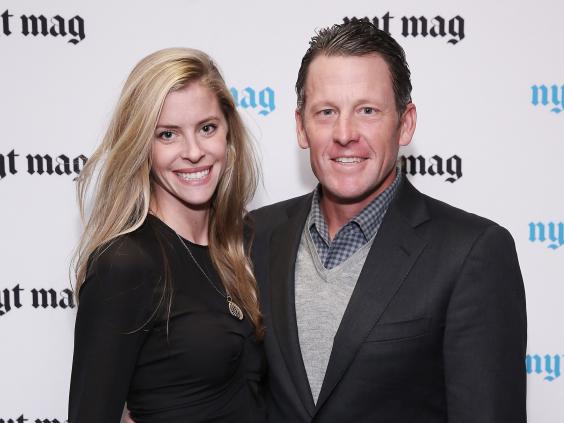 It says that Hansen taking the blame for Armstong's car crash in Aspen earlier this year "undermines any suggestion that Armstrong changed his ways after he confessed to Oprah Winfrey".
However, Armstrong's attorney has said argued that Hansen doesn't know anything about the case and that the government was attempting a "character assassination on unrelated issues through harassment of a domestic partner".
Talking to USA Today, Armstrong's lawyer added: "We find this tactic utterly distasteful and unworthy of the United States government."
However, the US government says the Armstrong has not been candid in his discussion of his doping and drug use.
"Armstrong's admissions have been far from extensive," the government wrote in court papers.
"On the contrary, Armstrong has carefully selected both the media outlets that would receive his 'admissions' and the scope of these admissions. Armstrong's active management of his confessional process has allowed him to continue to hide essential facts about the extent of his doping, who helped him to dope, where the drugs came from, and how he managed to cover up his activities for so long.
The most controversial sports autobiographies
The most controversial sports autobiographies
1/10 Tyler Hamilton – The Secret Race

Hamilton, one of Lance Armstrong's key lieutenants during his Tour de France victories, made headlines around the world when 'The Secret Race' finally exposed the doping culture that defined Armstrong's success and cycling in general. The book helped to turn public perception against his former team leader for good, and contained the most graphic and detailed depictions of sustained drug-taking in sport ever published. Key Quotes: 'It took the drug-testing authorities several years and millions of dollars to develop a test to detect EPO in urine and blood. It took Ferrari about five minutes to figure out how to evade it.' 'I didn't say anything. Lance was on a roll now. 'I'm going to make your life a living ... ******* ... hell.''

Getty Images

2/10 Len Shackleton – Clown Prince of Soccer

The original controversial football autobiography was penned by Sunderland legend Len Shackleton in 1956. The book is littered with criticism targeted at the FA and former clubs but became infamous for a chapter titled 'The average director's knowledge of football'. The page beneath was left blank. Key Quote: 'Chapter 9 – The average director's knowledge of football…'

GETTY IMAGES

3/10 Zlatan Ibrahimovic – I am Zlatan

The Swedish superstar has never struggled for self-confidence, and Zlatan channelled his absolute self-assurance to produce one of the most brilliant, bonkers footballer's autobiographies of all time. 'I am Zlatan Ibrahimovic' intersperses sections sticking the boot into Pep Guardiola with gleeful anecdotes of his utterly bizarre extra-curricular exploits. Key Quotes: 'Whenever life's at a standstill I need some action. I always drive like a maniac. I've done 325 kilometres an hour in my Porsche Turbo and left the cops eating my dust.' 'One time I got dressed in all black, Rambo-style, and took a massive pair of bolt-cutters and nicked a military bike.'

Getty Images

4/10 Herschelle Gibbs – To the Point

The South African batsman's career was littered with incidents of drug-taking, womanising and racism, so his book was always going to arouse controversy. 'To the Point' vividly depicted his drink and drug abuse and orgies involving Gibbs and his international team-mates, as well as some customary mud-slinging over cliques of senior players (sound familiar, KP?). Key Quote: (subtly depicting a night on a tour of Australia in 1997/98) 'It was one fat party. From mid-evening to the next afternoon. I enjoyed the company of … let's say, more than one woman.'

GETTY IMAGES

5/10 Sean Long – Longy: Booze, Brawls, Sex and Scandal

Long, a mainstay of the all-conquering St Helens team of the late 90s and early 2000s, had his career tainted by a three-month ban for betting on his team to lose to Bradford Bulls in 2004. His book lived up to its straightforward title: beyond lifting the lid on a betting culture that pervaded rugby league, the book is awash with anecdotes of extraordinary drinking and seedy sexual encounters. Key Quote: 'Me and Glees [Martin Gleeson] got our heads together and decided to bet on Bradford to win.'

PA

6/10 Andre Agassi – Open

Agassi's revealing memoir lifted the lid on his uncompromising upbringing and a career spent riddled with insecurities. Perhaps most notoriously, 'Open' included the revelation that Agassi used crystal meth throughout 1997 when his career was in a lull, leading to the star lying to avoid a drugs ban. Key Quotes: 'I play tennis for a living even though I hate tennis, hate it with a dark and secret passion and always have.' 'As if they're coming out of someone else's mouth, I hear these words: You know what? **** it. Yeah. Let's get high.'

AFP PHOTO/Glyn Kirk

7/10 Paolo Di Canio – Paolo Di Canio: The Autobiography

Di Canio has always been, to put it mildly, a tad eccentric. Fortunately, he refused to hold back in his book, written in 2000, which contains everything from barmy tales of stabbing his brother in the back (literally, with a fork) to an impassioned defence of fascist dictator Benito Mussolini, which later caused him trouble as manager of Swindon and Sunderland. Key Quote: 'I am fascinated by Mussolini. I think he was a deeply misunderstood individual. He deceived people. His actions were often vile. But all this was motivated by a higher purpose.'

PA

8/10 Paul McGrath – Back from the Brink

McGrath's book, which unflinchingly confronts his difficult childhood, alcoholism and multiple suicide attempts, is one of the most troubling sporting autobiographies ever written. The tales of McGrath's epic binges – he once woke up in a caravan 15 miles from the team hotel, and would frequently play when drunk – are made all the more shocking by his total lack of glorification. Key Quote: 'I vividly remember the Stanley knife and the blood pouring on to the floor. Come to think of it, I remember the au pair's screams too.'

GETTY IMAGES

9/10 Paul Kimmage – Rough Ride

A journeyman pro cyclist, Kimmage won the William Hill Sports Book award in 1990 for going against the sport's 'omerta' and revealing for the first time the extent of drug-taking in the peloton. The book ostracized the Irishman from former friends and teammates but forced cycling to finally confront itself –Kimmage would later become one of Lance Armstrong's fiercest critics. Key Quote: 'It was doping, no mistake about it, but it was only pigeon **** compared to what some of the others were doing. It bothered me, but this was my last Tour and I didn't want to go out of it after two days.'

GETTY IMAGES

10/10 Roy Keane – Keane: The Autobiography

Keane has previous on the controversial autobiography front, after his first book landed him in front of an FA tribunal for bringing the sport into disrepute. Mick McCarthy was one of many targeted in Keane's relentlessly angry tome, but ultimately it was his expletive-ridden admission of deliberate retribution on Alf Inge Haalaand that landed the Irishman in hot water. Key Quote: (On Alf Inge Haaland) 'I'd waited long enough. I ******* hit him hard. The ball was there (I think). Take that you ****. And don't ever stand over me sneering about fake injuries.'
"Armstrong has publicly denied doping during his comeback years (2009-10) while at the same time refusing to testify under oath about this issue in legal proceedings brought against him."
Lance Armstrong's legal team have argued that his Tour de France victories were worth far more to the US Postal Service than they were to him.
His team argue that the global exposure Armstrong gave the sponsor was worth more than the money they gave him, and that the sponsorship paid for itself "many times over".
Reuse content