Whilst the Labour leadership contest is starting to get heated, at least losing candidate Liz Kendall has retained her sense of humour.
Liz's actual account, not the one used on the leadership campaign, has been pretty quiet in recent weeks, whilst the campaigning goes full steam ahead.
But with only one tweet favourited, despite her over 10.4k posts, it was always going to stick out a bit, but this post by "republican and unrepentant socialist" Miceal Pyner is better than we ever could have expected.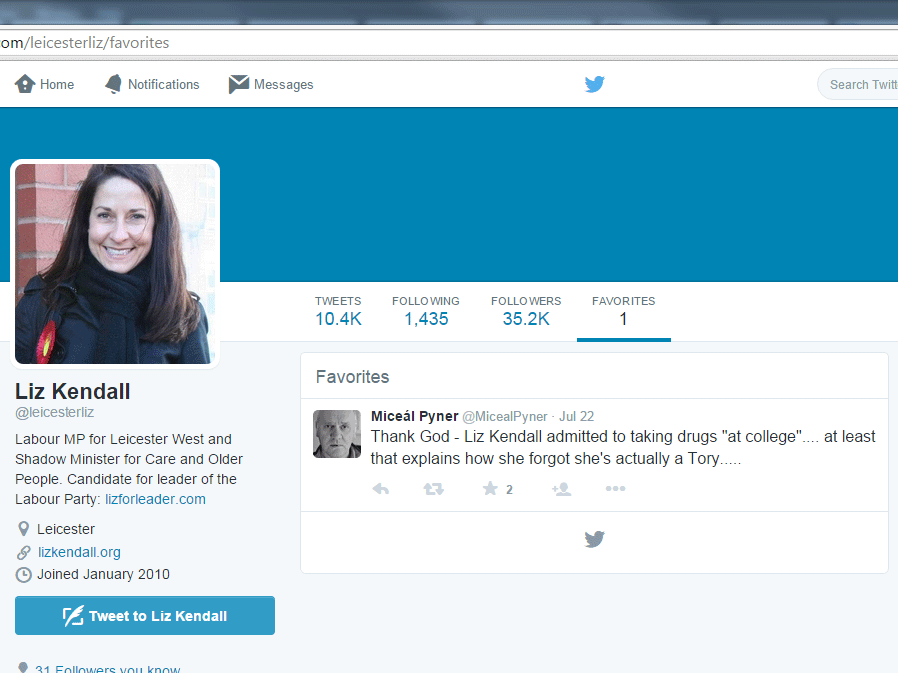 During this week's LBC Labour Leadership debate, three out of four of the contenders admitted to smoking cannabis in their student days. Burnhma told us he'd dabbled with smoking weed, but got all embarrassed because he's never told his parents until he was live on the airwaves.
Yvette Cooper also admitted she's smoked marijuana in the past, but she first told us this back in 2000, when she was Public Health Minister, which made her the first serving minister to admit it.
Kendall was no exception, admitting to smoking weed whilst at college, and even admitting to having inhaled some sweet Mary-Jane. The tweet that she clicked to favorite reads: "Thank God - Liz Kendall admitted to taking drugs "at college".... at least that explains how she forgot she's actually a Tory....."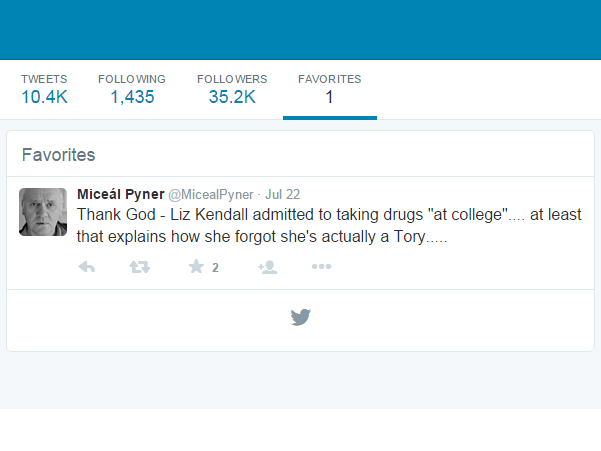 What was probably most surprising of all was that Jeremy Corbyn, the maverick free-thinker who came of age in the swinging sixties, point blank denied ever touching an illegal drug.
Even if you don't like Liz Kendall's politics, which seemingly based on the opinion polls and constituency Labour Party nominations most Labour supporters don't, you've got to admire her sense of humour.
Reuse content