Loose Women host Saira Khan has contacted the police after being subject to a series of abusive messages on Twitter, following an innocent message sent to One Direction singer Harry Styles.
After inviting Harry Styles on to the panel show, the TV personality has received a number of racist and offensive messages, including being told she was like "cancer" and had HIV.
After publicly thanking Styles via Twitter, Khan received serious backlash from One Direction fans.
Hey @Harry_Styles thanks for saying hi today at Kenwood House whilst I was filming the @itvMLshow - it made my day. You are a sweetheart xx

— Saira Khan (@IamSairaKhan) January 13, 2016
I am totally shocked at some of @Harry_Styles fans reaction &language to an innocent fun tweet! These young people are deluded. Disgusting

— Saira Khan (@IamSairaKhan) January 14, 2016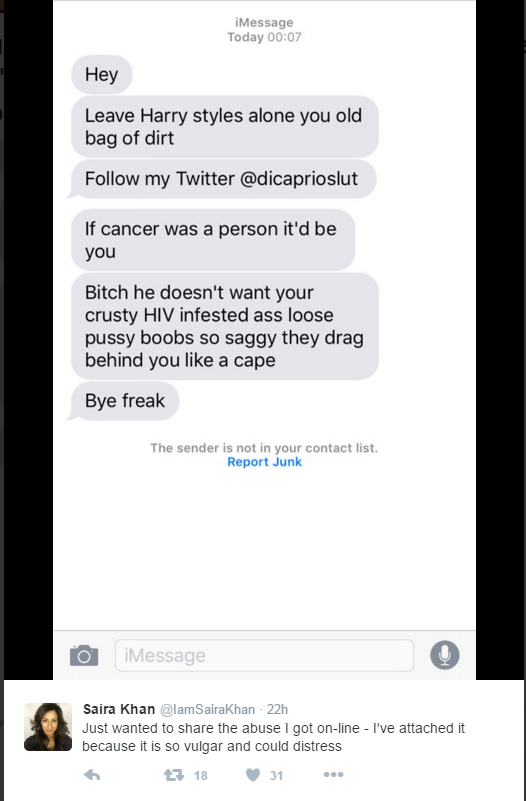 Khan, 45, said she has been left "really shaken up" by the surge of "vulgar" insults, adding: "Young people have committed suicide as a direct result of being trolled on social media – I am shocked to see what people write and say."
Didnt anyone tell you to not mess with the fandom? https://t.co/2aU83uD4gj

— Harry Styles (@stylesmainbitxh) January 15, 2016
The married mum and runner-up on the first series of The Apprentice announced to followers on Twitter: "I have printed off every single tweet from 1D fans who used abusive, insulting language and sent it to police. I'll name and shame."
Styles kept quite while his fans bombarded Khan with abuse.
Reuse content