Louis Zamperini has died of pneumonia, aged 97.
The World War II hero, former Olympian and focus of Angelina Jolie's new film, Unbroken, "peacefully passed away", his family confirmed.
"Having overcome insurmountable odds at every turn in his life, Olympic runner and World War II hero Louis Zamperini has never broken down from a challenge," said his family in a statement.
"He recently faced the greatest challenge of his life with a life-threatening case of pneumonia. After a 40-day long battle for his life, he peacefully passed away in the presence of his entire family, leaving behind a legacy that has touched so many lives.
"His indomitable courage and fighting spirit were never more apparent than in these last days."
Jolie has directed a film about his remarkable life, based on the best-selling book Unbroken by Laura Hillenbrand, due for release in December 2014. She has already paid tribute:
"It is a loss impossible to describe," she said in a statement.
"We are all so grateful for how enriched our lives are for having known him. We will miss him terribly."
Born in New York on 26 January 1917, he became a member of the 1936 US Olympian track team in Berlin running the 5,000-metres and, at 19, was the youngest American qualifier ever in that event. He ran his final lap in just 56 seconds, prompting Adolf Hitler to request a personal meeting with him.
The 1940 Olympics were cancelled because of the outbreak of World War II, so Zamperini enlisted in the Air Force. His plane sunk in the Pacific during a rescue mission, yet he and one other survived on a raft, without food and water, for 47 days.
Eventually, he was washed up on the Marshall Islands behind enemy lines and, consequently, held a prisoner of war for two years by the Japanese Navy – during which time he was beaten and tortured.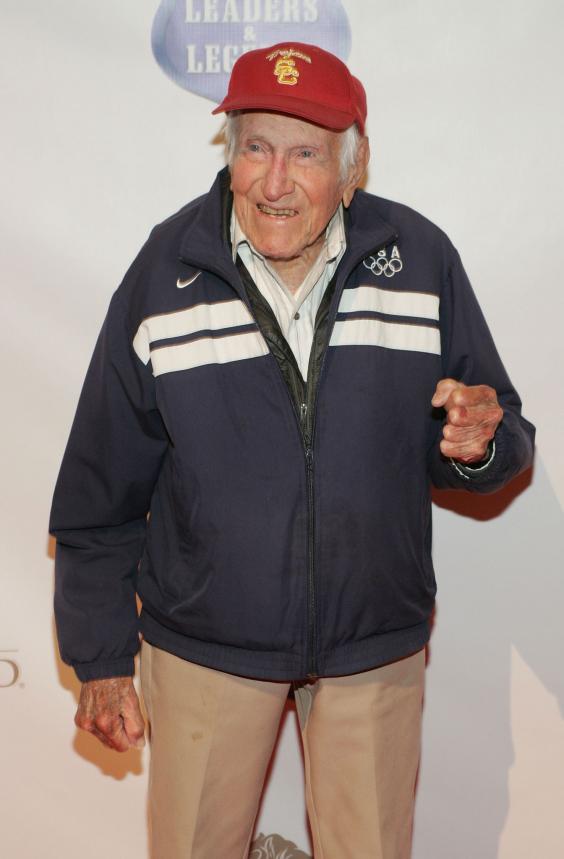 He was pronounced missing at sea and then killed in action, but after the war ended he returned to his family in America. In 1946, he married Cynthia Applewhite, who he remained with until she died in 2001.
Jolie met Zamperini last year and they became "close friends".
"It will be hard to make a film worthy of this great man," she said in October 2013 while filming the biopic in Australia.
"I am deeply honoured to have the chance and will do all I can to bring Louie's inspiring story to life."
The film about his life is being produced by Universal and adapted by the Coen brothers. He will be played by Jack O'Connell, who has previously acted in This Is England and Harry Brown.
"We are so profoundly sad at this moment, and all of our thoughts and prayers are with the Zamperini family," said Universal in a statement.
"Louis was truly one of a kind. He lived the most remarkable life, not because of the many unbelievable incidents that marked his near century's worth of years, but because of the spirit with which he faced every one of them."