Louise Mensch, the former Conservative MP, has brought attention to the online abuse experienced by Channel 4 News journalist Cathy Newman since claiming to have been "ushered" out of a Mosque.
Mensch created a Storify article on Thursday entitled "The organised campaign of threats against Cathy Newman," which gathers together a lengthy list of tweets of people accusing Newman of lying, calling for her to be sacked, and using abusive terms. One tweet shows a picture of Osama Bin Laden swearing, with the words "Lying b****".
Mensch's message on the article reads: "This is criminal. And Channel Four and Streatham Mosque have both been silent over it."
I've added an anti-semitism/racism section to abuse and death threats hurled at #CathyNewman, 2000 views & rising https://t.co/cp3L0wRWel

— Louise Mensch (@LouiseMensch) February 12, 2015
Newman said on Thursday that she would be "taking a break" from Twitter while issuing a full apology for claiming to have been "ushered out" of a London mosque on 'Visit My Mosque Day' last month.
The news anchor tweeted: "I have written to South London Islamic Centre and offered my sincere apologies for tweets sent in haste after I visited there in error. I accept my tweets were inappropriate and regret the use of the word 'ushered'.
"My language was poorly chosen and has caused a great deal of offence. I deeply regret that this happened.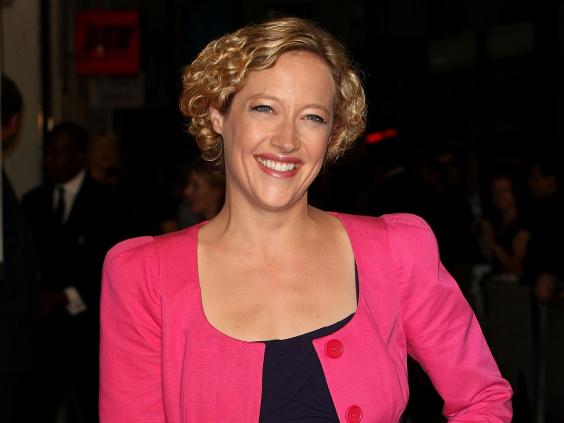 "I shall now be taking a break from Twitter."
A Channel 4 News spokeswoman said: "The safety and security of all staff at Channel 4 News is of paramount importance. We are aware of the unacceptable abuse and death threats directed at Cathy Newman on Twitter and across other social media platforms. We continue to provide Cathy with our full support."
Newman previously said she had been "horrified" to discover the mosque she visited in error had been receiving death threats.
Mensch had made her outrage clear on Twitter when it first appeared that Newman had been ushered out of the Mosque, tweeting:  "Giant misogynistic fail of #VisitMyMosque, @MuslimCouncil, shutting @cathynewman out." She later retweeted messages explaining the Mosque in question had not been open.
Both Mensch and the South London Islamic Centre have not yet responded to requests for comment, but in a previously-issued letter by the South London Islamic Centre on Thursday the organisation said it had accepted Newman's apology over the incident, but added it was "deeply disappointed" by her instinctive reaction that she was being mistreated by Muslim men on account of her gender, warning that the view of Islam is being "tainted by a fog of Islamophobia, which is increasingly clouding our national dialogue". 
Reuse content