Bruce Springsteen's views on Luis Suarez's infamous World Cup bite were far from positive. Will Ferrell's already sent it up in a hilarious rant in a Brazilian bar, in which he threatened to bite every single German player 'Suarez-style' when the European team took on the USA last week.
Now lifelong football fan and President of Huddersfield FC's academy Sir Patrick Stewart has become the latest famous face to share his thoughts on the "terrifically unfortunate" incident he's branded a "blight on the championship".
Unlike others before him, however, the veteran actor wasn't just unimpressed with the now banned Uruguayan player's teeth-sinking foul on Italian defender Giorgio Chiellini during the South American team's group stage match against Italy last week. He was particularly perturbed by the reactions of the country – and it's President José Mujica, last seen heading up Suarez's hero's welcome in the capital Montevideo on Friday (27 June).  
Asked whether he felt the striker's four-month ban had been proportionate, Sir Patrick told The Independent: "I think he's very lucky. He's clearly someone in trouble and you've got to feel bad for anybody who's in so much trouble. But what has been especially disappointing is the reactions of the other Uruguayans [players]. And the nation, in fact, from the President down, who seem to be in absolute denial about what an abhorrent guy Suarez is.
In Pictures: Sir Patrick Stewart Wins The Internet
In Pictures: Sir Patrick Stewart Wins The Internet
1/15 PatStew The Lobster

2/15 PatStew Does Paddy's Day

3/15 PatStew The International Diplomat (Armed With WetWipes)

4/15 PatStew The All-American

5/15 PatStew As Batman Nemesis Bane... The Citrus Version

6/15 PatStew The Megafan

7/15 PatStew The Disguised

8/15 PatStew The Little Helper

9/15 PatStew The Reveller

10/15 PatStew Does Beastmode

11/15 PatStew The Boozer (Check Out The Load Over His Left Shoulder)

12/15 PatStew As Chuck Duprey

13/15 PatStew Does Candyfloss Selfie

14/15 PatStew The Incarcerated

15/15 PatStew Meets Elmo
"If this were a one off incident… But he's got previous, as they say. And when someone is so phenomenally talented, we always have expectations that other qualities will be as fine as that and of course that's not always the case. So I feel that it's been a blight on the championship and I'm sorry about that. I absolutely love the game and it's terrifically unfortunate that it could happen the way it did. And of course it now means a great player has been taken out of the competition, which is quite right of course."
His comments come as full details of Fifa's hearing of Suarez's charges and ruling emerged. With them came the striker's ludicrous submission that he had "lost his balance" and had simply fallen, opened mouthed, into Chiellini.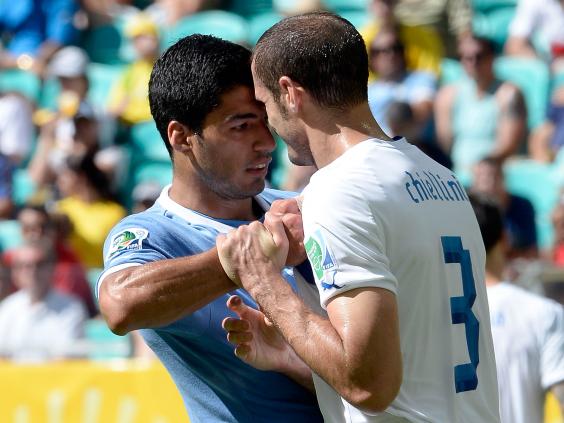 Speaking from the Jacob's Creek marquee at Wimbledon, where the sports fan was enjoying a day of centre court action watching Rafel Nadal and Maria Sharapova advance through to the later stages of the tennis tournament, he also heaped praise on England's performance in the competition, despite the fact, with a grand total of one point, it had been the national team's worst ever showing at a World Cup in history.
"The first 20 minutes against Italy in the first game were as exciting as any game I've seen our national side play, probably since 1966. I was so excited by the adventurous nature of what they were doing, the boldness.
"As a one-time defender and full back I know what it's like when somebody runs straight at you with the ball. And it's still the most exciting thing in soccer at the moment. Especially the way that Sterling was playing. But unfortunately, they couldn't sustain that. But that they've done it once means that it could be repeated."
"And it's why I'm so happy to see our manager [Roy Hodgson] kept on, because he has to take responsibility for everything that was really fine, as well as things going wrong," he continued. "And I'm looking forward to Europe very, very much. And to the qualifying rounds. I think we're in a really interesting and potentially exciting situation right now."
Video: Luis Suarez greets fans in Montevideo
However, Sir Patrick was quick to point out that unless more first team positions were made available to English players in the Premier League, the national team would always be "handicapped".
"Some of the academies in England are extraordinary. I speak from experience of course, because I am the President of the academy of Huddersfield Town FC, who have been my team since I was seven, and there is marvellous work being done. But there are so few Premiere League opportunities. What is it? Something like 37 per cent of premiership teams are represented by English players. So we're handicapped in this respect. It if had been like that [in the Sixties] we would not have won the World Cup in 1966, I'm sure of it."
USA...USA...USA. pic.twitter.com/12RVdXTAa9

Patrick Stewart (@SirPatStew) June 22, 2014
With no national team left in the competition to cheer on, Sir Patrick is instead backing his adoptive country to go on and win the tournament.
"My head is favouring the Dutch, I think they look terrific. But my heart would like to see the USA go one more level. I really would. They play with so much enthusiasm, and there's so much skill and talent.
"But often there isn't this passion for play and a sense that they absolutely love what they're doing, and the Americans have it. I find that very affecting. And partly because I spend half of my life in America as well."
As for who Sir Patrick predicts will be the top scoring player of the tournament, he said: "The Dutch guy who everyone says looks like me but doesn't at all. Arjen Robben."
Reuse content