Tributes flowed on Thursday for former New Zealand cricket captain Martin Crowe, who died after a long battle with cancer. He was 53.
Widely considered New Zealand's finest batsman, Crowe was initially diagnosed with follicular lymphoma in 2012 before the disease went into remission.
In September 2014, however, Crowe said a more aggressive form, double-hit lymphoma, had developed and he had been told only five percent survive more than 12 months.
New Zealand Cricket Chief Executive David White paid tribute to Crowe's contribution to the game.
"It's incredibly sad and hard to believe he has been taken from us so early," White told Radio New Zealand. "Our hearts go out to his family and close friends.
"Over the next few days and weeks we will celebrate his life and outstanding contribution to New Zealand and world cricket."
Crowe's funeral will be held in Auckland on March 11.
Notable deaths in 2016
Notable deaths in 2016
1/42

Debbie Reynolds was an American actress, singer, businesswoman, film historian, and humanitarian. She died on December 28 in Los Angeles

Rex

2/42

Actress Carrie Fisher died on December 27 aged 60

Rex

3/42

Comedian and Actor Ricky Harris died on December 26 aged 54

Rex

4/42

British singer George Michael died on 25 December aged 53

Getty

5/42

Rick Parfitt OBE was an English musician, best known for being a singer, songwriter and rhythm guitarist in the rock band Status Quo. He died on December 24 in Marbella, Spain

Rex

6/42

Lord Jenkin of Roding died at the age of 90 on the 21 December

PA wire

7/42

Rabbi Lionel Blue died on the 19 December

Rex

8/42

Zsa Zsa Gabor died on December 18

Getty

9/42

Leonard Cohen died on 7 November

Getty Images

10/42

Grand secretary of the Orange Order Drew Nelson died on 10 October aged 60 after a short illness

PA

11/42

Aaron Pryor, the relentless junior welterweight died Sunday, Oct. 9, at the age of 60 at his home in Cincinnati after a long battle with heart disease

AP

12/42

Polish Director Andrzej Wajda died on October 9, aged 90

Reuters

13/42

Stylianos Pattakos has died following a stroke on 8th October. He was 103 years old.

AP

14/42

Dickie Jeeps, was an English rugby union player who played for Northampton. He represented and captained both the England national rugby union team and the British Lions in the 1950s and 1960s. He died on 8th October. He was 84

Getty

15/42 Duke of Westminster

Billionaire landowner the Duke of Westminster, Gerald Cavendish Grosvenor has died on 9 August, aged 64

Rex Features

16/42 Christina Knudsen

Sir Roger Moore's stepdaughter Christina Knudsen has died from cancer on 25 July at teh age of 47

Getty Images

17/42 Caroline Aherne

The actress Caroline Aherne has died from cancer on 2 July at the age of 52

Getty Images

18/42 Christina Grimmie

Christina Grimmie, 22, who was an American singer and songwriter, known for her participation in the NBC singing competition The Voice, was signing autographs at a concert venue in Orlando on 10 June when an assailant shot her. Grimmie was transported to a local hospital where she died from her wounds on 11 June

Getty

19/42 Kimbo Slice

Former UFC and Bellator MMA fighter Kimbo Slice died after being admitted to hospital in Florida on 6 June, aged 42

Getty

20/42 Muhammad Ali

The three-time former heavyweight world champion died after being admitted to hospital with a respiratory illness on 3 June, aged 74

Getty Images

21/42 Sally Brampton

Brampton who was the launch editor of the UK edition of Elle magazine has died on 10 May, aged 60

Grant Triplow/REX/Shutterstock

22/42 Billy Paul

The soul singer Billy Paul, who was best known for his single "Me and Mrs Jones", has died on 24 April, aged 81

Noel Vasquez/Getty Images

23/42 Prince

Prince, the legendary musician, has been found dead at his Paisley Park recording studio on 21 April. He was 57

24/42 Chyna

WWE icon Joan Laurer dies aged 45 after being found at California home on 20 April

25/42 Victoria Wood

The five-time Bafta-winning actress and comedian Victoria Wood has died on 20 April at her London home after a short illness with cancer. She was 62

26/42 David Gest

The entertainer and former husband of Liza Minnelli, David Gest has been found dead on 12 April in the Four Seasons hotel in Canary Warf, London. He was 62-years-old

PA

27/42 Denise Robertson

Denise Robertson, an agony aunt on This Morning for over 30 years, has died on 1 April, aged 83

28/42 Zaha Hadid

Dame Zaha Hadid, the prominent architect best known for designs such as the London Olympic Aquatic Centre and the Guangzhou Opera House, has died of a heart attack on 31 March, aged 65

2010 AFP

29/42 Ronnie Corbett

British entertainer Ronnie Corbett has passed away on 31 March at the age of 85

2014 Getty Images

30/42 Imre Kertesz

Hungarian writer and Holocaust survivor Imre Kertesz, who won the 2002 Nobel Literature Prize, has died on 31 March, at the age of 86

REUTERS

31/42 Rob Ford

Rob Ford, the former controversial mayor of Toronto, has died following a battle with a rare form of cancer. The 46-year-old passed away at the Mount Sinai Hospital in Toronto on 22 March

32/42 Joey Feek

Joey (left) passed away in March after a two-year cancer illness. She was part of country music duo, Joey + Rory, with her husband Rory (right)

Jason Merritt/Getty Images

33/42 Umberto Eco

Italian writer and philosopher Umberto Eco died 19 February 2016 aged 84

EPA

34/42 Harper Lee

Harper Lee, the American novelist known for writing 'To Kill a Mockingbird', died February 19, 2016 aged 89

2005 Getty Images

35/42 Vanity

Vanity, pictured performing in 1983, died aged 57

REX Features

36/42 Dave Mirra

The BMX legend's body found inside truck with gunshot wound after apparent suicide aged 41

37/42 Harry Harpham

The former miner became Sheffield Labour MP in May after many years as a local councillor. He died after succumbing to cancer, at the age of 61.

38/42 Dale Griffin

The Mott the Hoople drummer died on January 17, aged 67

REX

39/42 Rene Angelil

Celine Dion's husband and manager Rene Angelil has lost his battle with cancer on 14 January, aged 73

2011 Getty Images

40/42 Alan Rickman

Legendary actor Alan Rickman has died on 14 January at the age of 69 after battle with pancreatic cancer. He is largely regarded as one of the most beloved British actors of our generation with roles in Love Actually, Die Hard, Michael Collins, and Robin Hood: Prince of Thieves and an illustrious stage career

2015 Getty Images

41/42 Maurice White

The Earth, Wind & Fire founder died aged 74. The nine-piece band sold more than 90 million albums worldwide and won six Grammy awards

42/42 Lawrence Phillips

Former NFL star found dead in prison cell on 13 January in suspected suicide, aged 40

AFP/Getty Images
The Dean of Auckland's Holy Trinity Cathedral, Jo Kelly-Moore, said: "Martin's life is being remembered today across the nation and the world as a husband, father, brother and cousin, batsman, hero, friend and sporting champion.
"The funeral will be a time for those private and public memories to join together."
After making his first class debut as a teenager, Crowe played the first of his 77 tests against Australia in 1982. He went on to score 5,444 runs at an average of 45.36 with 17 centuries, still a record for the country.
He had a top-score of 299, falling a single short of becoming the first New Zealander to score a test triple century, against Sri Lanka in 1991.
That mark stood until Brendon McCullum scored 302 against India in 2014.
The elegant right-hander also scored 4,704 runs at an average of 38.55 in one-day internationals.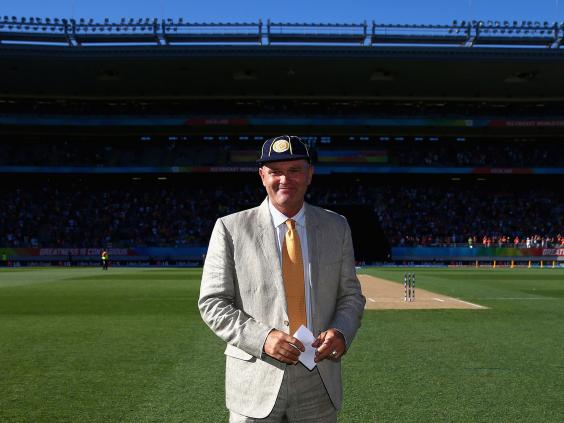 His death was keenly felt in cricketing circles, with an outpouring of tributes flowing on social media.
"Very sad to hear of the passing of Martin Crowe this morning. An inspiration to me and so many others. One of our true greats," former New Zealand captain Stephen Fleming wrote on Twitter.
Cricket Wellington, one of the three first class teams Crowe played for in New Zealand, described him as "a genius, true legend of the game", while former Indian legspinner Anil Kumble called him a cricketing icon.
New Zealand Cricket issued a short statement acknowledging Crowe's death on their website on Thursday and a spokesman said they were honouring his family's wishes for privacy.
Crowe had been scathing of NZC's administration in the latter stages of his life, particularly in the way Ross Taylor, who Crowe mentored, was sacked from the captaincy in late 2012.
Local media reported at the time Crowe had even burned his New Zealand blazer because of the decision.
Reuters