Max Clifford cut a lonely figure as he attended his court dates, during which he stood accused of sexually assaulting four teenage women aspiring for a career in the entertainment industry, entirely alone.
His isolation deepened after he was found guilty of eight counts of sexual assault and sentenced to eight years in prison last week.
Many of his clients – including X Factor boss Simon Cowell, who had credited the King of Spin with helping define his public persona – made moves to distance themselves from the man who, despite having aided the covering up of their sexual indiscretions, had failed to mask his own.
But it seems he has one supporter left in reality TV star Lauren Goodger, who publicly declared her decision to remain with his folding PR company Max Clifford Associates in a magazine column for New!.
"I am represented by Max Clifford Associates and, obviously, it is a really upsetting and sad time for everyone at the company, given that he was found guilty of eight indecent assaults," The Only Way Is Essex character wrote.
Max Clifford's famous clients - past and present
Max Clifford's famous clients - past and present
1/4 Lauren Goodger

The TOWIE actress has since removed the link to Max Clifford Associates from her social media pages. But the king of spin was behind the unlikely rise of the reality docu-soap star.

2/4 OJ Simpson

One of Clifford's most controversial clients, the former NFL player was acquitted of the murder of his partner Nicole Simpson and Ronald Goldman in 1995.

3/4 Simon Cowell

The X Factor boss is rumoured to have parted ways with the publicist after admitting he was "horrified" by the revelations made during Clifford's sexual assault trial.

Getty Images

4/4 Gillian McKeith

Yes, she scrabbled through X Factor contestant Michelle McManus' poo live on television. She was also formerly represented by Max Clifford.
"There's not much I can say, but I'm very loyal to everyone who looks after me. I just want to send my love to his family at this difficult time."
 Goodger is apparently still hoping to launch a singing career, and will continue to employ the company, despite its namesake being the same man convicted of manipulating and molesting young women who, just like her, were promised with stardom.
"Lauren has been looked after by a couple of individuals from the team who will continue to look after her affairs at this current time," a spokesperson from Max Clifford Associates confirmed to The Mirror yesterday.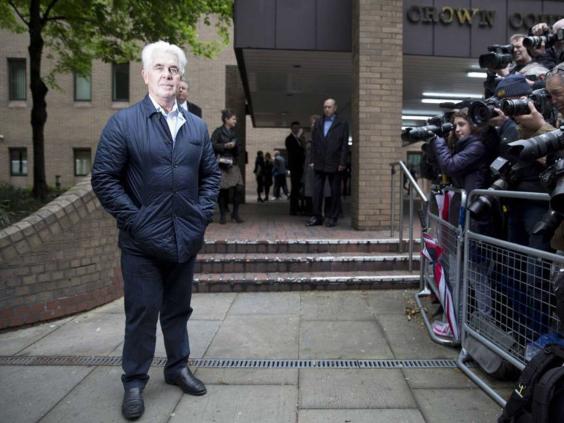 The comments come after reports that the PR firm is set to close following Clifford's guilty verdict.
Its website, Maxclifford.com, was suspended last week, and the business had allegedly been losing profit over recent years.
Although latest financial records show that the firm was making more than £1million a year, the PR mogul revealed during his trial for sexual assault that the company also lost earnings of that amount.
His representatives were expected to announce news of the company's closure following his sentencing last Friday (2 May).
"We've been told not to say anything," a staff member told Sky News. "There will be a statement, at some point after sentencing, that's all I can say."