Michael Schumacher is "waking up very slowly" from a medically induced coma after he suffered severe head injuries from a skiing accident last December, his teenage son has confirmed.
The former Formula 1 world champion, 45, is currently being treated at his home in Switzerland following six critical months of care at a hospital in France, where the incident took place.
Mick Schumacher, a 15-year-old racing protégé, provided French F1 commentator Jean-Louis Moncet with the most recent update on his condition.
"I saw his son and he told me that Schumi is waking up very slowly; very slowly," Moncet told Europe 1 radio.
"Although things are going at a slow pace, he has a lot of time, I would say he has his whole life in front of him to get back on track."
He went on to add that the veteran driver as "still fighting" as he is cared for by a team of 15 medical experts at a specially built medical suite in his Swiss mansion.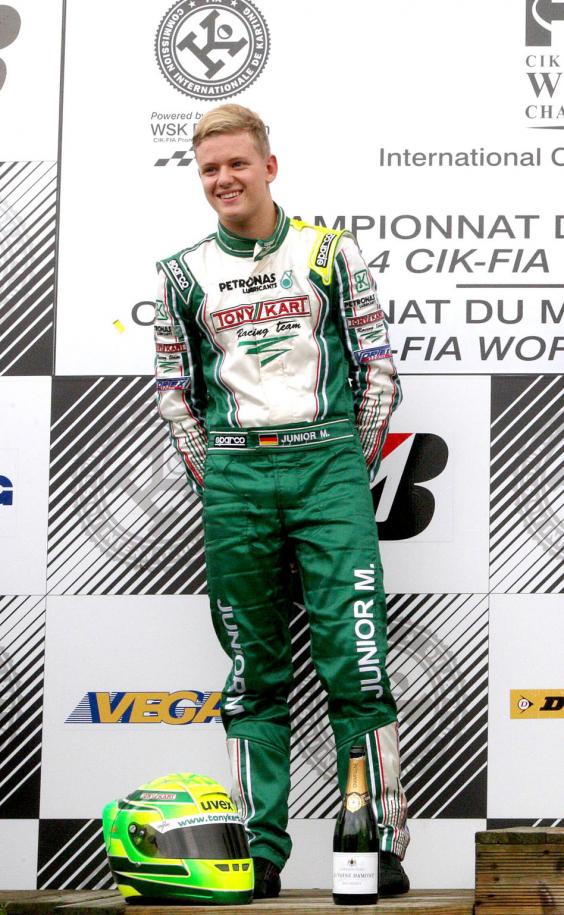 Tipped to follow in his father's footsteps, Mick Schumacher came runner-up at the karting world championships in France in September, and won second place in the German junior kart championships last week.
He had been racing under his mother Corinna's maiden name Betsch, but has since changed to using the title Mick Schumacher Jnr.
Schumacher Senior was recently discharged from a rehabilitation clinic in Lausanne to return home with his wife and children.
Updates on his condition have been sparse, although fans were no doubt uplifted by some encouraging words from Ferrari boss Jean Todt last week.
Career in Pictures: Michael Schumacher
Career in Pictures: Michael Schumacher
1/17 February 2006

Michael Schumacher is seen in the pits during a training session at the Ricardo Tormo racetrack in Cheste near Valencia in 2006

2/17 November 1994

Hugging two team mechanics in delight for becoming World Champion Driver after the Australian Grand Prix at the Adelaide circuit in November 1994

3/17 October 1995

Flavio Briatore carries a jubilant Michael after he wins the Pacific F1 Grand Prix at Aida in Japan, and wins his second World Drivers Championshp

4/17 February 1996

Schmacher pushes his Ferrari back to the pits after engine trouble left him stranded at the entrance of the pitlane during pre-season testing at Estoril, Portugal

5/17 March 1996

During the Australian Grand Prix in Melbourne

6/17 March 1997

Michael Schumacher in the pit lane during the Australian Grand Prix at Albert Park in Melbourne, Australia

7/17 October 2000

Celebrating on the podium after winning the formula one world championship at the Japanese Grand Prix at Suzuka, Japan

8/17 July 2006

Michael Schumacher of Germany and Ferrari leads the pack into the first corner at the start of the French Formula One Grand Prix at the Nevers Magny-Cours Circuit

Lars Baron/Bongarts/Getty Images

9/17 October 2010

Michael Schumacher drives during the Korean Formula One Grand Prix at the Korea International Circuit

Clive Mason/Getty Images

10/17 October 2011

Michael Schumacher and Mercedes GP waves to the crowd as he attends the drivers parade before the Indian Formula One Grand Prix at the Buddh International Circuit on October 30, 2011 in Noida, India

11/17 December 2011

Sebastian Vettel and Michael Schumacher celebrate after winning the Nations Cup at day one of the race of champions event at the Esprit Arena

12/17 June 2012

Michael Schumacher drives at the Valencia Street Circuit on June 22, 2012 in Valencia during the first practice race of the European Formula One Grand Prix

13/17 September 2012

Michael Schumacher crashes into the back of Jean-Eric Vergne of France and Scuderia Toro Rosso during the Singapore Formula One Grand Prix in September 2012

14/17 November 2012

Schumacher drives in his last race during the Brazilian Formula One Grand Prix at the Autodromo Jose Carlos Pace

Mark Thompson/Getty Images

15/17 December 2013

Deputy director Jean Marc Grenier talks to media outside the CHU Nord hospital in Grenoble, French Alps

16/17 December 2013

Members of the staff are seen outside the emergency services at the CHU Nord hospital in Grenoble, French Alps; this is the hospital where retired seven-times Formula One world champion Michael Schumacher is reported to be hospitalized after a ski accident

17/17 December 2013

A Scuderia Ferrari and Michael Schumacher fan waits, on December 29, in Grenoble, in front of the emergency department of the Centre Hospitalier Universitaire hospital
"We must assume that Schumacher can lead a relatively normal life again within a short period of time,"said Todt.
"We can say he can probably never drive a Formula 1 car again. But he is fighting.
"His condition improved, and what is just as important is the fact that he is now at home with his family."
Reuse content