Mila Kunis and Ashton Kutcher have married for the second time in four months, or so current reports would have us believe.
The couple who became a tabloid obsession almost immediately after dating "officially married" in a ceremony on 4 July, a source was quoted by People magazine as saying. This news has been widely reported in a number of outlets despite reps for both Kunis and Kutcher not responding to requests for comment.
Ashton Kutcher and Mila Kunis are officially married--get the details! http://t.co/lmNGkdDQvi pic.twitter.com/FNFRJGMuio

; E! Online (@eonline) July 6, 2015
Congrats are in order! Mila Kunis and Ashton Kutcher got married this weekend http://t.co/U3kfyXPAw6 pic.twitter.com/KxCDzkdT3Q

; Grazia_Live (@Grazia_Live) July 6, 2015
Surprise! Mila Kunis and Ashton Kutcher are married! http://t.co/jU47AOWoB5 pic.twitter.com/tKc6CQKO8s

; People magazine (@people) July 6, 2015
Their 'marriage' comes only a few months after Kunis was reported to have wed Kutcher following an appearance on The Late Late Show with James Corden, thanks to a ring spotted on her finger that was never confirmed to be a wedding band.
Kunis and Ashton eschew media attention but are plagued by the press, something that became particularly problematic when Kunis became pregnant. 
"Every day and every night, the paparazzi are parked outside my house," she told W Magazine. "Today, I had to drive through the Warner Bros. back lot on my way here, just to throw them off.
Actors who have undertaken extreme diets for movie roles
Actors who have undertaken extreme diets for movie roles
1/10 Matthew McConaughey in Dallas Buyers Club

McConaughey committed to a strict diet ahead of playing Ron Woodroof in Dallas Buyers Club. He lost a massive 47lbs after surviving on a spoonful of tapioca pudding, Diet Coke and chicken each day.

AP

2/10 Tom Hanks in Castaway

Production was halted on Castaway for a year to allow Hanks time to lose 50lbs ahead of his time on a deserted island. The actor survived mainly on crabs, coconuts and coconut milk. During the first two weeks of his diet he could fit an entire meal in the palm of his hand.

Rex Features

3/10 Natalie Portman and Mila Kunis in Black Swan

Kunis, pictured here, and Portman both lost around 20lbs each for their roles as ballerines in 2010's Black Swan. Portman explained that most of her weight loss had come from the daily intense ballet training the cast were put through.

AP

4/10 Christian Bale in Batman

To play Christopher Nolan's darker version of the superhero, Bale gained 100lbs on a high protein diet accompanied by hardcore physical training. He was then asked to drop 20lbs of it as the director said he was too bulky. Previously, Bale had lost 60lbs eating mainly coffee and apples for his role as an emaciated insomniac in psychological thriller The Machinist.

Rex Features

5/10 Ashton Kutcher in Jobs

Kutcher embarked on the late Apple CEO Steve Jobs' fruitarian diet ahead of playing him in a biopic about his life and career. The actor lost nearly 20lbs but was briefly hospitalised as a result.

AP

6/10 Robert De Niro in Raging Bull

In the original Raging Bull, based on the life of aging boxer Jake LaMotta, De Niro put on 60lbs. To play the actor in his prime earlier in the film, however, De Niro endured extensive physical training, including entering three real boxing matches - he won two.

7/10 Anne Hathaway for Les Miserables

The actress lost 10lb in just three weeks before filming for the role of destitute Fantine in the movie adaptation of Victor Hugo's Les Miserables. She then shed a further 15lb while shooting. Hathaway lived on a diet of 'oatmeal paste'.

AP

8/10 Hilary Swank in Boys Don't Cry

Swank lived as man for a month and experienced extreme weight fluctuation before filming for her role as Teena Brandon in 1999's Boys Don't Cry. Her character becomes the male Brandon Teena during the film. Swank reduced her body fat to just 7 per cent and even bound her breasts with bandages in an effort to make her performance realistic.

Rex Features

9/10 Renée Zellweger in Bridget Jones' Diary

The US actress gained 20lbs to play the awkward thirtysomething Bridget in the classic 2011 rom-com. She went from a size 4 to a size 14 before slimming down again afterwards.

10/10 Matt Damon in The Informant

To play Mark Whitacre in Steven Soderbergh's 2009 character study, Damon piled on 30lbs. He lived on steak, Doritos crisps, beer and whatever other fatty foods he could find - nice.

Warner Bros
"They want a shot of my stomach because they need proof of my pregnancy. I don't know why they even bother - they've been saying I'm pregnant for years. Now they're right, so they won't leave me alone."
Kutcher however had preempted the media storm that would follow their relationship as early as 2013. "I am going to do everything in my power to have this relationship be private," he told Elle. "People will fill in the blanks however they want."
This foresight has also seen the pair buy every single website domain name, open a Twitter account, an Instagram account and even set up an email for their daughter Wyatt in a bid to protect her future privacy and avoid her name being associated with lewd or inappropriate sites.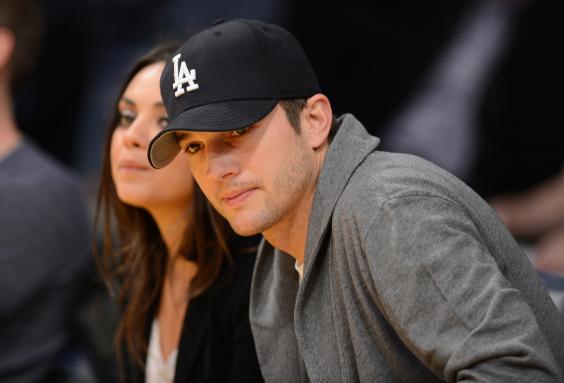 But why the obsession with two people who are most commonly spotted wandering around in gym clothes while clutching coffee cups? It seems their backstory in particular has made them fodder for celebrity magazines; the pair met when Kunis was a teenager on the set of That '70s Show and then parted ways. Kutcher married the actress Demi Moore, separated from her 2011 and embarked on a relationship with his former co-star.
Quotes about how enamoured they are with each other have only served to intensify the media's obsession with the pair. "My first real kiss ever was with him on the show," Kunis said in August. "We all get movie star crushes. I'm marrying mine."
Kutcher has been equally gushing about his partner, telling Ellen DeGeneres after the birth of his daughter: "The most amazing thing about having a baby is my partner, Mila. She's the greatest mom - I can't even! Like, I go to work every day and I come home and she's perfect. And it just seems like everything went amazing. And I know that something probably didn't go amazing, but she never complains. She's incredible."
Whether the couple has actually married this time remains to be seen. The Independent has contacted their reps for comment.
Reuse content