At first glance, it appears as though Jaden Smith has jumped on his 13-year-old sister Willow Smith's provocative bed bandwagon and posted a similar black-and-white picture to the controversial image of her lying in bed with topless 20-year-old actor Moises Arias.
In it, Smith, 15, perches on 16-year-old Kylie Jenner's lap wearing nothing but a baseball cap and a pair of boxers.
She bizarrely captioned it: "*Ksss* Ahhh … 2014."
But the image was actually posted on 25 April – days before Willow's was. And for some reason the internet got so freakishly excited by the prospect that a little sister could possibly seek to emulate something her older brother had done that news sites everywhere reported it as another copycat act of parental defiance.
Which is ridiculous, because no-one on God's green earth would ever defy Hollywood's hardest mum Jada-Pinkett Smith, especially after this rant, in which she brands all critics of her daughter's shot "covert paedophiles".
"Here's the deal," she told the TMZ camera crew, who lay in wait for her arrival at LAX Airport in Los Angeles last week.
"There was nothing sexual about that picture. Or that situation.
"You guys are projecting your trash onto it, and you're acting like covert paedophiles, and that's not cool."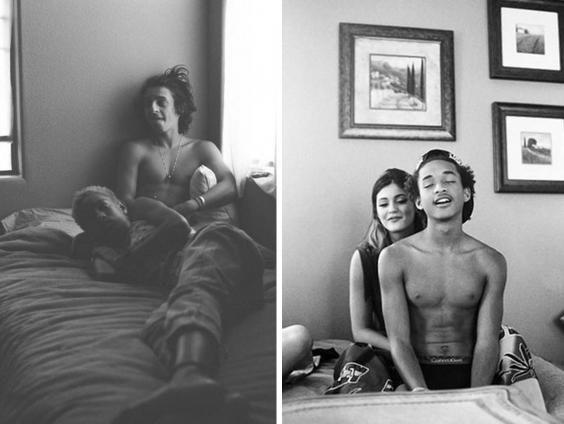 Arias rose to fame starring opposite Miley Cyrus in Hannah Montana.
He has since deleted the image, but not before it was screen-shot and shared by thousands.
It led many to question Pinkett Smith and husband Will Smith's alternative parenting techniques, which have come under fire for allowing their children to behave in a way far beyond their years a number of times in the past.
The parents were famously "divorced" by Jaden for his 15th birthday in 2013.
"He says, 'Dad, I want to be emancipated,' I know if we do this, he can be an emancipated minor, because he really wants to have his own place," Will Smith told The Sun last year.
Reuse content