Myleene Klass has admitted that there are "a few hard feelings" between her and the other mothers at her daughter's school after she exposed an email exchange asking for money for birthday gifts.
The TV and radio presenter posted an image to Instagram which showed two mothers asking for "a suggested £10" so they could buy their daughters "a kindle and a desk", described as "very studious choices".
But after describing the request as "bonkers", the Klass was then challenged by a disgruntled mother who asked why she had publicised the messages and betrayed confidences.
According to the north London newspaper the Ham & High, another mother said the former Hear'Say singer had "misunderstood the school's community spirit", adding that parents were not obliged to pay.
Writing in the Telegraph this weekend, Klass said she was unsure whether her decision to speak out against the mothers at her daughter's school made her "courageous or an idiot", but insisted she was trying to convey a serious message.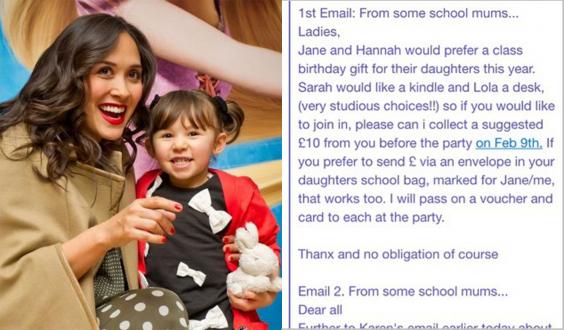 The 36-year-old said: "My intention was to stop all these serious, money-focused exchanges and remind parents, all of us under pressure to do the very best for our children, of what birthdays should be about."
Klass said she had deliberately chosen to publish emails from around a year ago – and with names changed – in order not to "embarrass the parents involved", but said she knew "not everybody has been happy".
"I'm not trying to point fingers here. While there may, sadly, be a few hard feelings in the playground, I love these mums.
"However, I still think it's important to step outside the bubble and not lose sight of what matters in life."
Klass said it is the responsibility of parents to "stop the culture of materialism that has become so embedded in our society", questioning what expectations a child may have at 15 if they get a Kindle aged seven.
She also spoke of the pressure some parents face at feeling an expectation to contribute £10 each time their child's classmate has a birthday, although she admitted she is in "a privileged position" compared to many.
"Paying £10 a go for your children's friends' presents is great, if you can afford it: but the problem is, a lot of people can't," she said. "It takes one person to draw a line under it and say: let's go back to basics. Let's go back to celebrating what this is all actually about: the birth of a loved one."
Reuse content