Ed Miliband might have had a raw deal from the Prime Minister during PMQs after his heated debate about mansion tax with Myleene Klass on The Agenda on Monday, but the pop star hasn't escaped the ordeal entirely unchallenged.
Aside from some gentle trolling in the form of a fake JustGiving donation page, offering to help the former Hear'Say star pay for the tax on her very expensive garage in London, Deputy Prime Minister Nick Clegg weighed in.
"She is wrong," the Liberal Democrats leader said.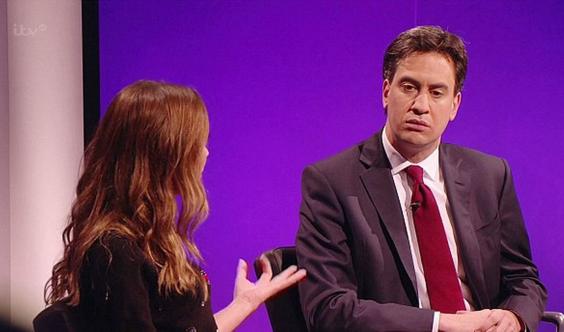 Defending his plan to introduce extra council tax bands, a variation of the mansion tax his party favours, he continued: "She also suggested that all you can buy in London with £2m is a garage – that is some garage. Let's get rid of the emotion about claiming one person's normal home is a mansion.
"Why don't we treat higher-value properties in the same banded way with council tax bands as we treat lower-value properties? What is possibly fair about saying to a family that lives in a family home in Lewisham, they pay the same council tax as an oligarch that lives in a £30m house?"
He went to explain that a Granny would not need to pay mansion tax up front.
"If they cannot pay if they are asset-rich or income-poor they do not need to pay it when other people do pay it, you can wrap it up with your estate. I would ask you what is fair about lower-value properties having to pay council tax in bands, but then when the property is worth more than £700,000 the council tax bands stop.
"It is irrational to say the council tax band applies up to a certain level and then it stops."
He concluded by adding that the mansion tax plans his party proposes aimed to "treat people fairly in better-off homes", and were not intended to "go off after people in a punitive way".
"That is possibly what Myleene thought."
His comments came as David Cameron seized his opportunity to grill Miliband on his appearance opposite Klass on Monday's edition of The Agenda during Prime Minister's Questions.
He accused the Labour leader of being "pasted by a pop star" live on TV.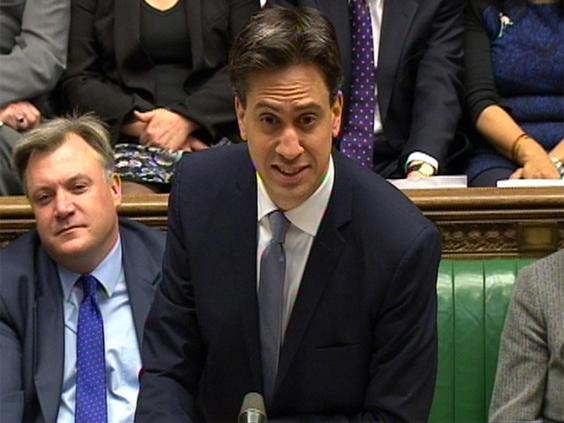 But Miliband was quick on the rebuttal, and criticised the PM for being so against mansion tax, but in favour of bedroom tax
The bedroom tax restricts the amount of housing benefit that council and housing association tenants can claim based on the number of spare rooms in their houses that are unoccupied.
"That's exactly what I expect from this Prime Minister - he only feels the pain of people struggling to find a £2million garage," he said.
"We all know why this Prime Minister thinks the Bedroom Tax is great, and the mansion tax to fund the NHS is terrible.
"If you've got big money, you have got a friend in this Prime Minister. If you haven't, he couldn't care less."
Klass is yet to comment further on mansion tax.
In pictures: Ed Miliband trying to look normal
In pictures: Ed Miliband trying to look normal
1/17 The beggar

Ed Miliband casually gives money to a homeless woman in Manchester, surrounded by press photographers.

2/17 The Bacon Sandwich

Ed Miliband buys a bacon sandwich from cafe owner Antonios Foufas at New Covent Garden Market in London as he kicks off a day of campaigning on the eve of the local and European elections

3/17 The Bacon Sandwich

Ed Miliband chats with a cafe owner Antonios Foufas at New Covent Garden Market in London

4/17 The Bacon Sandwich

Ed Miliband embarked on a whirlwind campaign tour of England - but struggled at the first hurdle (a bacon sandwich). Aides intervened after just a few less-than-elegant bites

Jeremy Selwyn

5/17 Flower Shopping

Ed Miliband talks with a couple of traders at New Covent Garden Market in London

6/17 Flower Shopping

Ed Miliband purchases some red roses for his wife at New Covent Garden Market in London

7/17 Talking Business

Ed Miliband talks with a trader at New Covent Garden Market in London

8/17 Good Morning Britain

Miliband on ITV's Good Morning Britain show on 20 May 2014, a day of gaffes in which he was also caught out by BBC Wiltshire for not knowing who the local Labour leader was

9/17 '£70 Weekly Shop'

Ed was accused of being 'out of touch with reality' after he seemed not to know what he - or the average British family - spends on a weekly food shop

PA

10/17 Drop in Polls

Ed Miliband paid a visit to Leighton Hospital in Crewe to speak with the staff about the NHS, but faced difficult questions about polls showing his personal ratings falling well behind those David Cameron and George Osborne

PA

11/17 On the Sofa with Farage

Ed Miliband appeared on the Andrew Marr Show to debate with Nigel Farage - but has all but conceded defeat in the Newark by-election, allowing Ukip a free run at the Tories

BBC

12/17 Wollies in Wellies

Miliband was among a number of politicians to come under fire for 'touring' the floods in the South and South West earlier this year

PA

13/17 Wollies in Wellies

The Labour leader admitted it was 'a difficult decision for politicians whether to visit areas like this'

14/17 Missed Opportunity

Miliband's performance at the Labour conference last year failed to make much of an impression on voters, polls suggested

Getty Images

15/17 Sharing the Moment

Miliband, Nick Clegg, David Cameron and Angus Robinson enjoy their moment with Andy Murray, after the tennis player's Wimbledon win

Getty Images

16/17 Casual Husband

Miliband and his wife Justine are pictured in their hotel room in Brighton as he prepares to give his keynote speech to the annual Labour Party Conference

Getty Images

17/17 The Milibands

Just your average family of four?

Getty Images
"When you do look at the people who will be suffering this tax, it's true a lot of them are grannies who have had these houses in their families for a long, long time," the singer, who is reportedly worth £11million, told Miliband on Monday.
"The people who are the super-super rich buying their houses for £140million, this is not necessarily going to affect them because they've got their tax rebates and amazing accountants. It's going to be the little grannies who have lived in those houses for years and years."
Under Labour's proposed mansion tax policy, properties advertised with a price tag exceeding £2million would come under the band.
Reuse content