The Ukip victory in Clacton-on-Sea has broken the established political order wide open, brought many parts of the country into electoral contention and heralds the end of two-and-a-half-party politics. That's not the view of Nigel Farage or another Ukip insider, though, but the considered opinion of Natalie Bennett, leader of the Green Party.
To be fair, she was talking about the Ukip assault in general and not just the Essex victory. But, as the leader of a party that has recently beaten the Liberal Democrats in some polls and enjoyed a 45 per cent boom in membership this year (to 20,000), she knows something about scrappy insurgencies.
Sitting in London's St Pancras railway station, she had had nearly 12 hours to digest the Ukip by-election victory at Clacton-on-Sea. "We have come to a stage where two-and-a-half-party politics has comprehensibly broken down. And, I'd go so far as to say, there is no such thing as a safe seat any more," she said. "Ukip is a threat to both Labour and Tories, and its new-found popularity means that swathes of the country which were once considered safe seats are no longer secure."
There is no hiding the contempt that Bennett, 48, has for Ukip and its policies – especially on immigration – but the situation is one that she believes is "really healthy for politics".
St Pancras is important to the Green Party leader not only because she recently committed the party to renationalising the railway network, but also because it is in the Holborn and St Pancras constituency (currently held by the outgoing Labour MP Frank Dobson) that she will contest in next year's general election.
It is clear that Bennett is already focused on the "general" having witnessed her party double its number of MEPs and become the official opposition in Solihull, Liverpool, Lewisham, Norwich and Islington during this summer's European and council elections.
"The three largest business-as-usual parties simply don't represent huge swathes of the public any more," she said. "This means that it's quite possible there could be quite a significant number of MPs in the next parliament who are elected with as little as 25 per cent of the vote. This puts a lot more seats within reach of the smaller parties."
Bennett, a former journalist who was born and educated in Australia, said that, within this rapidly changing political landscape, the Green Party was the only party offering "radical change". She cited populist new policies to tax the super-rich, bring in a compulsory minimum wage of £10 an hour by 2020 and renationalise the railways.
It is refreshing that she openly describes her views as "radical" and is "comfortable" with the description of the Greens as watermelons – green on the outside but red in the centre. The party's policies were certainly "too radical to grasp" for some in the media, she said, and had resulted in a "media blackout" for the party.
"We are presenting ideas outside of the mainstream, and the mainstream media has found that difficult," she claimed. "I remember, back in 2010, being told by journalists that I was too radical, for saying that big businesses and individuals should pay their tax bills. That's certainly not a radical view now."
It is perhaps not surprising, then, given her views, that since becoming leader of the party in 2012 she has appeared on Newsnight and Radio 4's Today show only a handful of times, prompting her to consider a nuclear option.
"When I wake up and hear Mr Farage on the Today show yet again, I get angry and, at times, I've considered getting on air and saying something monumentally stupid in the hope of getting some coverage. I have seriously considered that, because Farage and Ukip get so much attention for saying really stupid, racist, way-out-there things."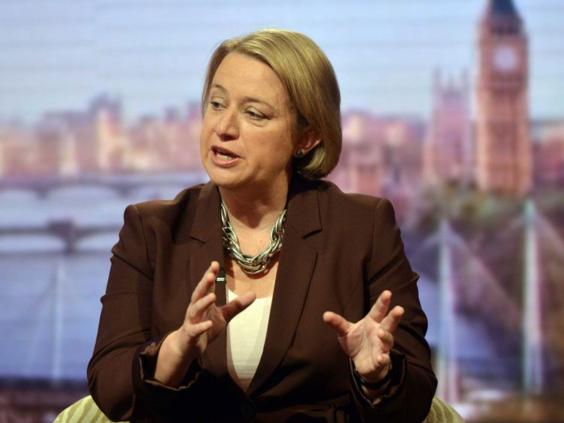 In the end, Bennett is too savvy for this type of extremist rhetoric, and has no time for Nigel Farage's approach. She says his recent comments about denying entry to the country for immigrants with HIV "display either extreme ignorance and prejudice, or extreme political cynicism … This is just one more example of the kind of dangerous, damaging and destructive rhetoric we hear from Ukip, and which is too often allowed to pass without challenge from the three largest political parties."
Bennett is also quick to point to a "failure of imagination in the Westminster village". "For 35 years, all the main parties in Westminster have slavishly followed a neo-Thatcherite agenda," she said, "which accepts that privatisation is inevitable and that the rich getting richer is inevitable."
This progressive flipside to Ukip's anti-Westminster stance was on display on Thursday night, when the Green Party leader joined comedian turned dishevelled political activist Russell Brand to address 1,200 people at a People's Assembly Against Austerity gathering in east London.
Her party will need to move beyond east London and its Brighton heartland to gain seats, but last week a poll carried out by the Tories' Lord Ashcroft gave hope to activists when it suggested that the Greens were level-pegging, at 7 per cent nationally, with the Liberal Democrats.
The party line is that, come the general election, the Greens will hold the seat of Brighton Pavilion won by Caroline Lucas in 2010, as well as being in contention for Bristol West and Norwich South, but Bennett has bigger ambitions.
"Politics could well blow wide open in the next seven months," she suggested. "And, as in the Scottish independence vote, we could see a shift in the intentions of non-voters. That could well put seats such as St Ives – there is basically no Labour Party in Cornwall – and Solihull in play for us."
The hope is that the party's opposition to "the fantasy of fracking" and pledge to spend massively on renewable energy will attract Liberal Democrat voters, although it is less clear how policies such as opposing the construction of the HS2 rail link fit into this.
Who's next? Conservative MPs who could defect to Ukip
Who's next? Conservative MPs who could defect to Ukip
1/8 Chris Kelly

Won Dudley South with majority of 3,856 in 2010 but is standing down next May. Has been wooed by Ukip, which is targeting his seat, but insists he will not join Nigel Farage's party. Has declined to say why he is leaving Parliament

Facebook

2/8 Mark Pritchard

Former secretary of the influential Tory 1992 Committee. MP for The Wrekin. Majority 9,450. Photographed with Nigel Farage at an event recently but said it was just a "friendly photo"

3/8 Philip Hollobone

MP for Kettering. Majority 9, 904. He said in 2013: "So many constituencies are now marginal because Ukip is now providing a fourth dynamic into what has previously been a three-party dynamic. I think we could end up with a situation where in selected seats, where the Conservative candidate or member of Parliament is in favour of leaving the EU, they would endorse him in those seats"

Rex

4/8 David Nuttall

MP for Bury North. Majority 2,243. Outspoken right-winger. Has said it would be "beneficial" if the Tories and Ukip could agree a "common programme" in order to unite the right in British politics

Twitter

5/8 Nadine Dorries

MP for Mid Bedfordshire. Majority 15,152. Lost Tory whip after appearing on ITV's "I'm a Celebrity…Get Me Out of Here," but later reinstated. Has said her constituents some constituents feel a "huge amount of empathy with Ukip". Hinted at standing on a joint ticket but denied she will defect

PA

6/8 Jacob Rees-Mogg

MP for Somerset North East. Majority 4,914. Independent-minded like Douglas Carswell. Has called for an electoral pact between Tories and Ukip. "There are many members of Ukip who are very close to the Conservative Party and there are many Conservatives to whom Ukip looks favourably," he said in May

David Hedges

7/8 Gordon Henderson

MP for Sittingbourne and Sheppey. Majority 12,383. Wants Britain to leave the EU and admits he has been "sounded out" by Ukip. But insists the party has "no principles," saying: "I'd sooner lose than be a turncoat"

8/8 Peter Bone

MP for Wellingborough. Majority 11,787. Independent-minded backbencher who hates the Coalition. Has said: "Somehow the Conservatives and Ukip have got to work together and have some sort of [electoral] pact or accord"

UPPA/Photoshot
Nonetheless Bennett is optimistic enough (or savvy enough) to have an incredibly well-prepared answer to the tricky coalition-with-Labour question. She backs a so-called "confidence and supply arrangement", where any future Green MPs would reject the "perks of ministerial cars to be able to vote with their consciences". However, when pressed, she refused to rule out a more formal coalition with a future Labour government.
This could all be getting ahead of the game; and the Greens still see proportional representation as their route to real influence. There is also the obvious difficulty that the same small-party constraints which will hamper Ukip will also hamper the Greens.
The leader of the Greens freely admitted that it would be "very hard" for Ukip, which is outperforming her party in the polls, to get more than one or two seats in the general election.
Likewise, it is easy to say that both Ukip and the Greens have not fully costed their respective policy commitments. In incredibly polished fashion, Bennett responded to this charge with the "promise" of a "fully costed manifesto before the election, just as we offered before the last general election".
It is an answer that sounds grounded in Westminster, but Natalie Bennett clearly has a more mischievous quality, and we're almost certain to see more of her speaking her mind in the run-up to next May's contest, whether she takes the nuclear option or not.
Curriculum vitae
1966 Born in Sydney, Australia.
1983 Educated at an all-girls' school in New South Wales.
1987 Graduates from the University of Sydney with a degree in agricultural sciences.
1988 Starts work as a journalist with the Eastern Riverina Observer, before moving to the Cootamundra Herald and Northern Daily Leader.
1995 Moves to the Bangkok Post. Also offers guidance to the World Health Organisation on women's health issues.
1999 Moves to London, works as a freelance journalist for Daily Telegraph, Independent and Times.
2006 Joins Green Party. Stands for the Greens in Camden council election. Begins work at The Guardian's Comment Is Free section.
2007 Becomes editor of Guardian Weekly.
2010 Stands for election as MP for Holborn and St Pancras.
2012 Stands for London Assembly. Becomes leader of the Green Party.
Joe Krishnan
Reuse content