Natalie Portman reportedly refused to sign off on a biopic of legendary US Supreme Court Justice Ruth Bader Ginsburg unless a woman was directing.
Ginsburg, 82, appointed to the Supreme Court in 1993, told MSNBC Portman had insisted that a woman direct – helping to secure director Marielle Heller in the role.
"Natalie Portman came to talk to me about this, and we had a very good conversation," Ginsburg told her former clerk, California Supreme Court Justice Goodwin Liu, at the American Constitution Society convention in Washington.
According to Ginsberg, Portman insisted: "'I want the director to be a woman. There are not enough women in this industry. There are many talented out there.'
"And now they do have a woman director," Ginsberg concluded.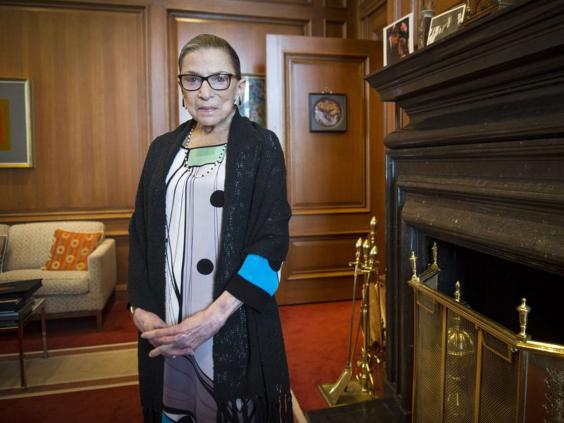 Heller, profiled at the beginning of this year by Variety as one of '10 Directors to Watch,' recently debuted her film Diary of a Teenage Girl to broadly positive reviews.
The film, On the Basis of Sex, will broadly follow Ginsburg's career – she was the second female Supreme Justice after Sandra Day O'Connor and the first Jewish woman to serve on the bench – but will focus on a sexual discrimination case in the 1970s.
'Famously Beautiful' Alums
'Famously Beautiful' Alums
1/10 Natalie Portman

Natalie Portman studied at the Hebrew University of Jerusalem. In 2002, when she was studying psychology at Harvard University, she contributed to a scientific study on memory called "Frontal lobe activation during object performance: data from near-infrared spectroscopy". She also speaks French, Japanese, German and Arabic.

Getty Images

2/10 Cindy Crawford

Nineties supermodel Cindy Crawford studied chemical engineering at Northwestern University before she went on to pursue a modelling career.

Getty Images

3/10 Lily Cole

Model Lily Cole graduated top of her Cambridge University class in 2011. She studied History of Art.

Gareth Cattermole/Getty Images

4/10 Geena Davis

Geena Davis, actress, film producer, writer, former fashion model, and a women's Olympics archery team semi-finalist, is also a member of Mensa. She received an honorary Doctor of Fine Arts degree from Bates College in May 2009. She also has a bachelor's degree in drama from Boston University and speaks fluent Swedish.

5/10 Iman

Iman, supermodel entrepreneur and wife of David Bowie. studied political science at the University of Nairobi. She also speaks five languages.

6/10 Emma Watson

Emma Watson put her lucrative post Potter acting career on hold to study English Literature at Brown University. She was accompanied by a bodyguard with a gun on her graduation day last May. She's now a UN Ambassador for Women.

Getty

7/10 Christy Turlington Burns

Christy Turlington Burns gained a Bachelor of Arts degree at NYU - and wrote Karlie Kloss's letter of recommendation.

Andrew H. Walker/Getty Images

8/10 Lupita Nyong'o

Oscar winner received a Masters in Acting from Yale School of Drama.

9/10 Brooke Shields

Brooke Shields went to Princeton University to gain her bachelor's degree in French Literature.

10/10 Kate Beckingsale

Kate Beckingsale attended Oxford University in England where she studied French and Russian literature. She is also fluent in French, German and Russian.
Meanwhile, Portman, 34, has also debut her first venture as a director with A Tale of Love and Darkness earlier this year.
Reuse content