They say imitation is the sincerest form of flattery, so it follows that actress Rose McGowan should feel extremely complimented after model Amber Rose ventured to the MTV Video Music Awards (VMAs) in an outfit inspired by her. 
Amber Rose turned up at the VMAs in California yesterday arm-in-arm with her rapper husband Wiz Khalifa and draped in a silver chain dress.
It was reminiscent of McGowan, who wore a very revealing black chain dress in 1998 when attending the VMAs with her then-partner musician Marilyn Manson.
Amber Rose tweeted yesterday: "Thank u @rosemcgowan for being a fabulous trendsetter u were truly my inspiration tonight," ending her message with a little kissing emoticon.
McGowan replied to Amber and said she was happy to "pass the torch" and also gave a bit of sisterly advice: "ignore the hand wringers".
I pass the torch @mtv RT @DaRealAmberRose: Thank u @rosemcgowan for being a fabulous t... http://t.co/W87aTIEwxG pic.twitter.com/1Np51pa30a

; rose mcgowan (@rosemcgowan) August 25, 2014
Model Amber told her near 2million Twitter followers "no f**ks were given", appearing to show that she knew full well the attention that her daring dress, designed by Laurel DeWitt, would receive.
She has received a fair amount of flak for the outfit and has been labelled one of the 'worst dressed' at the awards.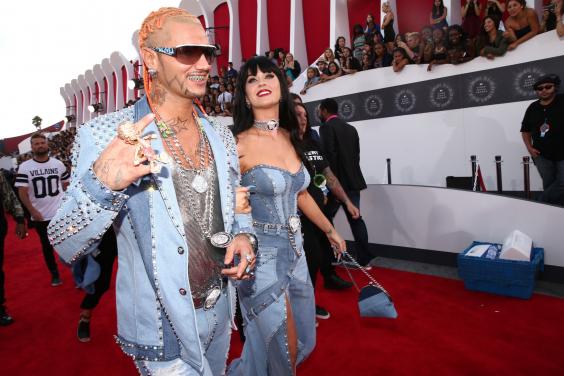 Her sartorial choice wasn't the only flashback of the day, either, as Katy Perry and Riff Raff channelled (and subverted) the Britney Spears/Justin Timberlake double-denim look from the VMAs in 2001.
Perry also asked her inspiration what she thought, tweeting Spears: "I did my best impression, hope u likey!"
Spears responded: "Just when I thought the denim dress had retired....you bring it back! You looked amazing tonight bb ;)"
Now, can someone please take on Lil Kim's 1999 purple mermaid-inspired, one-armed dress next year?
Reuse content