Christmas is a time for giving as well as receiving. Bearing testimony to that fact at JustGiving headquarters, large computer screens flash above the desks every time a donation is made, a map pinpointing the location.
Although JustGiving, the first online charity platform in the UK, is now the fastest growing of its kind in the world, its co-founder Anne-Marie Huby says "giving is still in its infancy, we're really just at the beginning".
This year, JustGiving users will donate £370m through the site, a tiny proportion of the £11bn Britons give each year to charities – "the most generous in Europe, it's in the British DNA" – so there is still huge room for growth.
Huby is showing me around the large, open-plan office in Bankside, London where more than 130 people now work. Two are playing ping-pong by the kitchen, and the atmosphere is busy but informal.
The company, founded with private investment in 2001, has just celebrated gaining its 10 millionth user (mostly British but a growing proportion from overseas), and 22 million Britons have made a transaction at least once on the site. Anyone who uses social media will have encountered the JustGiving pages of their friends, whether they are trekking the Great Wall of China or running the London Marathon for causes close to their hearts.
As a female leader in the tech industry, Belgian-born Huby is a rarity. She believes strongly that the "regular emphasis on the absence of women in the upper echelons might be counter-productive as it... makes it feel unobtainable or particularly heroic."
She thinks it is more interesting to talk about the fact that "nobody – and I do believe that one day we will achieve a more gender-blind world – nobody, is ever ready for the next step.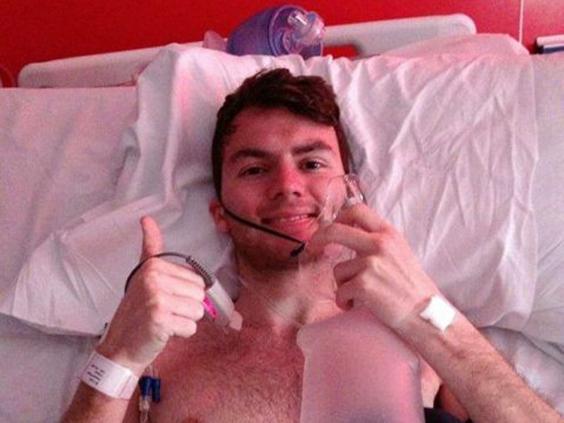 "If something is new there will be stuff that you are about to do that you are unprepared for and that is no reason why you shouldn't raise your hand and have a go," she says. "Men also wake up in the middle of the night thinking they are going to be found out.
"It's more interesting and it makes for a saner world if we all admit that we sometimes feel vulnerable," she adds. "What is great about working in tech is it is an industry that comparatively values the acknowledgement that you don't know more than others because the pace of change is breath-taking at times."
She says that women "often only take on challenges when they can be confident they can master them" and should be encouraged to think of role models in all varieties, including men, and not to "worship at the perfect CV".
Huby, 48, has certainly taken on a great number of challenges in her career. At 21, not long after studying journalism, she was "given an extraordinary break" to present a radio programme in Belgium. After one year, she moved to the UK where she landed a reporting job at the Birmingham Post, studying English and teaching French in the evenings.
She was "loving it as I was learning so much" but got a call "out of the blue from a friend in Belgium" who said Médicins San Frontières (MSF) was recruiting somebody to be in charge of its media operations. She was hired at the age of 24 and within two weeks was in Zagreb, setting up the press office.
"I can only assume that other people were scared off by the opportunity," Huby laughs.
She shot up through the ranks as MSF's global profile rose, eventually becoming the executive director of MSF in the UK. It was at MSF that she discovered that she loved getting "something moving from scratch" and the organisational aspect of the role.
"You go to no man's land and within two week's there a fully functioning hospital," she says. "There's a magic in that."
At the same time she began to feel the frustration of realising the internet "was going to change everything" but not knowing how to make the charity's website transactional.
It was at this point that she was introduced to her co-founder Zarine Kharas, who had dreamed up an idea of having "a shared resource". Huby left her job and the pair joined forces to come up with a way of "making it better and easier for a donor who wants to act on a cause to find the right project to support".
A profit-making business, JustGiving has come under fire for charging the charities – between 2 and 5 per cent of donations – and in particular for not waiving the fees to the Teenage Cancer Trust for the huge amount of money raised by Stephen Sutton who died in May – the total has just passed £4.5m and is still rising.
"Nothing irks me more than the desire to see charities run on a shoestring," says Huby. "The reason why Cancer Research and MSF are incredibly effective is because they are ambitious and well-run professional organisations. They do hire talent and buy great services. Fundamentally, I believe that charities deserve the best."
She says that JustGiving should be seen as the Research and Development arm of charities. "If charities are going to have access to the best technologies they need a partner that constantly innovates," she says.
Among recent innovations have been mobile phone app donations and a revamped site so that users now see personalised content about what their friends are doing as well as their own fundraising efforts. It has also launched Yimby.com (Yes, in my back yard), which allows people to raise money for their own social projects.
It is JustGiving's "bleeding edge" technology that enables them to take extremely high volumes of donations for urgent appeals, Huby says. Stephen Sutton had held the record for three donations a second before Manchester Dog's Home beat this with four donations a second when it caught fire in September, causing the death of more than 50 dogs.
When I ask Huby what that tells us about British people's priorities, she smiles, saying "we are cause agnostic here".
Reuse content