Her feminist credentials have been questioned of late, what with her 'Bow down, b**tches' lyrics and Mrs Carter world tour.
Not to mention her refusal to call herself a feminist during an interview with British Vogue for the May 2013 edition ("That word can be very extreme," she told them).
But Beyoncé, it seems, is determined to claw back some of her "Independent Women" audience.
In fact, she's penned an entire essay on the subject of gender equality on behalf of the Shriver Report's recent findings that 42 million women in the USA are either living in poverty or are on the brink of living in poverty.
"We need to stop buying into the myth about gender equality," the singer writes in her piece, titled 'Gender Equality Is A Myth!'.
"It isn't a reality yet. Today, women make up half of the U.S. workforce, but the average working woman earns only 77 percent of what the average working man makes.
"But unless women and men both say this is unacceptable, things will not change. Men have to demand that their wives, daughters, mothers, and sisters earn more - commensurate with their qualifications and not their gender. Equality will be achieved when men and women are granted equal pay and equal respect.
"Humanity requires both men and women, and we are equally important and need one another. So why are we viewed as less than equal? These old attitudes are drilled into us from the very beginning. We have to teach our boys the rules of equality and respect, so that as they grow up, gender equality becomes a natural way of life. And we have to teach our girls that they can reach as high as humanly possible.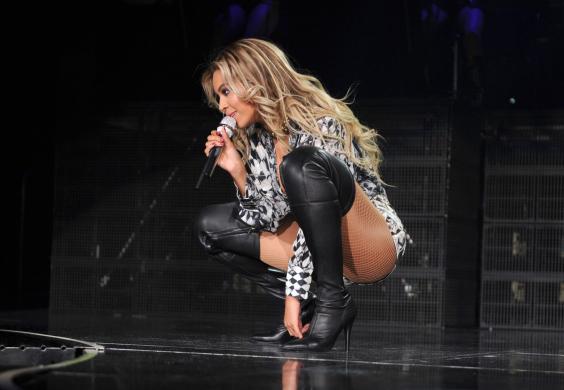 "We have a lot of work to do, but we can get there if we work together. Women are more than 50 percent of the population and more than 50 percent of voters. We must demand that we all receive 100 percent of the opportunities."
Beyoncé's article was one in a series written by famous females. Others who lent their words to openly support equal pay in light of the Shriver Report findings included Hilary Clinton, Eva Longoria and Jada Pinkett Smith.
Perhaps more surprising were the A-list males drafted in to show their support. This included an essay by NBA star LeBron James called 'America's Working Single Mothers: An Appreciation'.
"I am honored [sic] to participate in a project that is trying to help single mothers who are struggling to make a living and raise their kids, because that perfectly describes my mother when I was growing up. You think LeBron James is a champion? Gloria James is a champion too. She's my champion," he wrote.
The essays, including Beyoncé's, can be downloaded in full from the Shriver Report website until 15 January.
Beyoncé's self-titled new album broke iTunes records to become the fastest-selling release in the history of the online music store.
It sold 828,773 copies in just three days after the singer released it unannounced in December 2013, smashing the previous first-week sales record set by Justin Timberlake's 20/20 Experience, which sold 580,000 in March 2013.
But the album has stirred an equal amount of controversy, too. Not least for the use of a six-second clip from the 1986 Challenger disaster on track "XO", which NASA officials blasted as "inappropriate in the extreme".
Un-Bey-Lievable: Ridiculous things Beyonce has done
Un-Bey-Lievable: Ridiculous things Beyonce has done
1/15 Beyoncé admits lipsynching at Barack Obama's inauguration

The 'Crazy In Love' singer performed US national anthem 'The Star Spangled Banner' at the president's Inauguration Day in January 2013, but lipsynched to a pre-recorded track. She blamed the decision on her being a 'perfectionist' and wanting Obama's day to be memorable. 'Due to no proper sound check I did not feel comfortable taking a risk,' she told a press conference.

2/15 Beyoncé attacked by PETA for Super Bowl outfit

In February 2013, Beyoncé was publically attacked by animal rights organisation PETA for wearing a Rubin Singer-designed leotard made of 'python, iguana and cow' for her Super Bowl Half Time performance with Kelly Rowland and Michelle Williams of Destiny's Child.

3/15 Beyoncé makes people cringe in sickly sweet documentary

It's the sickly-sweet Bey-and-Z love-in that was her Life is But a Dream documentary. Released in February 2013, just after Valentine's Day, the autobiographical TV film was directed and produced by the singer herself. Her marriage to Jay Z, her miscarriage, the birth of Blue Ivy (not literally)...it's all here.

4/15 Beyoncé breaks US trade embargo and visits Cuba

The pop star sparked a small furore in April 2013 when she holidayed in Communist island Cuba with Jay Z to celebrate their fifth wedding anniversary. A long-standing US trade embargo against Cuba prevents most Americans from traveling their without a government license. It is unknown whether they had obtained a license or not.

5/15 Feminist icon Beyoncé refuses to say she is a feminist

Leading women's magazine Vogue asked the pop star whether she considers herself a feminist in April 2013. Her non-committal response? 'That word can be very extreme but I guess I am a modern-day feminist. I do believe in equality but why do you have to choose what type of woman you are? I'm happily married. I love my husband.' Because you can't be a feminist and love your partner too Bey?

6/15 'Independent Woman' Beyoncé names her world tour after her husband

She is hailed as a feminist icon around the world for tracks such as 'Independent Women', 'Survivor' and 'Run The World (Girls)'. But Beyoncé chose to name her 2013/14 world tour after her husband, Shawn 'Jay Z' Carter instead. She values her marriage - great - but what message does this send to young women who look up to her as a symbol of self-empowerment?

7/15 Beyoncé bans photographers from world tour

After the press published 'unflattering' snaps of the singer during her Super Bowl peformance in February, her publicist was brought in to put an end to such disrespectful behaviour. To prevent a repeat, no photo credentials were granted for her Mrs Carter Show World Tour and instead, Beyoncé's own photographer Frank Micelotta was hired to capture her best angles.

8/15 Beyoncé banned from Pyramids by 'Egypt's Indiana Jones'

Controversial archaeologist Dr Zahi Hawass was upset when Beyoncé arrived late to his tour of the Pyramids, booked when visiting Egypt. Hawass banished the 'rude' star from the ancient site, claiming she never apologised for being impolite. 'I said Beyoncé was stupid and I left,' he said.

9/15 Beyoncé goes vegan with rapper husband Jay Z

In December 2013, the high profile couple decided to take part in the 22 Days Challenge, which aims to change people's dietary and exercise habits by encouraging them to omit all animal-based products from their diets.

Rex Features

10/15 Beyoncé dines in a vegan restaurant decked out in fox fur

Newly vegan Beyoncé no doubt ruffled a few feathers when she wore a fox fur coat to a meat-free organic restaurant. The singer was spotted in the £2,915 Christopher Kane parka with a real fur collar as she accompanied husband Jay Z to a vegan meal at Native Foods in Los Angeles before Christmas 2013.

11/15 Beyoncé guerilla releases album

Comprising14 original tracks (including a collaboration with her daughter Blue Ivy, husband Jay Z and Frank Ocean) and 17 videos, Beyoncé randomly released her self-titled fifth studio album on iTunes as a mid-December Christmas surprise in 2013.

12/15 Beyoncé shops for her new album in Walmart

Not only did Beyoncé play the politician's game at the US store (yes, she did stop to kiss a baby's forehead on the way round), but she played Santa as well, showering shoppers with 750 gift cards worth $50 each. Presumably so they could spend them on her new album. Or a bottle of her perfume. Or something.

13/15 Beyoncé is 2013's most searched for celebrity on the internet

Beyoncé Knowles beat the headline-grabbing competition to be named the world's highest ranking human being of 2013 according to Bing, leaving the rest of celebdom trailing in her warbling wake. Controversial pop star Miley Cyrus only manged number 9 on E! Online's list.

14/15 Beyoncé samples space shuttle disaster in pop song

The singer's decision to use a six-second audio clip from the 1986 Challenger catastrophe in which seven astronauts lost their lives was deemed 'inappropriate in the extreme' by NASA representatives at the end of 2013. Words breaking news of a 'major malfunction' open her song 'XO' from fifth album Beyoncé.

15/15 Beyoncé poses in the middle of Leonardo da Vinci's 'The Last Supper' replica

Closing 2013 in distinctly dubious style, the singer posted a series of pictures on her Instagram account showing her plonked in front of the Italian artist's masterpiece. She is pictured posing in a bright green skirt and pink bustier in the middle of the painting, right in front of Jesus.