One of the commonalities that's risen out of sexual abuse allegations by Andrea Constand, Barbara Bowman, Tamara Green and now Joan Tarshis against Bill Cosby is that the comedian and actor was able to sexually assault them because, they say, he drugged them first.
In light of such information, a recently resurfaced bit about "drugging" women with Spanish fly from his 1969 album "It's True! It's True!" is not doing Cosby any favors. Tarshis alleged that Cosby drugged and raped her the same year.
In his stand-up act, Cosby recounts the story of being 13 years old and learning that slipping Spanish fly into the drink of a girl called "Crazy Mary" would make her amenable to less-than-honorable advances.
"From then on, anytime you see a girl, 'Wish I had some Spanish fly,'" Cosby said, trailing off. "Go to a party, see five girls standing alone. Boy, if I had a whole jug of Spanish fly I'd light that corner up over there. Haaa ha ha."
A refresher: Spanish fly, an alleged aphrodisiac derived from dried beetle dung, can cause urinary infections and scar the mouth, throat and urinary tract — and is generally pretty horrible, sometimes deadly. Plus it only "works" on men.
That's only the latest on Cosby's ever-spiraling rape allegation crisis. In August we raised the question of whether past rape allegations would have any bearing on Cosby's new primetime NBC show, currently scheduled for a summer or fall 2015 premiere. Nellie Andreeva of Deadline Hollywood does not think Cosby — or the show for that matter — will fare well. On Monday, Andreeva compared the scandal currently engulfing Cosby, which has grown so much that he's canceled two television appearances in its wake, to the one Woody Allen faced during awards season last year. Wrote Andreeva:
"Allen is a writer-director. He no longer stars in his movies as he did in the past. Meanwhile, Cosby continues to be identified with his characters. His Heathcliff Huxtable from 'The Cosby Show' is near the top of every list of America's favorite TV dads of all time.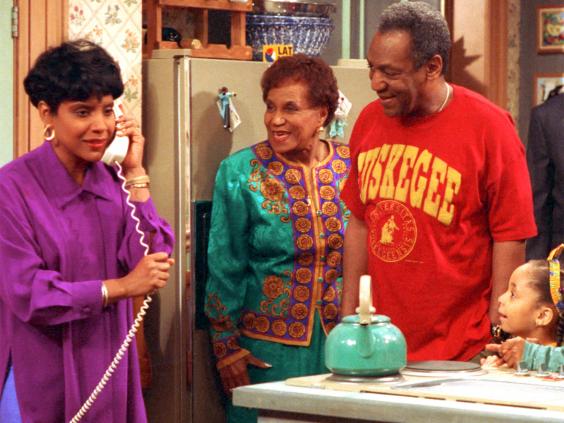 "On the upcoming NBC comedy, executive produced by 'The Cosby Show's' Tom Werner, Cosby is to star as Jonathan Franklin, a patriarch of a multi-generational family, who shares his many years of wit, wisdom and experience to help his daughters, sons-in-law and grandchildren navigate their complicated modern lives.
"In light of the renewed rape accusations, will viewers accept Cosby as a lovable grandfather dispensing advice? With the cloud over Cosby's head, that proposition also will be hard for NBC to sell to advertisers. … The lack of public denial by Cosby makes NBC's position even more difficult."
Andreeva counseled that addressing the allegations head-on could possibly help Cosby. At this point, with yet another accuser having come forward, it can't possibly hurt. But even on that point, there's little consensus. Howard Bragman, the public relations mastermind who has orchestrated many a coming out, offered Cosby some free advice. "He should shut the f_ up!" Bragman told the Wrap. "He should have his lawyers shut the f_ up, and his PR people shut the f_ up."
Bill Cosby: Career in pictures
Bill Cosby: Career in pictures
1/20 Bill Cosby

Winner of his first Emmy for 'I Spy' is Bill Cosby being congratulated by his wife Camille held at Americana Hotel, 1966

2/20 Bill Cosby

Bill Cosby in 'I Spy', 1960s

3/20 Bill Cosby

Bill Cosby in July 1973 in Perth

4/20 Bill Cosby

Bill Cosby and Richard Pryor in 'California Suite', 1978

5/20 Bill Cosby

Bill Cosby and Elmo in Sesame Street, 1989

6/20 Bill Cosby

Bill Cosby poses for a picture with Florence Griffith-Joyner in June 1989

7/20 Bill Cosby

Comedian Bill Cosby back in 1992

Rex Features

8/20 Bill Cosby

A scene from a 1992 episode of 'The Cosby Show'

AP

9/20 Bill Cosby

US Monica Seles breaks into laughter as she jokes with comedian Bill Cosby during a celebrity match in the stadium at the US Open for the Arthur Ashe AIDS Challenge on 27 August 1995

10/20 Bill Cosby

Bill Cosby meets Toronto Blue Jays' All-Star Joe Carter after the Stars played the Stripes in the Celebrity All-Star game which preceded workouts for the 67th All-Star Game at Veterans Stadium on 8 July 1996 in Philadephia

11/20 Bill Cosby

Co-hosts Oprah Winfrey and Bill Cosby joke with each other during the opening of the 2000 Essence Awards 14 April 2000 at Radio City Music Hall in New York City

12/20 Bill Cosby

Bill Cosby jokes with baseball great Hank Aaron after they both received the Presidential Medal of Freedom Award from U.S. President George W. Bush during a ceremony on 9 July 2002 at the White House in Washington

13/20 Bill Cosby

Bill Cosby poses backstage after winning the 'Bob Hope Humanitarian Award' during the 55th Annual Primetime Emmy Awards at the Shrine Auditorium on 21 September 2003 in Los Angeles

14/20 Bill Cosby

'Tonight Show' host Jay Leno and comedian Bill Cosby laugh during a surprise visit by Cosby to sign a Harley-Davidson motorcycle that Leno is using to raise money for the victims of Hurricane Katrina at NBC studios on 9 September 2005 in Burbank, California

15/20 Bill Cosby

Bill Cosby speaks during a taping of 'Meet the Press' at the NBC studios on 14 October 2007 in Washington

16/20 Bill Cosby

Bill Cosby at the 12th annual Mark Twain Prize for American Humor at the John F. Kennedy Center on 26 October 2009 in Washington

17/20 Bill Cosby

Bill Cosby speaks at the National Action Network's 20th annual Keepers of the Dream Awards gala in New York on 6 April 2011

Reuters

18/20 Bill Cosby

Bill Cosby during the 100th anniversary celebration of the Beverly Hills Hotel & Bungalows supporting the Motion Picture & Television Fund and the American Comedy Fund, 2012

Getty Images

19/20 Bill Cosby

Bill Cosby speaks onstage at the Thurgood Marshall College Fund 25th Awards Gala on 11 November 2013 in Washington

20/20 Bill Cosby

Bill Cosby performs at the Treasure Island Hotel & Casino on 26 September 2014 in Las Vegas
The best option Cosby may have may be to go to ground for awhile and disappear altogether. The official word from network executives is that the show is still in development, which could mean a whole lot of nothing. As Andreeva noted, that's the same language they used before they killed a miniseries on former secretary of state Hillary Clinton.
Tarshis, the latest woman to publicly accuse Cosby of rape, spoke with CNN's Don Lemon Monday night after revealing in a blog post that Cosby allegedly assaulted her. She reiterated that she didn't tell anyone or go to the police because she didn't think anyone would believe her. "They'd probably think I was out to get something," Tarshis said.
(c) 2014, The Washington Post
Reuse content