That awkward moment when… You accidentally confuse a deceased person with the Hollywood actor 20 years his junior that played him in a movie once.
That's exactly what happened in India, when a tribute billboard to mark the passing of late South African leader Nelson Mandela was erected by the side of a road in Coimbator.
Only, instead of using an image of the freedom fighter, they used one of Morgan Freeman instead.
Nelson Mandela memorial interpreter admitted to psychiatric hospital
"We should be proud that we were part of an era when they lived," a condolence message, which also sat alongside pictures of Ghandi, Mother Theresa and Martin Luther King Jr, read.
Cloth merchant Chandrashekhar, who paid for the board out of his own pocket as a sign of respect, said he didn't know how the problem occurred, but pointed to a mistake at the designer's end.
"We will replace it with the correct picture of Mandela," he told AFP on the phone.
The definitely living Freeman actually played Mandela in 2009 movie Invictus, so it's more than likely that the confusion came from there.
Locks changed on home of Mandla Mandela as family feud erupts
He's also played God in the past, so don't be surprised if you find his face tacked onto a bulletin board outside your local church some time soon.
Earlier this month, Freeman was one of a number of famous people who did pay tribute to the late Mandela.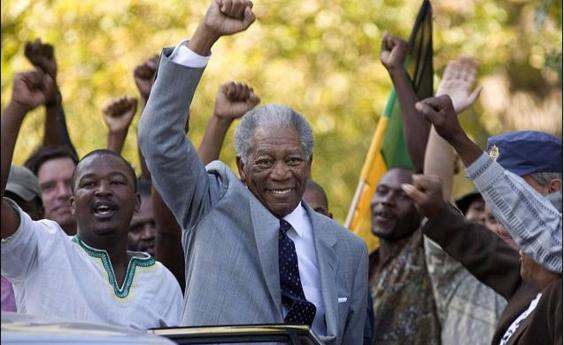 The actor described him as "a saint to many, a hero to all who treasure liberty, freedom and the dignity of humankind".
"As we remember his triumphs, let us, in his memory, not just reflect on how far we've come, but on how far we have to go.
"Madiba may no longer be with us, but his journey continues on with me and with all of us."
Of course, the mix-up didn't stop there. Several Twitter users mistakenly used Morgan's image next to their own tribute tweets in the days following the announcement of Mandela's passing.
There was even a rumour that Paris Hilton had gone one step more ridiculous, and got Mandela and Martin Luther King Jr confused. She didn't, incidentally – it was a fake tweet created by a spoof profile wind-up merchant.
Who were the most searched for people of 2013?
Who were the most searched for people of 2013?
1/20 Film star Paul Walker, who passed away in a car crash in December 2013

EPA

EPA

2/20 Glee star Cory Monteith, who passed away following a heroin overdose in July 2013

Getty Images

Getty Images

3/20 Oscar Pistorius, who stood accused of murdering his girlfriend in February 2013

EPA

EPA

4/20 Nelson Mandela, who passed away in December 2013

AFP/Getty

AFP/Getty

5/20 Margaret Thatcher, who passed away in April 2013

Getty Images

Getty Images

6/20 Actor Peter Capaldi, who was confirmed as the next Time Lord in August 2013

Getty Images

Getty Images

7/20 Nigella Lawson, who defended herself against accusations of drug use in November 2013

AFP/Getty Images

AFP/Getty Images

8/20 Tom Daley, who broke his silence about his relationship with a man by video in December 2013

ITV

ITV

9/20 Musician Lou Reed, who passed away in October 2013

Getty Images

Getty Images

10/20 Reality TV star Joey Essex, who entered the I'm A Celebrity jungle in November 2013

ITV

ITV

11/20 Kim Kardashian, who gave birth to her and partner Kanye West's baby in June

Getty Images

Getty images

12/20 Boy band One Direction, who released an album, film and went on tour in 2013

Getty Images

Getty Images

13/20 Miley Cyrus, whose 'twerking' attracted attention at the MTV VMAs in August 2013

Getty Images

14/20 Justin Bieber, who was rarely out of the news following his antics on his 'Believe' world tour

Getty Images

15/20 The Duchess of Cambridge, who gave birth to Prince George in July

PA

PA

16/20 Taylor Swift, who won four awards at the American Music Awards in November 2013

Getty Images

Getty Images

17/20 Financial journalist Martin Lewis, whose money saving tips and website saw him among the most-searched in 2013

Getty Images

18/20 Beyonce, who embarked on a world tour and released an unexpected fifth album in 2013

PA

PA

19/20 Andy Murray, who won the Wimbledon men's singles title in June 2013

PA

PA

20/20 One Direction's Harry Styles, who won a court case to prevent the paparazzi harassing him in December 2013

Getty Images

Getty Images
Reuse content