Angelina Jolie and Brad Pitt tied the knot on Saturday, their spokesman has confirmed.
Their nuptials reportedly took place at Chateau Miraval in the south of France, the wine estate that the couple purchased for $60million (£36million) in 2008.
According to the Associated Press, Jolie and Pitt exchanged vows in a private ceremony attended by close friends and family.
Their children also took part in the wedding, with eldest sons Maddox and Pax, 13 and 10 years old respectively, walking their mother down the aisle, while Zahara and Vivienne, nine and six, threw petals.
Shiloh, eight, and Knox, six, reportedly served as ring bearers.
Pitt, 50, and Jolie, 39, also obtained a marriage licence from a Californian judge, who conducted the ceremony at the Chateau.
The pair were said to have fallen in love in 2004/5 while playing the lead parts in action rom-com Mr & Mrs Smith.
It led to a Hollywood scandal due to Pitt's then-marriage to Jennifer Aniston, to whom he had been married for five years.
Jolie has previously been married twice, to actors Jonny Lee Miller and Billy Bob Thornton.
Pitt and Aniston divorced in late 2005, with Pitt and Jolie, who have three biological and three adopted children together, becoming engaged in April 2012.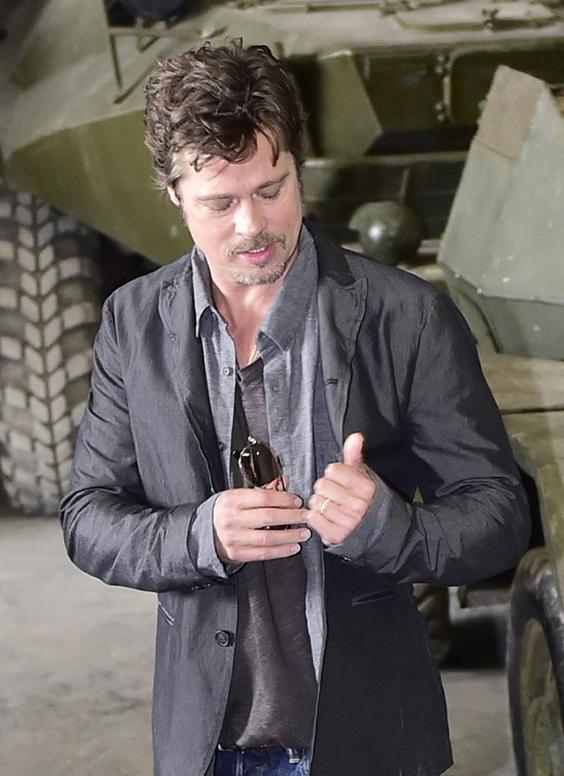 "It's an exciting prospect, even though for us, we've gone further than that," Pitt told AP in a November 2012 interview, half a year after their engagement.
"But to concretise it in that way, it actually means more to me than I thought it would. It means a lot to our kids."
He had, however, once said in an interview that he and Jolie wouldn't get married until gay marriage was legalised across the country.
"Angie and I will consider tying the knot when everyone else in the country who wants to be married is legally able," he told Esquire magazine in 2006.
The couple are fervent LGBT supporters, but he then had to clarify his position in 2012 after finding that their marriage meant "more and more" to their children.
"We made this declaration some time ago that we weren't going to do it till everyone can. But I don't think we'll be able to hold out," he told the Hollywood Reporter.
"It means so much to my kids, and they ask a lot. And it means something to me, too, to make that kind of commitment."
Pitt has been in Dorset today promoting Second World War film Fury, in which he plays an army sergeant.
He attended the event at The Tank Museum in Bovington, complete with wedding ring and stood for pictures alongside actors Logan Lerman and Jon Bernthal.
He is due to co-star with Jolie in their first big film together since Mr & Mrs Smith - filming drama movie By The Sea at the end of this month and next in Gozo, Malta.
Jolie is expected to direct her new husband in the production, which she wrote.
Reuse content