One of the saddest aspects of the early death of the former Liberal Democrat leader, Charles Kennedy, is that it was not a surprise. This charming and supremely gifted man had been fighting a forlorn battle with his alcohol addiction even before he was hit by the final blow of losing the Parliamentary seat he had represented for 32 years.
His political achievements were extraordinary. Under his leadership, the Liberal Democrats grew to be the largest third party in Parliament since the collapse of its forerunner, the Liberal Party, in the 1930s, principally because of his thoughtful and courageous opposition to the Iraq war. He was also the only politician in recent memory, apart from Boris Johnson, whose easy manner allowed him to hold his own on television programmes such as Have I Got News For You?, and earned him the nickname "Chat Show Charlie". In a blog post yesterday, Tony Blair's former spin doctor, Alastair Campbell, aptly described Kennedy as a politician who "spoke fluent human".
But in contrast to most politicians, he was shy, and it was noticeable that he would have to steady his nerves before a public appearance, usually by sneaking off somewhere private for a cigarette, but all too often by hitting the bottle. It was alcohol, rather any failure of his acute political judgement, which destroyed his leadership.
Though it was Scottish nationalism that finally ended his political career, there was no politician more thoroughly Scottish than Charles Peter Kennedy. He was born in Inverness on 25 November 1959. His grandfather was a crofter; his father, Ian Kennedy, was also a crofter, and an engineering draughtsman, well-known in his part of Scotland as a fiddle player. Charles Kennedy chose a recording of his father as one of his Desert Island Discs.
By the time he entered Glasgow University, having been through Lochaber High School in Fort William, he was already showing promise as a superb public speaker. He joined the Labour Party at the age of 15, but a seminal event in his early political development was hearing Labour's former deputy leader, Roy Jenkins, deliver the Dimbleby Lecture on the BBC in November 1979, in which Jenkins set out the political case for social democracy, which was rapidly going out of fashion in the Labour Party as it swung to the left. At the age of 20, Kennedy was elected Chairman of the Glasgow University Social Democratic Club, and a little over a year later he was President of the Glasgow Student Union and one of the first recruits to the newly formed Social Democratic Party.
Kennedy often told a story that one of his Glasgow lecturers told him: "If all else fails, you could always go into politics." At that stage in his life, there were other possibilities open to him: he could have been a television journalist, or an academic. After graduation he spent a year as Fulbright Scholar at Indiana University.
On returning, he decided to stand as the SDP candidate for Ross Cromarty and Skye, the biggest constituency in the UK, covering two million acres of Scottish countryside, taking in mountains, lochs, glens and moors, which had been Conservative throughout the 1970s. His victory was one of the surprises of the 1983 election, the only gain that the SDP-Liberal Alliance made at the Conservatives' expense. Aged only 23, he was for a long time the youngest MP.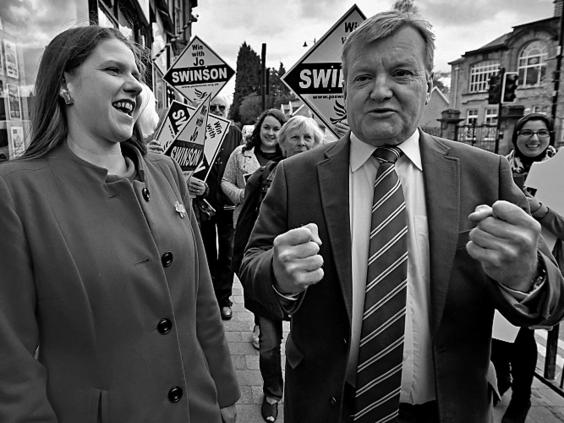 In 1987 the SDP suffered a terminal crisis after it returned only five MPs, and a majority of party members believed the time had come to merge with the Liberal Party. Of the five MPs, three – led by David Owen – vehemently opposed the merger. The leader, Bob MacLennan, dithered. Only Kennedy, the youngest, decisively supported the merger – a sign of the clear-eyed political judgement that would serve him well as leader of the new Liberal Democrat party.
From dire beginnings the Liberal Democrats were able to cash in on the Conservatives' declining popularity, so that when Paddy Ashdown vacated the leadership in 1999 he bequeathed a healthy contingent of 46 MPs. Kennedy was not a major figure in the party for most of the Ashdown years, despite successfully securing the party presidency in 1990, the first former SDP member to do so. After 1992 he seemed more interested in being "Chat Show Charlie" on programmes such as Celebrity Countdown, Clive Anderson All Talk, Call My Bluff and Have I Got News For You?. Ashdown thought Kennedy was brilliant but ill-disciplined, and deplored his unpunctuality. There were also political disagreements, notably when Ashdown rescued John Major from Commons defeat by ordering his troops to back the government in a vote on the Maastricht Treaty. Though Kennedy was a lifelong pro-European, he would have preferred to seize the opportunity to inflict a defeat on the Prime Minister.
But in 1998 a little group gathered around Kennedy, seeing in him a future leader. In the leadership contest that began in June 1999, Kennedy led the field of five in the first round and won comfortably on the second. The organisers of his campaign included James Gurling, one of Ashdown's aides, and, later, his sister, Sarah Gurling. It was widely agreed among the Liberal Democrats that their disorganised new leader needed a wife. He married Sarah Gurling in 2002. The 150-strong congregation included Tony and Cherie Blair. They have one son, Donald.
These early years as a party leader were an ordeal for Kennedy, who had never run an organisation before and had no experience of the world of work other than being a Member of Parliament. His management style involved a good deal of delegation. His debating style was also to reason rather than attack: he almost never spoke ill of a political opponent, and found the weekly bear pit of Prime Minister's Questions unpleasant.
But all Kennedy's political strength came into play in the run-up to the Iraq war. He was prepared to back an invasion if it were approved by the UN and if there were evidence that Iraq possessed and intended to use weapons of mass destruction, but despite being privately briefed by the intelligence services he was not convinced, though he was equally reluctant to have the Lib Dems seen as pacifist or anti-American.
The crunch decision was whether to go on the vast demonstration organised by the Stop the War Coalition on 15 February 2003. Party activists wanted Kennedy to be there, but senior Lib Dem MPs, including the much-respected Menzies Campbell, feared contamination by far left elements at the rally. Paddy Ashdown, away in Bosnia, was for the invasion, and wrote privately to Tony Blair giving his support.
None the less, Kennedy took the risk of addressing the demonstrators and setting out his position – neither anti-war, nor anti-American, but unconvinced of the rightness of this war. His shrewd political instincts brought huge dividends. As it emerged that Iraq had no weapons of mass destruction, and the Iraq war became increasingly unpopular, the Lib Dems harvested the support of disillusioned Labour voters.
Their popularity was increased in university towns over an issue that would later prove so destructive for Nick Clegg: they advocated abolishing the recently introduced tuition fees for undergraduates and creating a new 50p higher rate of tax to pay for it. At the 2005 general election Kennedy's party took more than 22 per cent of the vote and held 62 seats. Even Clegg's success in the televised debates during the 2010 election could not produce a result to match it.
But already, the signs of Kennedy's slow self-destruction were on display. In summer 2003 he was expected to respond when Gordon Brown announced in the Commons that there would no referendum on the euro, but did not turn up. In March 2004 he was interviewed by ITN, who made an unexplained editorial decision not to broadcast the footage. Later that month he failed to turn up in the Commons on Budget day, and again for Prime Minister's Questions, leaving others to stand in for him at very short notice. His staff tried to explain away these absences, but the rumour spread that he had a drink problem.
For a few months he seemed to pull himself together, but then during the election campaign he arrived for the party's manifesto launch 10 minutes before it was due to start, went outside for a fortifying cigarette, and returned with bloodshot eyes and pasty face. Asked detailed questions about tax policy, he gave one answer that was plainly wrong, and floundered over another. It made terrible television. His loyal staff claimed that the problem was that his new-born son, Donald, had kept him awake overnight, but to viewers he looked like a man with a bad hangover.
A month later, Kennedy gave a shocking performance at a meeting of Lib Dem MPs, reviving the rumours. Andrew Marr, the BBC Political Editor, threatened to broadcast a report that he had undergone treatment for alcoholism, but backed down in the face of vehement denials. Finally, on 6 January 2006, after another disastrous episode involving a cancelled trip to Newcastle, Kennedy accepted the inevitable, resigned, and owned up to his illness.
During nine years on the back benches, Kennedy continued to show a flair as a broadcaster, and from 2004 to 2014 he was Rector of Glasgow University. In 2010, he was almost alone among Lib Dem MPs in opposing Nick Clegg's decision to go into coalition with the Conservatives. He also campaigned for Scotland to remain in the UK.
Well-wishers hoped that he had beaten his alcohol addiction, but it stayed with him; he was visibly drunk during an appearance on BBC's Question Time in March. His marriage ended in divorce in 2010, while his father died in April 2015. Finally, on 7 May, he fell victim to the catastrophic decline of the Lib Dems and the rise of Scottish nationalism: he lost Ross, Skye and Lochaber, the seat he had held since he was 23, in a swing of almost 25 per cent to the SNP. Less than four weeks later, he died alone in his home in Fort William.
***
Charles Kennedy was one of my oldest and closest political friends – possibly not surprising given that we entered Parliament together, each representing a Highlands and Islands constituency, writes Lord Wallace of Tankerness. He was the youngest SDP member and I was the youngest Liberal, and after a while we each reckoned (rightly I suspect) that our respective leaderships were using our friendship to channel messages or fly kites which they felt unable to air directly with each other. As with so many things I did with Charles, we could see the funny side of it; but also recognised it was serious politics.
For all the bonhomie, there was a serious dimension to Charles Kennedy's politics, none more so than when he came to the view that the war with Iraq was wrong and misguided. He articulated what millions in the country were thinking; and did so in a simple but compelling way. Those events of 2003 revealed another aspect of his character. However deep his disagreement with Tony Blair was, I never heard him bad-mouth the then PM. Frustration, yes; but personal vituperation, no. He could argue a case with passion, but maintain courtesy and respect for those with whom he disagreed.
My fondest memories are probably of the Highlands and Islands tours which the Alliance and, later, Lib Dem MPs would undertake. Banter and conviviality were in abundance; but so was the serious business of getting to know better what issues were concerning our respective constituencies. However, I recall a visit to the Shetland Fishermen's Association. As Bob Maclennan was quizzing the chief executive, I noticed that Charles had fallen asleep. Bob asked whether a regional fisheries policy wasn't an "uncatchable chimera". The word "catch" clearly penetrated Charles' consciousness, for he woke up and asked what the total allowable catch was for chimera under the Common Fisheries Policy.
In the week before polling day, I spent a day with Charles. We did public meetings in Beauly and Muir of Ord, where he found wry amusement in saying that it was the first time in 32 years he'd had a UK government minister supporting him. We had a campaign visit to Dingwall; it was like the Charles of old. He was in sparkling form, greeting voters with a warmth and enthusiasm which was invariably reciprocated. It was a recognition of the years of public service he'd given to his Highland community. And in spite of his election loss, he still had so much more to give. That's part of the sense of loss felt today.
Even on a day of such sadness, I keep remembering incidents involving Charles – and then smiling. That was the effect Charles had on those of us who counted him a friend.
Charles Peter Kennedy, politician: born Inverness 25 November 1959; MP for Ross, Cromarty and Skye 1983–97, Ross, Skye and Inverness West 1997–2005, Ross, Skye and Lochaber 2005-15; Leader of the Liberal Democrats 1999–2006; married 2002 Sarah Gurling (divorced 2010; one son); died Fort William 1 June 2015.
Reuse content