The former basketball star Dennis Rodman has checked into an alcohol rehabilitation centre, his agent said, just days after he returned from visiting the North Korean leader Kim Jong-un.
Rodman's agent Darren Prince said the retired NBA star's alcoholism had turned what could have been a "historic and monumental event" into a "nightmare".
He refused to say which facility the sportsman had been admitted to, or for how long he would receive treatment.
Mr Prince said Rodman had been drinking when he commented on the case of detained American missionary Kenneth Bae in a bizarre interview with CNN, for which he later apologised.
He returned from North Korea in "pretty rough shape emotionally", Mr Prince said, citing the pressure of organising an international basketball friendly.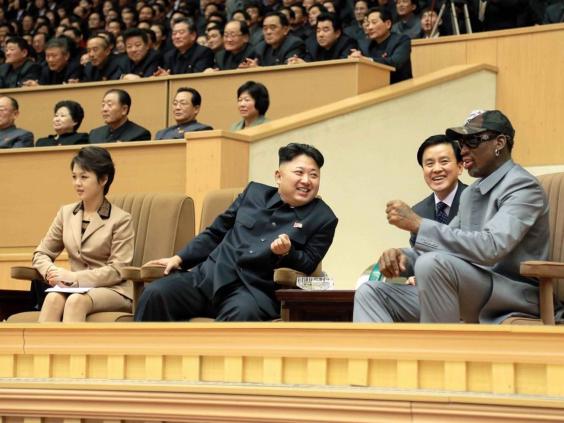 Rodman dedicated the match to his "best friend" Kim, and was cheered on by a capacity crowd of 14,000 as he sang Happy Birthday to the dictator. "What was potentially a historic and monumental event turned into a nightmare for everyone concerned," Prince said. "Dennis Rodman came back from North Korea in pretty rough shape emotionally. The pressure that was put on him to be a combination 'super human' political figure and 'fixer' got the better of him.
"He is embarrassed, saddened and remorseful for the anger and hurt his words have caused."
Rodman, 52, has received criticism in the US for not doing more on the trip to help the imprisoned Mr Bae, a devout Catholic missionary with health problems who is being detained in North Korea in relation to unspecified "crimes against the state".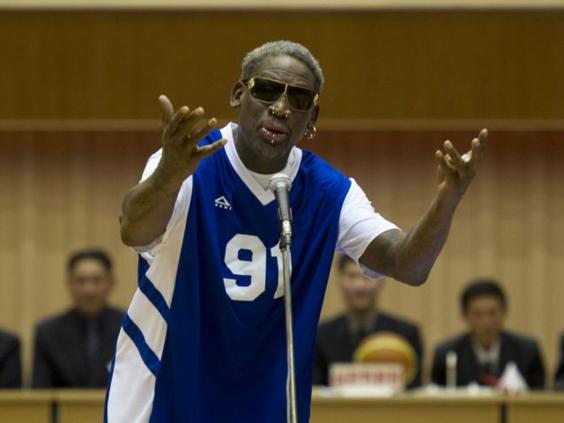 "People forget Dennis is just an entertainer and retired NBA star," Prince said. "The fact remains that a basketball game was played in North Korea live in front of 14,000 people and hundreds of millions around the world viewed clips of the game."
 On CNN, Rodman hit out at his interviewer for bringing up the topic of Mr Bae's captivity, saying he was there to "open a door" to the country for the rest of the world.
He later apologised for suggesting in the same interview from Pyongyang that the missionary had done "one thing" to get himself arrested.
Highly Improbable, But Definitely Real, Famous Friendships
Highly Improbable, But Definitely Real, Famous Friendships
1/12 Barack Obama loves to let his hair down occasionally with a B ball game and a quick blast of hip-hop. Which is probably why he gets on famously with...

AFP

Getty

2/12 ... Jay-Z, who even admitted he gets texts from the president occasionally. The true mark of friendship. That and a Cuban holiday. Although Obama denied any involvement in the couple's approval to vacation in the embargoed country.

Rex

Rex Features

3/12 It seems unlikely that many famous faces would admit to being friends with North Korean dictator Kim Jong Un, thanks to his appalling human rights track record. But one man loves him above all others...

Reuters

REUTERS/Kyodo

4/12 ... Dennis Rodman. "He's my friend and I love him," the former NBA star told a group of journalists at Beijing airport. He was on his way to N.Korea for the dictator's birthday B ball game.

Getty

Getty

5/12 Wikileaks founder Julian Assange has many a celebrity admirer. But there is one UK-based musician who he lunches with at the Ecuadorian Embassy more than most...

AP

AP

6/12 ... Rapper MIA. In fact, Assange recently introduced the star via a web link to her audience during a recent gig in New York.

Getty

Getty Images

7/12 Elton John's a popular man, with one of the most enviable address books in the entertainment industry. But you may be surprised to know...

Getty

Getty Images

8/12 ... About his highly unlikely but definitely real friendship with Chris Brown. "I met Elton about a year ago, and he's been a good friend to me," he told Page Six in March 2013.

Reuters

Reuters

9/12 Equally surprising? Former presidential candidate Senator John McCain's random kinship with...

AFP

AFP

10/12 ... Snooki. Yes, as in Jersey Shore star Snooki. "How's my friend Snooki?" he asked an MTV reporter in 2012... Before he added: "Congratulations again to her on the addition to the family and I still agree with her that we should never, never tax tanning beds. That was one of the worst things about Obamacare that could possibly have happened." Tactical friendship perhaps?

Getty

Getty

11/12 Bette Midler is a Hollywood legend. So many were surprised to learn that she had forged an unlikely friendship with...

Getty

GETTY IMAGES

12/12 ... Erm, rapper 50 Cent? "He has really made my life worth living. 50 has been with me through thick and thin," she told MyParkMag. The pair met during a restoration project in Jamaica Queens.

Press
Mr Bae's sister, Terri Chung, told CNN the family were "appalled" by what the former basketball star seemed to imply.
"He was in a position to do some good and to help advocate for Kenneth," she said. "He refused to do so. But then instead he has chosen to hurl these outrageous accusations against Kenneth. He clearly doesn't know anything about Kenneth, about his case. And so we were appalled by that."
Rodman is the most high-profile American to meet with Kim on any personal level. The dictator's grip over the country has been questioned in recent weeks after a bloody purge saw the execution of his own uncle, Jang Song Thaek.