One of the most talked about images from the Oscars on Sunday – aside from Bradley Cooper's super-human selfie – were those pictures of the Academy Awards audience covered in pizza grease as they chowed their way through box after box of takeaway, seemingly hand-delivered by their host for the evening, Ellen Degeneres.
But spare a thought for the real pizza boy, Moscow-born Edgar Martiroysan, who co-owns Big Mama's & Papa's Pizzeria with his brother.
Martiroysan single-handedly lugged five giant boxes of speciality Big Papa's and a selection of smaller pies to the ceremony before he was roped into appearing onstage to help hand out the snacks to the A-list masses.
Ellen collected hundreds of dollars-worth of tips in Pharrell Williams' gigantic Vivienne Westwood hat on the evening, but came under fire for failing to give the multi-tasking business owner what he was owed on the night.
But she soon made up for it by inviting Martiroysan to appear live on her post-Oscars show, where she gifted him $1,000 worth of tips donated by the likes of Brad Pitt, movie mogul Harvey Weinstein (scroll down to watch the video).
Oscars 2014: Red carpet in pictures
Oscars 2014: Red carpet in pictures
1/31 Lupita Nyong'o

Lupita Nyong'o stuns in a plunging pale blue dress at the 86th Academy Awards

2/31 Jennifer Lawrence

Jennifer Lawrence arrives in a shocking orange dress as she hopes to take home the Best Supporting Actress award

3/31 Amy Adams

Amy Adams ditched the American Hustle glam for a classic navy dress

4/31 Anne Hathaway

Anne Hathaway

Getty Images

5/31 Emma Watson

Emma Watson

Getty Images

6/31 Pharrell Williams

Pharrell Williams leaves the Grammy Awards hat at home in favour of a suit...with shorts

7/31 Jennifer Garner

Jennifer Garner

Getty Images

8/31 Liza Minnelli

No-one's going to forget Liza Minnelli in a hurry after this electric blue sack shocker

9/31 Steve McQueen

British director Steve McQueen will be hoping for success for 12 Years a Slave

10/31 Jared Leto

Dallas Buyers Club's Jared Leto gives a double thumbs up on the red carpet

11/31 Naomi Watts

Naomi Watts at The Oscars 2014

Getty Images

12/31 Benedict Cumberbatch

Sherlock star Benedict Cumberbatch appears in a suave suit ready to present an award

13/31 Louise Roe

Louise Roe at the Oscars 2014

Getty Images

14/31 Jason Sudeikis

Jason Sudeikis wears a sleak blue tux

15/31 Shaun Robinson

Shaun Robinson at The Oscars 2014

Getty Images

16/31 Christoph Waltz

Christoph Waltz

Getty Images

17/31 Brooke Anderson

Brooke Anderson at The Oscars 2014

Getty Images

18/31 Lady Gaga

Lady Gaga

Getty Images

19/31 Joseph Gordon-Levitt

Joseph Gordon-Levitt

Getty Images

20/31 Jenna Dewan Tatu

Jenna Dewan Tatu

Getty Images

21/31 Tara Lipinski

Tara Lipinski at The Oscars 2014

Getty Images

22/31 Rocsi Diaz

Rocsi Diaz at The Oscars 2014

Getty Images

23/31 Bill Murray

Bill Murray

Getty Images

24/31 Sally Hawkins

Sally Hawkins

Getty Images

25/31 Elsa Pataky and Chris Hemsworth

Elsa Pataky and Chris Hemsworth

Getty Images

26/31 Jeremy Renner

Jeremy Renner

Getty Images

27/31 Jessica Biel

Jessica Biel

Getty Images

28/31 Christine Teigen

Christine Teigen

Getty Images

29/31 Brad Pitt and Angelina Jolie

Brad Pitt and Angelina Jolie

Getty Images

30/31 Brad Pitt

Brad Pitt

Getty Images

31/31 Karen O of the Yeah Yeah Yeah's

Karen O of the Yeah Yeah Yeah's

Getty Images
"I ended up getting about $600," she said as she handed the money over, adding another few hundred herself. "And here's a $1000."
Martiroysan went on to describe the experience to Degeneres, admitting that he was "shocked" when he was called out onto the stage, having initially been told that the order was for a few of the writers backstage.
He also described the "crazy" moment he bumped into Julia Roberts behind-the-scenes.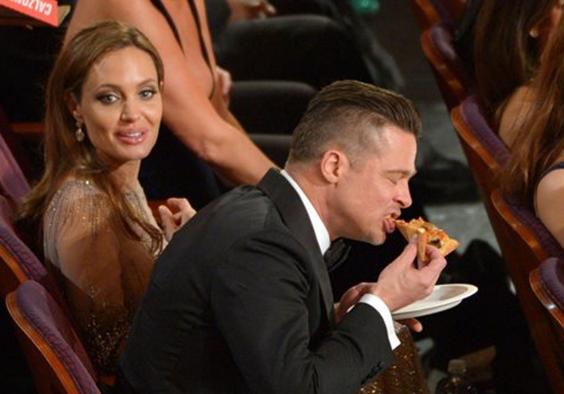 "She was my woman in dreams, I was always watching her movies back in Moscow, like Pretty Woman," he said.
"So it was something crazy to me to give her pizza."
The pizza parlour itself was also granted the gift of free publicity which, considering an advertising slot during the Oscars costs upwards of $1.8million, Variety reports, means the entire stunt was probably worth around $10million to the business.

Reuse content