Hollywood stars Emma Thompson and Colin Firth are among a group of British celebrities who have said they are "ashamed" the UK has not pledged a single resettlement place to Syrian refugees.
The famous names called for David Cameron to add Britain's welcome as a safe haven to the list of non-violent support the country offers in a bid to alleviate the bloody conflict.
Monty Python star Michael Palin, fashion designer Dame Vivienne Westwood, actress Juliet Stevenson, artist Grayson Perry and Firth's wife Livia also signed the letter, supporting the Refugee Council's call for the UK to provide shelter for 30,000 of the most vulnerable Syrians fleeing civil war.
The plea asks that Britain keep up with the work of the United Nations High Commissioner for Refugees (UNHCR), which said 18 western countries have so far met its request to provide 30,000 places each by the end of the year.
The stars also asked the Prime Minister to do more to make it easier for those Syrians with a British connection to enter the country and join their families and communities.
The letter, signed first by Thompson as a patron of the Refugee Council, read: "International consensus is growing that we need to do more to help people fleeing the violence reach safety. UNHCR have called for western countries to take 30,000 of the most vulnerable and so far 18 countries have responded by pledging resettlement places for Syrian refugees.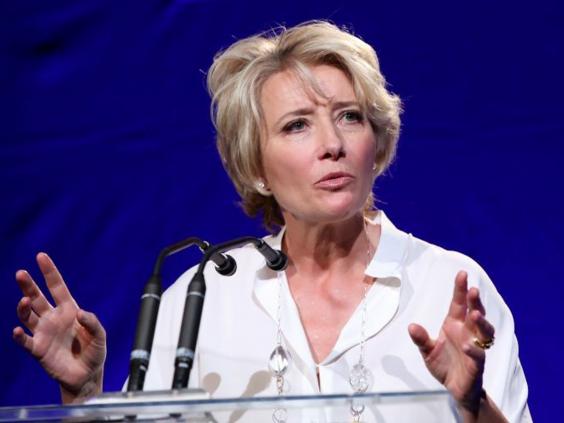 "We're ashamed that Britain isn't one of them, especially because the world is a long way off reaching the 30,000 minimum target set by UNHCR.
"Now is the time to step forward and play our part in delivering a global solution so that those who are most vulnerable find safety outside of the region: women at risk of sexual violence; children who have been orphaned; people who simply will not survive in the conditions in the camps on Syria's borders.
"We've done it before, offering temporary resettlement places to Kosovan, Bosnian and Vietnamese people in their hour of greatest need. As the largest refugee group in the world and with winter approaching, this is the Syrian people's hour of need.
"On behalf of Syrians in the UK desperately anxious about the safety of their loved ones, we are asking you to help, as a father, as a humanitarian and as a world leader.
"Money is no longer enough. We must provide a safe haven to the most vulnerable."
The Refugee Council chief executive Maurice Wren said: "The UK has a proud tradition of protecting refugees and offering safety to people in their hour of greatest need. For people fleeing Syria, that time is now. We simply must respond by providing safe haven to the most vulnerable people or they may not survive the bitter winter conditions."
The Foreign Secretary, William Hague, told MPs that between January and September last year the UK accepted 1,100 Syrian refugees for asylum "treating them on their individual merits, as we do people from other nations".
He stressed that the UK was providing aid to support vulnerable refugees in Syria and its neighbours, including 250,000 medical consultations within Syria and tens of thousands outside it.
Mr Hague said: "I hope that no one will say anything other than that the United Kingdom is among the most generous and big-hearted nations on earth on this.
"We are by some distance the second largest donor country in the world, helping hundreds of thousands of people with medical consultations in Syria, Jordan and Lebanon."
Reuse content