So far, the talk of the Grammys has centred around five things: Pharrell's ridiculous Yosemite Sam hat, Beyoncé's thong, Madonna's gay marriage spree, Macklemore's utter disbelief that he could win anything related to his terrible music and Taylor Swift being generally embarrassing.
But there is one huge awards shocker that has thus far gone uncovered.
Not only did Miley Cyrus turn up to perform at Clive Davis' pre-Grammys party on Saturday in a relatively demure fluffy pink jacket – and kept it on over an equally reticent spaghetti-strapped mini-dress – but the singer managed to get through the entire awards show without doing anything remotely attention-seeking.
After her pink bear-backed Robin Thicke grind-a-thon (he won sweet F-A last night, FYI) at the MTV VMAs in 2013 and her eyebrow-raising joint smoking incident on stage at the MTV European Music Awards, commentators thought they were a shoe-in to pen something headline-grabbing RE the Queen of Twerk.
But alas, they were left disappointed by the complete lack of egotistical show-boating from the star, who said nothing, clapped politely and kept her tongue firmly lodged in her mouth…
Grammy Awards 2014: Best pictures
Grammy Awards 2014: Best pictures
1/14 Grammys 2014

One of the 33 couples who married at the Grammy Awards during a performance of Macklemore & Ryan Lewis' 'Same Love'

GettyImages

2/14 Grammys 2014

Beyonce performs 'Drunk in Love' at the Grammys

Getty Images

3/14 Grammys 2014

Taylor Swift head-banging her way through 'All Too Well'

Getty Images

4/14 Grammys 2014

Rock band Imagine Dragons with their award for Best Rock Performance

Getty Images

5/14 Grammys 2014

Daft Punk arrive at the Grammys. The electronic duo won four awards including Best Album of the Year

Getty Images

6/14 Grammys 2014

Macklemore and Ryan Lewis with their four Grammy awards

Getty Images

7/14 Grammys 2014

Madonna arrives at the awards ceremony sporting a glittery tooth guard

Reuters

8/14 Grammys 2014

Katy Perry performing on-stage during the 56th Grammy Awards

Getty Images

9/14 Grammys 2014

Tony Iommi (L), Ozzy Osbourne (C) and Geezer Butler (R) of Black Sabbath pose in the press room after winning Best Metal Performance

Getty Images

10/14 Grammys 2014

Lorde performing at the ceremony. The 17-year-old won Song of the Year and Pop Solo Performance

Getty Images

11/14 Grammys 2014

Kendrick Lamar and Imagine Dragons appear from a cloud of smoke to perform together

Reuters

12/14 Grammys 2014

Pharrell Williams accepts the award for Record of the Year with Daft Punk

Reuters

13/14 Grammys 2014

Sir Paul McCartney performs with Ringo Starr on stage

Getty Images

14/14 Grammys 2014

Sean Lennon, Yoko Ono and Charlotte Kemp Muhl on the red carpet

Getty Images
... Because she ditched the Grammy Awards completely in favour of an altogether different performance: a Guitar Hero session in the comfort of her own living room.
The singer posted the following evidence of her 'performance' snub on Twitter during the show: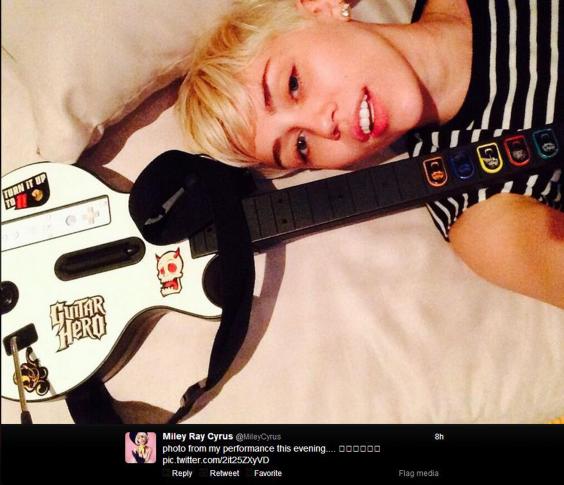 The only other comment she made of the evening was a relatively lack-lustre congratulations to 'Big Bro' Pharrell Williams:
Congrats big bro @Pharrell ❤️

Miley Ray Cyrus (@MileyCyrus) January 27, 2014
And that's all we heard from the star.
It remains unclear over who snubbed whom. Miley may have chosen to back the bold move of swerving music's biggest annual event for precisely all of the above.
Equally, whatever she had planned for the evening might have fallen short of the Grammys strict code of conduct, largely put in place by broadcaster CBS.
This includes uncompromising rules, for example, on red carpet dressing, the likes of which several stars – Rihanna, Gaga and Katy Perry included – have been criticised for undermining in the past.
Last year, all attendees were sent this ahead of their scheduled appearances:
"Please be sure that buttocks and female breasts are adequately covered. Thong type costumes are problematic. Please avoid exposing bare fleshy under curves of the buttocks and buttock crack. Bare sides or under curvature of the breasts is also problematic. Please avoid sheer see-through clothing that could possibly expose female breast nipples. Please be sure the genital region is adequately covered so that there is no visible "puffy" bare skin exposure."
If the same rules applied this year, then a certain star definitely broke them during her performance: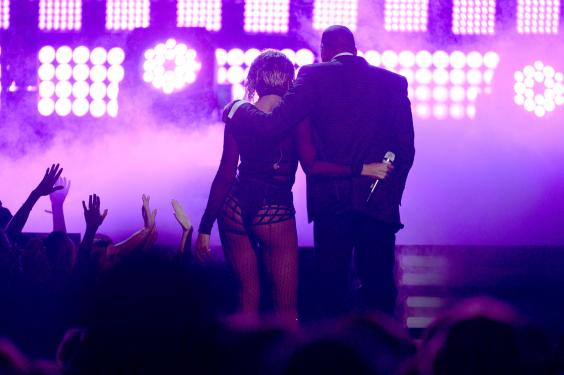 Because that's a whole lot of "exposing bare fleshy under curves of the buttocks" from Beyoncé, there.
---
Watch Miley Cyrus, Lorde and Robin Thicke perform at Clive Davis' pre-Grammy party
Reuse content