William Hague is "the David Beckham of toasting" and David Miliband is "creative and attractive", while Gordon Brown is "an intelligent and dogged Scotsman" according to Hillary Clinton, who is full of praise for some British politicians in her memoir Hard Choices.
The former secretary of state said she found her counterpart Mr Hague to be a "thoughtful statesman with good sense and good humour" in her new book, which recalls her years in office and has been released today.
In one excerpt, she describes how Mr Hague, with whom she had built up a close friendship throughout her political career, held a farewell dinner in her honour at the British Embassy when she left her position in 2013.
In a speech toasting Ms Clinton, the Foreign Secretary quoted his 19 Lord Salisbury, saying successful diplomats must have "sleepless tact, immovable calmness and patience that no folly, no provocation, no blunder can shake".
"That pretty well summed up my experience as America's chief diplomat," Mrs Clinton wrote, according to The Times. "It also reminded me that Hague was the David Beckham of toasting."
She also poured praise on Mr Miliband, a "genuine friend" who caused her "to gulp and smile simultaneously" during their first meeting. "He was young, energetic, smart, creative, and attractive, with a ready smile," she added.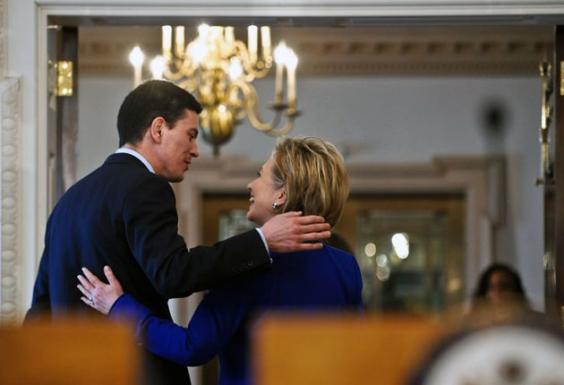 Ms Clinton also took a sympathetic stance on the former Prime Minister and his "embattled" tenure.
"Gordon, an intelligent and dogged Scotsman, ended up presiding over the economic recession that hit Britain hard," she wrote.
"He was dealt a bad hand, including the baggage of Tony's unpopular support of Bush's decision to invade Iraq. When he hosted the G-20 meeting in London in April 2009, I could see the strain he was under."
In an interview launching Hard Choices, she told NBC the Obama campaign suggested she attack Republican vice presidential candidate Sarah Palin in 2008 – a request she refused.
"The Obama campaign did contact me and asked me if I would attack her," Ms Clinton explained. "I said, 'Attack her for what, for being a woman? Attack her for being on a ticket that's ... trying to draw attention?"'
"There'll be plenty of time to do what I think you should do in politics, which is draw distinctions."
Reuse content