Jennifer Aniston and Justin Theroux reportedly married this week after a three-year engagement but despite Hollywood's favourite singleton supposedly putting an end to the relentless 'Will they, won't they?' and 'Has he cheated?' gossip, media scrutiny about her not being a mother shows no signs of letting up.
Aniston, now aged 46, was famously married to fellow actor Brad Pitt for five years until their divorce in 2005. There was speculation at the time that the reason for their split was her refusal to have children, a rumour she strongly denied.
Ever since, questions about why the Golden Globe-winning Friends star has remained childless have plagued her, despite both her and Theroux being far from obsessed with the issue themselves.
"It's not something that's in our everyday life, quite honestly," Aniston told People magazine last summer. "It's more questions that arise in a red carpet line or in an interview.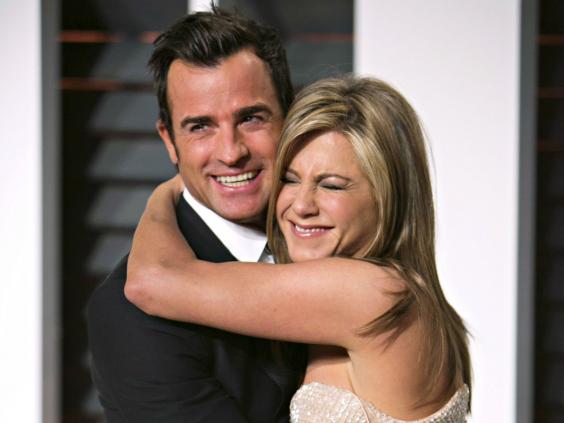 "I just find it to be energy that is unnecessary and not really fair for those who may or may not [have children]. Who knows what the reason is, why people aren't having kids. There's a lot of reasons that could be, and maybe it's something that no one wants to discuss."
But whether or not celebrities want to discuss their personal lives or not is of little concern to many bloggers and tabloids. So what if a woman earns more than $30 million a year and is clearly successful in her field? That's boring with a capital 'B' and also apparently meaningless, if she doesn't have the ring and babies to go with it.
Does anyone stay together in Hollywood? The couples who disprove the rule
Does anyone stay together in Hollywood? The couples who disprove the rule
1/11 Jay Z and Beyoncé

Affair rumours a-plenty there may have been, but after almost a decade of dating, Beyonce and Jay Z got married in secret in 2008, welcoming baby Blue Ivy in January 2012.

2/11 Tom Hanks and Rita Wilson

Tom met Rita on the set of Volunteers in the 80s. By 1985, they were married.

3/11 Goldie Hawn and Kurt Russell

Goldie and Kurt met on the set of Swing Shift in 1983. They've now been together for 31 years.

4/11 Will Smith and Jada Pinkett Smith

Jada met Will when she auditioned to be his girlfriend on The Fresh Prince Of Bel Air in 1990. She didn't get the part, but she did get herself a boyfriend, who became a husband and a father to their two children. Rumour has it the secret to their success lies in their 'open' approach to marriage.

5/11 Michael J. Fox and Tracy Pollan

They met on the set of Family Ties, married in 1988, have stayed together throughout thick and thin and welcomed four children. Michael J. Fox and Tracy Pollan's relationship has definitely stood the test of time.

6/11 Denzel Washington and Pauletta Pearson Washington

Dating since 1977, married since 1983. Four children. Respect where its due to Denzel Washington and Pauletta Pearson Washington, who met on the set of TV biopic Wilma.

7/11 Kevin Bacon and Kyra Sedgwick

This pair have been married since 1988. That's 26 years. And two children. And they're both in the business. Their success? Keeping their private lives private and balancing work and family life.

8/11 Sarah Jessica Parker and Matthew Broderick

These two were introduced by Sarah's brother at the Naked Angeles theatre company in 1995. They wed in 1997, and have three cherubic children together.

9/11 Victoria and David Beckham

Brand Beckham first became one in 1997, after the former Manchester United footballer player met VB at a charity football game. They married in 1999 and still fawn over each other in interviews today... Four children later.

10/11 Sir Elton John & David Furnish

Sir Elton met David at a dinner party in 1993. They began dating, and entered into a civil partnership in 2005. The pair will also become husband and husband when gay marriage is legalised in the UK.

11/11 John Travolta and Kelly Preston

They were rocked by divorce rumours, and struggled to come to terms with the tragic death of their 16-year-old son Jet, but Travolta and Preston are as strong as ever, even though they first married in 1991.
Hollywood Life reported yesterday that the happy couple are "already working on having children" and "don't care" whether the baby is biological or adopted. This must be true because an anonymous "close source" told them so.
Then there's Life & Style magazine, who claim to have inside knowledge that Aniston and Theroux have already filed paperwork to adopt a daughter. Celeb Dirty Laundry has deduced that this must be the reason behind their "sudden desire to make the union legal" as "everyone knows it is much easier for a married couple to adopt a child than it it is for two people who have just been living together for three years". Right.
Can we all just leave poor Jennifer Aniston alone with the pregnancy accusations every other month. This woman should have 50+ children now

— Christina Batalias (@cbatalias) July 29, 2015
Jennifer Aniston is finally married. Now if she'll only have a baby as soon as possible I can finally relax and start focusing on my life.

— Benjamin Siemon (@BenjaminJS) August 6, 2015
Aniston has also dismissed the idea that she will not feel complete without children as she does not value herself as woman based on "this sort of checklist of things that have to be done".
"I've birthday a lot of things and I feel like I've mothered many things and I don't think it's fair to put that pressure on people," she said.
Sadly, until she conforms, we don't see the pressure dropping anytime soon.
Reuse content