It's rare that Prince Charles opts out of making a public spectacle of himself.
But His Royal Highness dodged somewhat of a photographic bullet when he politely declined Joan Collins' offer to take part in the lamest celebrity selfie of all time.
The veteran TV actress, 80, gathered a flock of random recognisable subjects together at the Prince's Trust And Samsung Celebrate Success awards, which was held at the Odeon in Leicester Square, London last night.
But while she managed to rope in Sir Ben Kingsley, Pixie Lott, Phillip Schofield, Anna Williamson, Laura Whitmore, Luke Evans, Tess Daly, Sam Bailey, Vernon Kay, Dominic West, Jools Holland, Jeremy Irons and Gabby Logan, the stunt failed to inspire the Prince of Wales.
"The prince politely declined and moved on," a witness told the Daily Mail.
Of course, Degeneres' star-packed Samsung advert featured a slightly more A-list line up. Taken by a one Mr Bradley Cooper, she managed to cram Brad Pitt, Angelina Jolie, Channing Tatum, Jennifer Lawrence, Jared Leto, Meryl Streep, Kevin Spacey, Julia Roberts and Lupita and Peter Nyong'o behind the lens.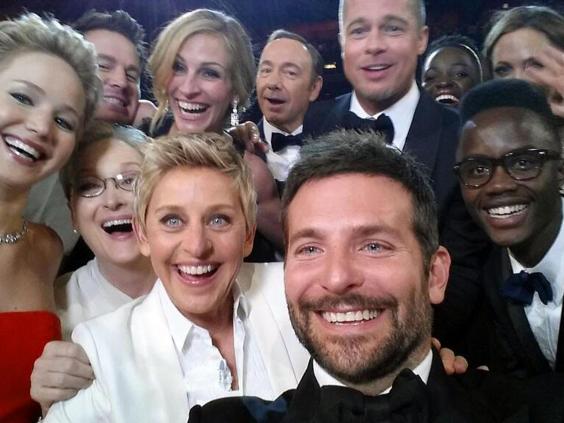 Her version was retweeted a record-breaking 3.2million times (and still counting), causing the social networking site to crash momentarily as it struggled to cope with the huge surge.
In pictures: Fashion hits and misses at the Oscars
In pictures: Fashion hits and misses at the Oscars
1/10 Sandra Bullock wearing Alexander McQueen - hit

A subtle twist on the usual awards fare – this draped front gown is elegant, the inky shade is sophisticated and a smattering of diamonds finishes the look perfectly

2/10 Lupita NYong'o wearing Prada - hit

Proving she can pull off soft colours as well as vibrant shades, Nyong'o looks suitably youthful without coming across immature or girlish in this gorgeous gown, while her jewellery adds a touch of punk

3/10 Cristin Milioti wearing Neem Acra - miss

Variants of this gown have been seen a million times before, so a brighter colour or something more eye-catching is needed to make it stand out, and stand up to such a dark shade of lipstick

4/10 Anna Kendrick wearing J Mendel - miss

The embroidered midriff panel is a detail too much and the raggedy layers of the skirt make it look like she's split her dress getting out of the lime

5/10 Kate Hudson wearing Atelier Versace - hit

Love the pale colour and delicate beading, while strong shoulders on the cape detail stops this gown looking too much like a standard Old Hollywood frock

6/10 Jennifer Garner wearing Oscar de la Renta - miss

The tiered fringing on this skirt makes the actress look like a chandelier on a cruise ship, seeing her in motion is making me feel a bit sea sick

7/10 Kerry Washington wearing Jason Wu - hit

We long suspected that Washington would look amazing in a bed sheet, and this draped lavender gown proves we were right. The strong berry lip is gorgeous too

8/10 Jada Pinkett Smith wearing Atelier Versace - miss

This colour is beautiful on Pinkett-Smith and she certainly looks radiant in it, but the neckline looks like it's strangling her and the dyed-to-match shoes are a bit bridesmaid-y

9/10 Meryl Streep wearing Lanvin- hit

All covered up but sassily showing off one shoulder, Streep looks positively radiant and totally comfortable in simple but oh-so-sophisticated draped silk

10/10 Kristen Chenowith wearing Roberto Cavalli - miss

An armour-like breast plate and a strangely cross-hatched skirt, when the award is a small golden statue it's best not to dress like it
Collins' selfie, at last count, racked up just 341. And that's even with her 'view from the other side', which didn't feature a hilarious snap of Liza Minnelli, desperately trying to get into the shot but thwarted by her miniscule height. Instead, it was exactly the same shot. Just taken by a proper camera.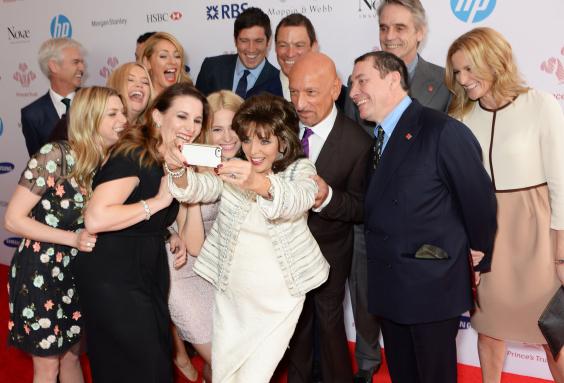 In other vaguely Oscars-related 'selfie' news, video footage has been released of Benedict Cumberbatch's U2 photobomb, which portrays the Sherlock star leaping behind Bono and co before casually strolling off. See the clip below for details.