Joan Rivers, the comedian who has died aged 81, was celebrated for her fearless put-downs and zingers.
Throughout her lengthy career, she took as much pleasure directing her acid-tongued humour towards herself as she did tearing apart other celebrities.
"The trouble with me is, I make jokes too often," the comedian, told The Associated Press last year.
"That's how I get through life. Life is SO difficult — everybody's been through something! But you laugh at it, it becomes smaller."
Here are some of the bold comedian's best jokes, but unfortunately without her spot-on delivery. 
Career in pictures Joan Rivers
Career in pictures Joan Rivers
1/15 Joan Rivers

Joan Rivers in the 1960s, at the time she was performing in comedy clubs in New York and honing her skills as a comedienne.

Getty Images

2/15 Joan Rivers

Joan Rivers in 1968, the same year she had a bit-part in 'The Swimmer' starring opposite Burt Lancaster. Rivers started to establish herself as a comedian with appearances on the 'The Tonight Show' and even had a short-lived talk show called 'That Show with Joan Rivers'.

Rex Features

3/15 Joan Rivers

Joan Rivers at the Millrun Playhouse Theater in the Round, Niles, Illinois in 1974. By the Seventies, she had become a firm staple on television comedy shows, including 'The Carol Burnett Show'.

Rex Features

4/15 Joan Rivers

Joan Rivers promoting her directorial debut 'Rabbit Test' in 1978. The comedy starred Billy Crystal and told the story of the world's first pregnant man. Rivers even made a brief cameo as a nurse in it. 'Rabbit Test' is the only film Rivers has directed to have received theatrical release in cinemas.

Rex Features

5/15 Joan Rivers

Comedian and actress Joan Rivers in the 1980s, by this point in her career she was focusing on writing. She was a guest contributor on an episode of 'Saturday Night Live' and a regular writer on 'The Late Show'.

Getty Images

6/15 Joan Rivers

Joan Rivers in 1984, the following year she served as writing supervisor on the screenplay for the TV movie 'Joan Rivers and Friends Salute Heidi Abromowitz'. Her popularity was cemented in 1989 when she hosted 'The Joan Rivers Show'.

Rex Features

7/15 Joan Rivers

Joan Rivers in the TV film 'How To Murder A Millionaire' in 1990, in which she played the millionaire of the title. Media historian Hal Erickson reviewed the film saying that 'How to Murder a Millionaire was made for TV--but not for my TV'.

Rex Features

8/15 Joan Rivers

Joan and her only child Melissa Rivers in 1999. Even though 'The Joan Rivers Show' had ended in 1993, the Nineties saw Rivers make her mark as a stage actress. She was nominated for a Tony Award for best actress for her performance in the Broadway show ''Sally Marr...and Her Escorts'. She also released her book 'Bouncing Back' in 1997 about overcoming bulimia.

Getty Images

9/15 Joan Rivers

Actress Joan Rivers attends the 61st Annual Golden Globe Awards at the Beverly Hilton Hotel in 2004. The previous year she had left her highly popular E! red carpet show to present on the red carpet for the TV Guide Channel, thanks for her caustic style.

Getty Images

10/15 Joan Rivers

Joan Rivers makes a cement impression of her hands during her induction into The Gleasons Walk Of Stars in 2004. She had become a national treasure and was renowned for her acerbic brand of comedy across the world.

Getty Images

11/15 Joan Rivers

Joan Rivers and her daughter Melissa on the red carpet at the 77th Annual Academy Awards in 2005. The pair had a reality TV series called 'Joan & Melissa: Joan Knows Best?' that ran for four seasons from 2011 to 2014. The show documented the relationship between the pair.

Getty Images

12/15 Joan Rivers

Rapper MC Hammer stops at the TV Guide stage to talk with host Joan Rivers at the Grammy Awards in 2005, she was both loved and loathed for acid wit.

Getty Images

13/15 Joan Rivers

Joan Rivers in New York in 2009, the previous year she had taken part in the British 'Big Brother: Celebrity Hijack', where she was given the power to decide the tasks and rules that house mates had to follow for one day.

Getty Images

14/15 Joan Rivers

A still from the documentary 'Joan Rivers - A Piece of Work' in 2010, which followed the comedian, now 76, for a year and was critically acclaimed for its truthfulness.

Getty Images

15/15 Joan Rivers

Joan Rivers visits 'The Tonight Show Starring Jimmy Fallon' back in February this year.

Getty Images
1) I like colonic irrigation because sometimes you find old jewellery.
2) My love life is like a piece of Swiss cheese. Most of it's missing, and what's there stinks.
3) All babies look like Renée Zellweger pushed against a glass window.
4) I knew I was an unwanted baby when I saw that my bath toys were a toaster and a radio.
5) I said to my mother-in-law, "My house is your house." She said, "Get the hell off my property."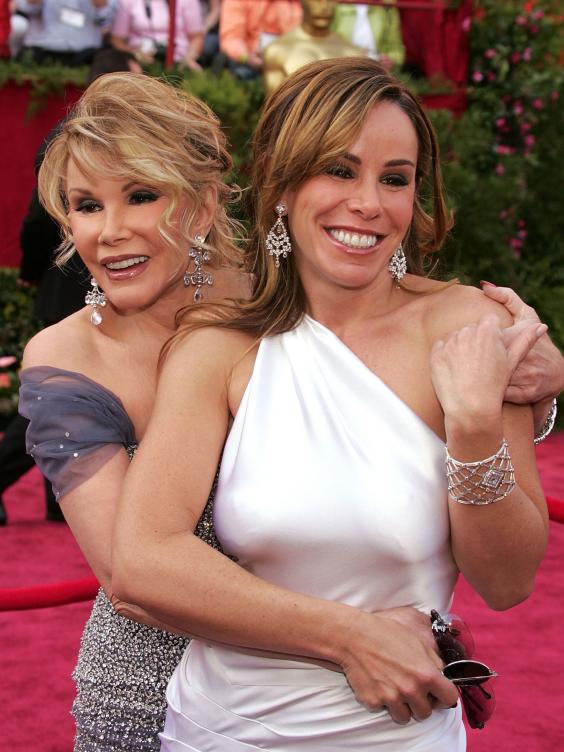 6) Madonna is so hairy. When she lifted her arm, I thought it was Tina Turner in her armpit.
7) I said to my husband, "my boobs have gone, my stomach's gone, say something nice about my legs". He said, "Blue goes with everything."
8) I blame my mother for my poor sex life. All she told me was, "The man goes on top and the woman underneath." For three years, my husband and I slept in bunk beds.
9) Mick Jagger could French-kiss a moose. He has child-bearing lips.
10) Elizabeth Taylor was so fat that whenever she went to London in a red dress, 30 passengers would try to board her.
11) My daughter and I are very close. We speak every single day and I call her every day and I say the same thing, "Pick up, I know you're there." And she says the same thing back, "How'd you get this new number?
12) I bought a pedigree dog for $300. My friend said, "Give me $300. and I'll shit on your carpet."

13) I wish I had a twin, so I could know what I'd look like without plastic surgery.
14) Joan Collins lies about her age so much we should have her body carbon-dated.
15) When I saw her sex tape, all I could think of were Paris Hilton's poor parents. The shame, the shame of the Hilton family. To have your daughter do a porno film... in a Marriott hotel.
16) My best birth control now is just to leave the lights on.

17) Don't cook. Don't clean. No man will ever make love to a woman because she waxed the?inoleum. "My God, the floor's immaculate! Lie down, you hot bitch."

18) You want to get Cindy Crawford confused? Ask her to spell 'mom' backwards.

19) Style is like herpes: You either have it or you don't.
20) I once dated a guy so dumb he could not count to 21 unless he was naked
Reuse content