The prison seamstress at the centre of a high-profile break-out from a New York prison has ended her silence – claiming she never had sexual contact with two escaped prisoners.
In an interview from jail with ABC News, Joyce Mitchell admitted she flirted with Richard Matt and David Sweat but denied she was in love and said that any sexual contact was against her will.
"It started out as a flirtation thing, but that's all it ever was," she said. "There was never any love between myself and Mr Matt."
Joyce Mitchell tells @MLauer 'I'm not the monster' people think I am. More tomorrow on TODAY http://t.co/j5BP5IdxYz pic.twitter.com/slkSbLFGqz

— TODAY (@TODAYshow) September 14, 2015
Mitchell, 51, has pleaded guilty to providing tools for Matt and Sweat's June 6 escape from the Clinton Correctional Facility in upstate New York. She faces up to seven years in prison when she is sentenced later this month.
At the time of the escape, prosecutors claimed Mitchell had helped the two men because she was infatuated with the prisoners.
"I deserve to be punished," she said in the interview. "But, you know, people need to know that I was only trying to save my family."
The mother of three worked in the tailor shop at the prison in Dannemora, near the Canadian border, for seven years. That's where she met Matt, who was serving life for dismembering his boss, and Sweat, also doing life for pumping 15 bullets into a sheriff's deputy.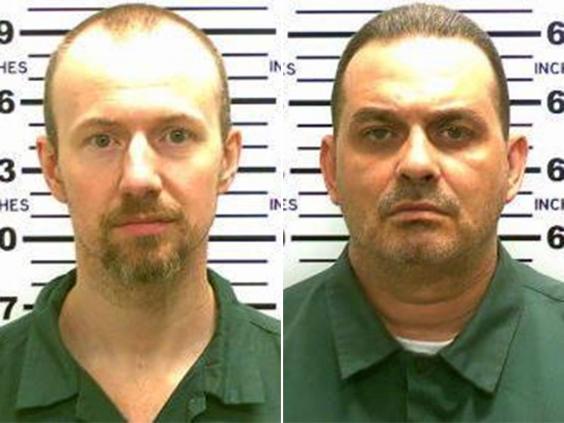 "I was going through a time where I didn't feel like my husband loved me anymore," she said. "I was going through a depression, and I guess they saw my weakness. And that's how it all started."
She added: "Their attention made me feel good."
Mitchell told police she was supposed to meet the escapees and run away with them - after they killed her husband, Lyle. But, according to her statements, she loved her husband too much to go through with the plan and stood up the prisoners.
Matt and Sweat spent nearly three weeks on the run in the woods before police caught up with them. A Border Patrol agent shot Matt dead on June 26, and Sweat was wounded and captured two days later.
"I am so sorry for everything that everyone went through because of me. I never, never wanted this to ever happen. Never. I would take it all back, if I could. But I can't," she said.
She added: "But I'm not the monster that everybody thinks I am. I'm really not. Everybody tells me I'm way too nice."
Reuse content