Kate Moss is a woman who has attempted many talents.
The most successful of which have been fashion-based. Having the iconic face of a generation, looking great on a catwalk, whacking her name on a slightly more expensive Topshop line and promptly selling it out, that sort of thing.
Her musical career, however? Well, it just never quite took off.
There were a number of slightly uncomfortable moments when she teetered onto the stage to join then-boyfriend Pete Doherty for a sing-song with Babyshambles. She does indeed appear on the writing credits for tracks "You Talk" and "French Dog Blues". She sang in the chorus of Primal Scream's "Some Velvet Morning", performed with Pink Floyd's David Gilmour, and appeared in The Lemonheads' 2009 track "Dirty Robot".
And then there was the questionable spoken word sample used by Canadian DJ Brendan Fallis in his baffling, sax-filled (we said sax) electronic track, "Day And All Night".
On paper, it's not a bad run of credits. In reality, it's a pretty bad run. So, like every frustrated musician, whose image of themselves straddling a microphone stand and belting out rock anthems doesn't quite measure up, she's done the next best thing: turned to music journalism.
Kate Moss: Her most iconic looks
Kate Moss: Her most iconic looks
1/40 Kate Moss

Kate Moss' first professional photo shoot, aged 14

2/40 Kate Moss

Kate Moss photographed backstage at fashion show in the early 1990's

3/40 Kate Moss

Kate Moss and Johnny Depp, 1994

4/40 Kate Moss

Kate Moss and Todd Oldham backstage at the Todd Oldham fashion show in Bryant Park

5/40 Kate Moss

Kate Moss signing autographs at NYC Bloomingdales, 1996

6/40 Kate Moss

Kate Moss and Jo Wood at Ronnie Wood's 50th birthday party in Kingston upon Thames, 1997

7/40 Kate Moss

Kate Moss during 1st Annual VH1 Fashion and Music Awards at New York State Armory in New York City, New York

8/40 Kate Moss

Tommy Hilfiger and Kate Moss

9/40 Kate Moss

Johnny Depp and Kate Moss during 'Don Juan De Marco' Beverly Hills Premiere at The Academy in Beverly Hills

10/40 Kate Moss

Kate Moss and new boyfriend Jefferson Hack attend the screening of the film 'CQ' during the 54th Cannes Film Festival in Cannes, 2001

11/40 Kate Moss

Kate Moss attends 54th Cannes film festival: stairs of 'Apocalypse Now Redux'

12/40 Kate Moss

Kate Moss attends the 'Destiny's Child' party in London, 2001

13/40 Kate Moss

Kate Moss attends the Mario Testino Exhibition at The National Portrait Gallery, 2002

14/40 Kate Moss

Kate Moss attends the 'Dazed and Confused' exhibition held at the Tram Galleries on Arlington Road in London, 2003

15/40 Kate Moss

Kate Moss during Rimmel London Launch Party at Tantra in London

16/40 Kate Moss

Kate Moss attends her 30th birthday party with a friend at the home of Agent Provocateur owner Serena Rees in London, 2004

17/40 Kate Moss

Kate Moss in London

18/40 Kate Moss

Kate Moss attends the Spring/Summer 2005 Frost French fashion event during London fashion week, 2004

19/40 Kate Moss

Kate Moss at the Earls Court in London

20/40 Kate Moss

Kate Moss wearing Philip Treacy masks attend the Moet & Chandon Fashion Tribute recognising those who have influenced the fashion world on an international level, at Strawberry Hill House in Twickenham, 2006

21/40 Kate Moss

Model Kate Moss and Matt Lucas, as the Pollard sisters Katie and Vicky, perform onstage at 'Little Britain's Big Night' charity gala performance in aid of Comic Relief at the Hammersmith Apollo in London, 2006

22/40 Kate Moss

Kate Moss intro Primal Scream@ Isle Of Wight Festival, 2006

23/40 Kate Moss

Kate Moss at the Kate Moss for Topshop Launch at Topshop Oxford Circus in London

24/40 Kate Moss

Kate Moss and Pete Doherty arrive at the Shockwaves NME Awards 2007

25/40 Kate Moss

Kate Moss and Pete Doherty

26/40 Kate Moss

Kate Moss pose for photos outside Topshop Topman on the opening day at Broadway and Broome, in Manhattan

27/40 Kate Moss

Kate Moss during David Yurman and 'Another Magazine' Host a Private Dinner Honoring Kirsten Dunst at Milk Studio in New York

28/40 Kate Moss

Marc Jacobs and Kate Moss attends 'The Model as Muse: Embodying Fashion' Costume Institute Gala at The Metropolitan Museum of Art, 2009

29/40 Kate Moss

Virgin Atlantic boss Richard Branson poses with model Kate Moss on a wing of a jumbo jet at Heathrow Airport, 2009

30/40 Kate Moss

Kate Moss and guitarist Jamie Hince of The Kills are seen in London, 2009

31/40 Kate Moss

Kate Moss attends the private viewing of KM3D-1 at Haunch of Venison in L0ndon, 2010

32/40 Kate Moss

Jamie Hince and Kate Moss sighted outside a local pub in Southrop, 2011

33/40 Kate Moss

Jamie Hince and Kate Moss outside the church after their wedding in Southrop, 2011

34/40 Kate Moss

Kate Moss attends an after party celebrating the launch of 'Kate: The Kate Moss Book' hosted by Marc Jacobs, 2012

35/40 Kate Moss

Kate Moss arriving for the inauguration of the new boutique by shoe designer Stuart Weitzman in Milan, 2013

36/40 Kate Moss

The supermodel poses in Playboy's trademark 'Bunny Girl' outfit

37/40 Kate Moss

Moss features in an 18-page series of artful semi-nudes shot by fashion photographers Mert Alas and Marcus Piggott

38/40 Kate Moss

Kate Moss posing next to 'She's Light' by artist Chris Levine during a press view of an auction of artworks featuring her at Christie's auction house in London, 2013

39/40 Kate Moss

Kate Moss poses for photographers next to a photograph entitled 'Body Armour' by Allen Jones which forms part of the 'Kate Moss The Collection' exhibition curated by Gert Elferingat Christie's auction house in central London, 2013

40/40 Kate Moss

Kate Moss poses on the red carpet as she arrives for the British Fashion Awards in London, 2014
Moss has penned her first ever review as a critic. And while it's not a completely appalling first attempt, we will point out that she has fallen at the first hurdle by 1) Choosing to review her very good mate George Michael's new record and 2) Writing the whole thing in first person, a bit like a sycophantic diary entry about her very good mate George Michael's new record.
"The doorbell rings. It's 8.45pm on a miserable Tuesday night and I open the door to find George Michael standing outside (I knew he was coming)," she writes in the opening line for Vogue.co.uk.
"He has his new album, Symphonica, in his hand and I'm excited. Like many of my generation, I grew up with his music - his was the first album I ever had, when I was about eight and it feels like he has always been part of my life.
"I'm on my own in the living room; I press play and as soon as the orchestration of the opening track fills the room, the hairs on my neck stand on end and I already know that I'll love this version of Through - even before he begins to sing."
So, you know... There's not much point reading on any further, because she's just told you she likes it before she's even heard it. But then you'd miss musings like this:
"You've Changed feels fragile and honest; it almost makes me cry. For me, it's the vulnerability, openness and richness of his voice that does it. The depth of where that comes from touches you in a place that you can't even begin to understand and all of a sudden it's not just a song anymore; it becomes an emotion and it takes you into another dimension. That's George's voice."
You'd miss constant – and consistently baffling – interjections from Moss' husband Jamie Hince of The Kills, during which he insightfully informs us he "listens to music":
"My husband Jamie walks into the room and sits down. Does he listen to the lyrics or the music?  'I listen to the music,' he says. 'And with George, there's also something about his voice that's so idiosyncratic that you know it's him straight away. He's got that thing with his voice that's kind of crazy. He's in that tradition of Sinatra, Johnny Cash and Elvis.'"
She goes on to talk about being young, growing up dancing around to Wham! and hanging out with George Michael at the Olympics, just in case you'd missed the part where she mentioned they were friends. Here it is again: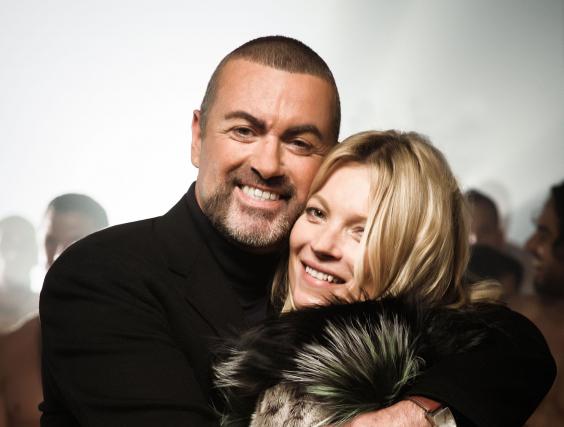 She also reels out muso clichés like a seasoned pro, with plenty of "classic masterpieces", "better than the original"s and… Being more "real" than Roberta Flack:
"George's version of "The First Time Ever I Saw Your Face" is so special. Not only is it an amazing song, it's a stunning vocal performance too that I hear a kind of vulnerability in his voice and you can't fake that. When Roberta Flack sang this song there was that same feeling, but with George, you know it's different and real."
And then she concludes the whole thing with a big, wet, fully capped up: "I LOVE YOU GEORGE!"
No, she probably shouldn't give up her day job (it's pretty lucrative, as it happens). But we'd defy Mr Michael to find a better endorsement in the pages of NME this week. Or anywhere. Ever again.